Have you seen the little red check marks popping up all over Pinterest?  They signify some great news for you as a business builder in the field of digital marketing! We are going to share how you verify your Pinterest account and why you absolutely can't wait! Here's how to get verified on Pinterest:
Get verified on Pinterest
Why is this good news? Well up until now your domain name was hidden behind a planet earth icon in the About section on your Pinterest page. Nice. But not really helpful if you want to brand yourself or your business, grow your audience or attract more leads and customers to your website.
In a move that shows it means business, Pinterest's new feature now lets other pinners learn more about the people and businesses they're following.
In short, verification will let you display your full website URL on your Pinterest profile. Users will also see a red checkmark next to your domain in search results and on your profile.
Also Read:
How to get a blue tick on LinkedIn ? LinkedIn Verification badge
What is Pinterest verification?
Pinterest verification is similar to getting verified on other social media platforms like Twitter, Facebook or Instagram.
When you are verified on Pinterest, you will have a red check mark beside your account name and you will be able to display your full website URL right on your Pinterest profile (instead of leaving it hidden in the About section of your Pinterest page). This makes it easy for users to quickly learn more about your business and can even help you bring more leads to your site.
Verified accounts on Pinterest
The verified Pinterest accounts have a small red checkmark inside their profile photos. Verified badges are issued only to certain notable names like celebrities, brands or media. The goal of the checkmark is to help people find the accounts they're looking for.
With the new verification feature, Pinterest has created a way for you to confirm you're the owner of your website, and once you have verified your site, Pinterest will display your URL up on the top of your about section with a little red check mark signifying that it's verified.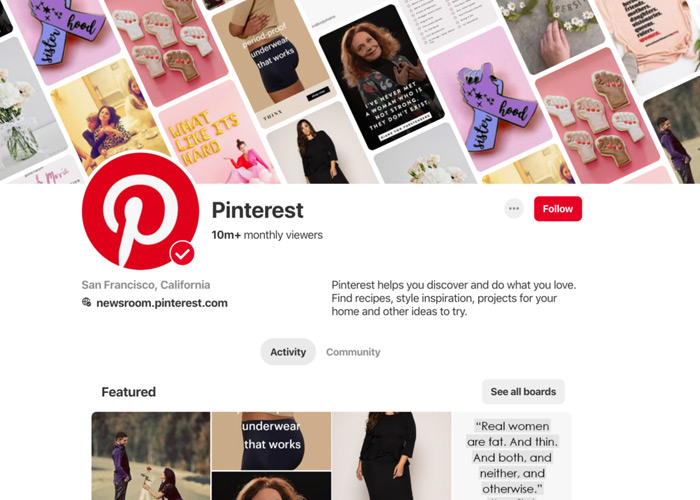 Why you should verify your Pinterest account?
By having your URL where it's actually visible as people browse your pins, you're able to more effectively brand yourself and your business, increase your audience and attract more leads and customers to your website.
How to get verified on Pinterest?
Here's how to verify your website on Pinterest:
Log into your Pinterest account however you normally do, through Twitter or Facebook. Click on your profile and go down to Settings.
Also Read:
How to get verified on Facebook? blue verification checkmark
Once your Settings page opens, go down to the bottom of the page where you've added your website URL to your profile.  (and if you haven't done this, add it now!).
To the right of your website will be a button that says "Verify Website"  (click it). A new page will appear with the verification instructions.  Just to make it easy, leave that page open as you verify your website.
Getting verified on Pinterest
Click the words "Download the HTML verification file" in the first step.  We recommend that you put it someplace easy to find like the desktop. (If you forget to do this, it's likely in your Downloads folder)
Upload the file to your server.  This sounds complicated – it's not that bad. And if you do run into problems, there's a way to work with the Pinterest support folks to get some help.  But it's not that bad, and it's much faster to do it yourself (or have your web person do it for you if you have one).
Most likely your web hosting came with web-based access to an FTP server (FTP stands for file transfer protocol), and it's how you move files onto the server where all of the files that make up your website are stored.  You'll want to upload the file to the main domain, not a sub-folder.  Also, you can only use this feature for top-level domains and not subdomains.
If your site is an ecommerce site on someone else's site (like an eBay store), you won't be able to do this because you can't upload files to their servers.
Once you have uploaded the file to your site, head back to that page we suggested you leave open and click where it says "Click here to complete the process."
Pinterest will then check your website for the bit of code they gave you, once it finds it, you'll see that nice little red checkmark with the words "Website Verified" in your profile.
Take a look at your About section, and you'll get the view that others get, with your website right up there along with that red checkmark.
Also Read:
How to get verified on YouTube ? Grey Tick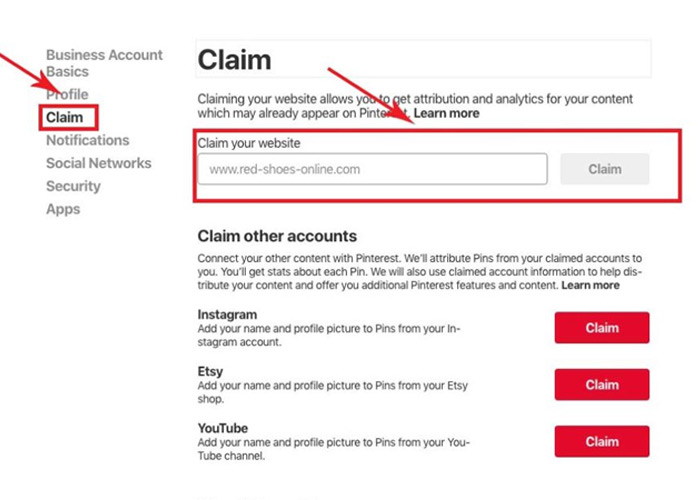 Why verifying Your Website on Pinterest helps you with SEO?
Now, we mentioned earlier that you won't want to delay verifying your Pinterest account, and here's why.
If you've been building your website online for a while and boosting your blog visibility, you know that having inbound links (links into your site from other sites) is a huge boost for your placement in a Google search.  The link to your site from Pinterest (a high-authority site) definitely helps your SEO ranking all by itself and will continue to do so.
Time is currently of the essence because the HTML code generated appears to be a special kind of HTML link called a "do follow" code rather than just any kind of link.
This piece of code actually tells Google specifically to go follow that link when it is crawling the web.  It's not clear if Pinterest will leave these as "Do Follow" links or will change this, so we would advise you to verify your website NOW and reap the SEO benefit from this special kind of link before it gets changed.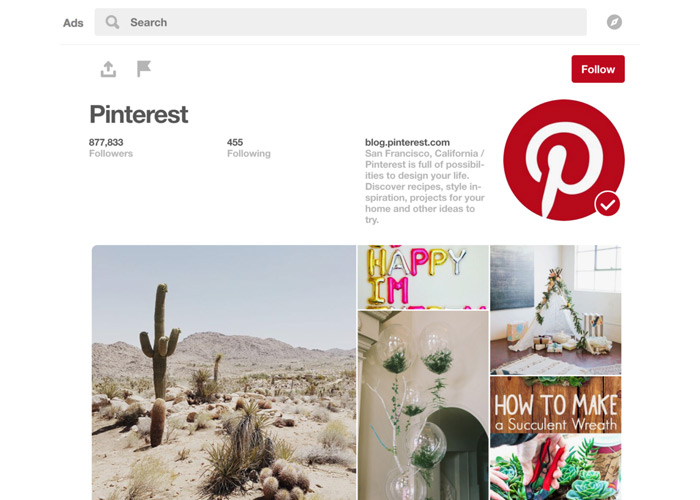 So, Why get verified on Pinterest?
Beyond being a status symbol, verification allows users to know you are a trustworthy source of information and helps them find the real accounts they are looking for. It will be much easier to spot the difference between official pages and fan pages, for example.
But aside from helping users navigate Pinterest, there are many other reasons businesses might want to become verified.
Other business perks of having a verified Pinterest account include:
More eyes on your content. Search engines will recognize your Pins as relaying reputable information. This can generate more leads for your business and, ultimately, increased revenue.
More engagement with your content. Users will know your brand or business is authentic when they see the red check mark. Moreover, they will be more likely to save and share pins that come from a trustworthy source. Re-sharing will help increase your brand awareness.
Drive more people to your website. Verified Pinterest users can display their website URL on their Pinterest profiles. This makes it even easier for users to find out more about your business without having to take the extra step of visiting the About section of your Pinterest page.
Ensure you don't lose followers to knock-off or imposter accounts. There are imposter accounts on virtually every platform. Verification is one of the easiest ways you can signal to users that you are the real deal.
Conclusion
Pinterest continues to be a great source of engagement and traffic for business owners of all sorts. So, let this new feature boost your ranking and business.  Go verify your website with Pinterest and leave a note in the comments saying "Done!"