The world population is growing, but so too are the number of websites coming online. Today, it can be much more challenging to observe SEO rules and get your blog seen. There are, however, steps you can take to improve your blog visibility.
How to Improve Your Blog Visibility
You spend so much time by amazing blogging, you conceive an engaging topic, research the subject matter, pour your heart and soul into writing the post, and beam as you hit the publish button for all the world to see.
And then after a day or two, you gain nothing in return!
So what happens to that awesome blog post you published a few days ago? For most people, it just gets buried by newer posts and disappears from your blog's homepage. What a shame.
But it doesn't have to be that way! There are plenty of ways to resurface your best blog content so it gets more visibility than just a day or two on your blog's homepage. We know how much time and effort it takes to create content. So, why not squeeze the most ROI out of your blogging with these ideas to resurface your blog content?
Today we're going to examine some ways of improving your blog visibility, especially where the search is concerned.
1. Run Competitor Analysis to increase blog visibility
Despite it being under your control, you need to consider everything you do on your blog in context with the rest of the web – specifically, what your competitors are doing.
Because of that, it is generally a good idea to carry out competitor analysis once in a while. This generally is split into two portions – technical analysis and content analysis.
Looking at competing websites can give you a better idea of how they use various elements. For example, where call-to-actions are placed, or where they make use of special content such as infographics. You can also take note of the site's navigation structure – where they put the most important content.
2. Link Similar Topics for blog visibility
If your reader was interested enough to click through to your blog post, it stands to reason that your reader might like to read the other content you've written on the subject.
That's why it's a great idea to include links to related blog posts you've written on the subject in the bottom of your blog posts.
You can make this related content module a feature of your blog design, or simply include it in plain text at the bottom of each blog post you write.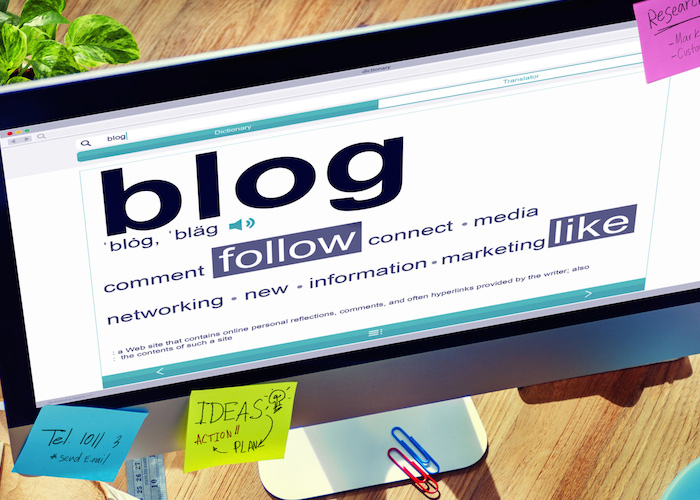 3. Target your audience for more Visibility
It's vital that you do not waste time promoting to people, groups, organizations, or other blogs that are not interested in the content you are putting out. You must define your audience and what your blog is about.
How old is your average reader? What is their gender, income, occupation or location? You must know these metrics in order to create and market your content better.
When you're unclear of whom you're marketing your content to, your webpage or blog will forever live in a gray area and not reach its potential. When you take the time to define what your blog is, and then target a specific audience, you stop competing over a small number of search queries.
4. Improve your Blog Visibility by Improving Content Quality
This is perhaps the biggest part of what you can do to improve your blog visibility. Too many times I've seen blogs focus on building quantity in content, but lagging too far behind in quality. Because of this, they often get left behind in search rankings.
Although Google's requirements for the content to be considered of good quality has changed a bit over the years, it remains consistent in theory. You need to offer content that displays your Expertise, is Authoritative, and Trustworthy.
Also Read:
Content Marketing and PPC Advertising to Increase Website Traffic
Whenever possible, try to focus on the building of evergreen content. These are articles that have a longer shelf life than new type pieces and ultimately, will provide value to your readers for a long time to come. Just remember to keep them updated and refreshed every once in a while.
5. Republish Successful Blogs in Social Media to be more visible
You may already use social media to achieve visibility for your blog posts when you first publish them. So, why not continue to promote them via your social media accounts well after their initial publish date, too?
This is easy to do with automated social media publishing tools.
And don't worry that your followers will get frustrated about seeing duplicate content. If your content is truly valuable, there's nothing wrong with promoting it again. Just be sure to draft new copy for the status update — that should never be repurposed!
Also Read:
How to create great content for Instagram in the shortest time possible
6. Try Guest Blogging to get more visibility for your blog
One of the best ways to increase traffic is by acting as a guest blogger on a similar blog to yours. You can also invite more experienced or popular bloggers in your niche to post content on your own blog.
If you end up getting a "no" or no response from your inquiry, don't let it discourage you. Wait until your blog starts gaining a larger following and give it another attempt.
You should also make it as easy as possible for guest bloggers to contribute to your blog – make it easy to contact you, and what your requirements are. Do not make it difficult for them as they are doing you a courtesy. Definitely try guest posts!
7. Grow Internal Links for More Search Engine Visibility
The linking opportunities don't end with your lead generation offers; it's crucial to grow your inbound and internal links within blog posts to increase blog post visibility in search engines.
If you're optimizing your content, you'll be in search engines for years to come! Increase that visibility by naturally acquiring inbound links for your most important blog posts.
Aside from the SEO value you'll get from internal linking, continually referencing your old blog content within the context of new blog posts helps you continually drive new traffic to them.
Instead of explaining a concept in its entirety in a blog post, we link to a past post that goes into far more detail. Not only is this more useful for the reader, but it also helps us to drive more traffic to blog posts that have long since been archived.
Also Read:
The Benefits of Sponsored Post : Link Building & SEO
8. Be Mobile Friendly to increase your blog visibility
Much of the world is digitizing and a large part of that is due to the explosion in connected mobile devices. Google understands this, it wants your blog to be mobile-ready as well. In fact, more than half of all the web traffic generates on mobile devices.
Depending on how your blog was built, becoming mobile-friendly can be easy or hard.
Naturally, you also have to take into account your images. These should be optimized to be as lightweight as possible for the best performance on mobile devices.
9. More Blog visibility by Email Traffic Generation
If you haven't set up a way to capture the emails addresses of your readers, you need to do so immediately.
If you are not spending time collecting email addresses, you are basically throwing away the chance to connect with your viewers. Your blog should have an easy to use plug-in that can show up on each page of your blog.
Once you have a list of emails, start sending out a weekly or bi-weekly newsletter, letting them know about new posts or news related to your blog.
10. Leverage on Keywords to improve your blog
Just because it's your blog doesn't mean you don't have to fit a target market. Do some keyword research before crafting your content so that it meets market demand. Google's own keyword tool to give you some ideas about what people are searching for – then try to meet those needs.