Backlinks are links from a page on one website to another.
If someone links to your site, then you have a backlink from them. If you link to another website, then they have a backlink from you.
What Are Backlinks?
Backlinks (also known as "inbound links", "incoming links" or "one way links") are links from one website to a page on another website. Google and other major search engines consider backlinks "votes" for a specific page. Pages with a high number of backlinks tend to have high organic search engine rankings.
Experts have always emphasized that ad reporting is the best method of organic link building and has a very good result for SEO.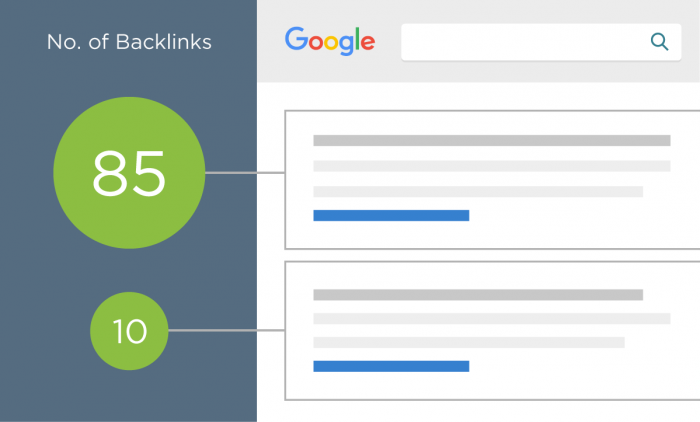 Why are backlinks important?
Backlinks help with three main things.
What Types of Backlinks are Valuable?
Not all backlinks are created equal.
In other words, if you want to rank higher in the SERPs, focus on quality backlinks.
Put another way:
A single quality backlink can be more powerful than 1,000 low-quality backlinks.
As it turns out, high-quality backlinks tend to share the same key traits.
Trait #1: They Come From Trusted, Authoritative Websites
Would you rather get a backlink from Harvard… or a random guy's website?
As it turns out, Google feels the same way.
This concept is known as "Domain Authority". Essentially, the more authority a site has, the more authority it can pass on to your site (via a link).
How to Get Backlinks?
Building backlinks to your site takes time and effort. Here are 7 simple ways you can start building quality backlinks for your website.
Add links to your site on your social media profiles.
Do a Google search for a post that's already ranking well and then improve and expand it.
Create list posts, "how-to" posts, "why" posts, infographics, or posts with embedded videos. These formats usually get more backlinks than standard posts.
Write the ultimate guide posts. These are very long posts containing several thousand words and cover every angle of the topic.
Write guest posts on other blogs and websites
Contact influencers in your niche or industry and tell them about an article on your site that they may want to link to.
Interview influencers in your industry and send them a link, no doubt they will link back to your site.
You can also begin doing competitive backlink research. In order to do this, you'll need to see the backlinks of your competitors who are ranking well.
A backlink tool like SEMrush can help you find these links, so you can begin targeting those domains as part of your own link building strategy.
also read:
How can you remain productive while working From Home ?
1. Rankings
Search engines like Google see backlinks as votes of confidence. Generally speaking, the more votes your web pages have, the more likely they are to rank for relevant search queries.
How do we know? We've studied link-based ranking factors on a few occasions and always find the same thing: the number of backlinks from unique websites (referring domains) correlates strongly with organic search traffic.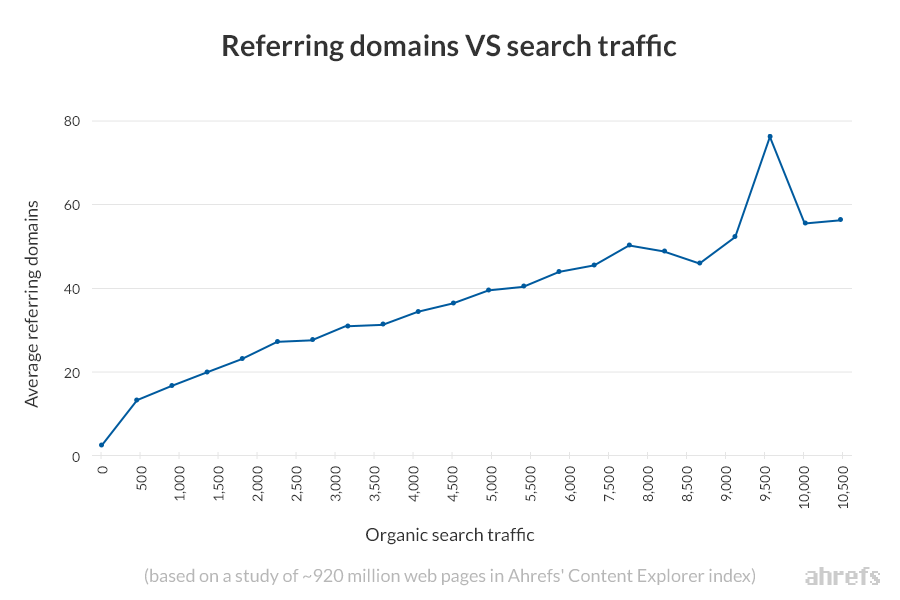 2. Discoverability
Search engines find new content by revisiting pages they already know about to check for new links.
Because search engines revisit popular pages more often than unpopular ones, they may discover your content faster if you get backlinks from popular pages.
3. Referral traffic
Backlinks exist to point people to useful resources. That's why they're clickable.
When someone clicks on a link to your website, you get referral traffic.
What makes a good backlink?
Not all backlinks are created equal. Here are some of the many attributes that contribute to a backlink's quality and utility.
Relevance
Google places more value on relevant backlinks because people are more likely to click on them. This is something they talk about in their "reasonable surfer" patent.
What does this mean in real terms? If a plumber has backlinks from two pages, one about cats and one about installing boilers, chances are the latter is most valuable.
This idea also plays out at the domain level.
Readers of plumbing.com are more likely to click on a link to a plumber's website than readers of cats.com.
Authority
Backlinks from strong web pages usually transfer more "authority" than those from weak ones.
Page-level authority is something we've studied a few times, and we've found a clear relationship between it and organic traffic.
That said, backlinks from strong pages don't always transfer more authority.
Google's original patent states that authority is split equally between all outbound links on a web page. So if you have backlinks from two pages and one has more outbound links than the other, then, all else being equal, the link from the page with fewer outbound links transfers more authority.
Are things that simple these days? Probably not. Google has a fair number of patents describing various methods for assigning value to backlinks.
Furthermore, internal backlinks also contribute to a page's authority.
Traffic
Backlinks from high-traffic pages will usually send you more referral traffic than those from low-traffic pages. That's obvious. The real question is whether backlinks from high-traffic pages positively affect rankings more than those from low-traffic pages?
This is a question we recently tried to answer. We took the top-ranking pages for 44,589 non-branded keywords and looked at organic traffic to the pages that link to them.
Here's what we found:
Long story short, there's a small but clear correlation between rankings and backlinks from pages with organic search traffic. However, the sheer number of backlinks from unique websites (referring domains) and page-level authority look to be more important.
Placement
Because people are more likely to click prominently-placed links, some links on web pages likely pass more authority than others.
Consider this when pursuing links. If your link will likely end up in the site's footer, or along with fifty other sites in the sidebar, then put your energy into other opportunities.
Followed backlinks vs. nofollowed
Nofollowed backlinks don't usually influence the linked page's rankings—although they can.
Because link building takes time and effort, it's best to prioritize getting followed links. Just don't kick up a fuss if you get a nofollowed link. It may still have some SEO value.
Anchor text
Anchor text refers to the clickable words that form a backlink.
Google says that anchor text influences rankings in their original patent.
Google employs a number of techniques to improve search quality including page rank, anchor text, and proximity information.
That said, when we studied the relationship between anchor text and rankings across 384,614 pages, the correlations were weak.
So while anchor text does matter, it's not as important as other things.
How to get more backlinks ?
There are three ways to get more backlinks: create them, earn them, or build them.
Earning backlinks
This is when people discover your content via search engines like Google, social media, or word of mouth, and choose to link to your page. In order words, earned backlinks are organic.
You can improve your chances of earning more backlinks by creating truly useful content that people should want to link to.
Creating backlinks
This is when you manually add links to your site from other websites. Examples include submitting to business directories, leaving blog comments, and replying to forum threads.
Building backlinks
This is when you reach out to other site owners, editors, or webmasters and ask them to link to your page. For this to work, you need to have a clear value proposition. That's where link building tactics come in.
Here are a few tried and tested ones:
Guest blogging: Offer to write a one-off post for another website.
Broken link building: Find relevant dead links on other sites, then reach out and suggest your working link as the replacement. (You can use our broken link checker to do this.)
The Skyscraper Technique: Find relevant content with lots of links, make something better, then ask those linking to the original to link to you instead.
Unlinked mentions: Find unlinked mentions of your brand, then ask the author to make the mention clickable.
Earning and giving backlinks
Earning backlinks is an essential component of off-site SEO. The process of obtaining these links is known as link earning or link building.
Some backlinks are inherently more valuable than others. Followed backlinks from trustworthy, popular, high-authority sites are considered the most desirable backlinks to earn, while backlinks from low-authority, potentially spammy sites are typically at the other end of the spectrum. Whether or not a link is followed (i.e. whether a site owner specifically instructs search engines to pass, or not pass, link equity) is certainly relevant, but don't entirely discount the value of nofollow links. Even just being mentioned on high-quality websites can give your brand a boost.
Just as some backlinks you earn are more valuable than others, links you create to other sites also differ in value. When linking out to an external site, the choices you make regarding the page from which you link (its page authority, content, search engine accessibility, and so on) the anchor text you use, whether you choose to follow or nofollow the link, and any other meta tags associated with the linking page can have a heavy impact on the value you confer.
Competitive backlink research
Backlinks can be time-consuming to earn. New sites or those expanding their keyword footprint may find it difficult to know where to start when it comes to link building. That's where competitive backlink research comes in: By examining the backlink profile (the collection of pages and domains linking to a website) to a competitor that's already ranking well for your target keywords, you can gain insight about the link building that may have helped them.
A backlink tool like Link Explorer can help uncover these links so you can and target those domains in your own link building campaigns.
also read: