A Complete Guide to Getting Your Social Media Accounts Verified :
How to get Verified on instagram, facebook, twitter, tiktok & …
Ever notice the blue checkmark beside the names of people you idolize on social platforms?
That's right, this one.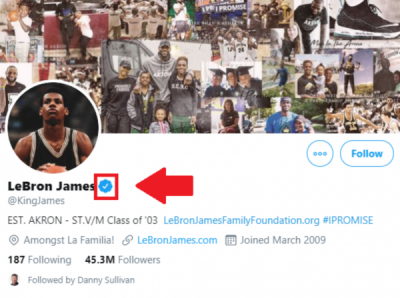 The checkmark might not look like much, but it means:
The account is authentic.
The account belongs to a celebrity or industry leader.
If you're a business owner, getting that checkmark on your social media accounts can:
Make you stand out in the crowd.
Show your followers you're influential in your industry.
Boost your self-confidence. ?
A verified account on any social platform will give you the same result: a stronger online presence.
However, getting your account verified on each platform is different.
So, how do you get this coveted blue checkmark on Facebook, Twitter, and Instagram?
How do you get Google's blue shield or Pinterest's red checkbox?
Read on to find out how to get your social media accounts verified.
The blue check on Facebook is called a verification badge.
Here's how to get yours.
Make Sure You Meet the Criteria for Getting Verified
Before you get your badge, Facebook will look into your account to see if it meets their criteria for verification.
Here are four things Facebook will look for.
The authenticity of your account. They'll want to make sure you're using your real personal or business name.
Your account's uniqueness. Your account should be interesting and specific (no general names like "cat memes" or "funny photos").
A complete setup. Your account doesn't have to be fancy, but it does need a profile photo, an about section, and one post.
A noteworthy account. No, you can't pay for a verification badge. You need to prove you qualify for a badge by showing that real people search for your account.
Request a Verification Badge from Facebook
To apply for your badge, fill out Facebook's contact form.
If you're verifying a personal account, you'll need to submit one government-issued ID.
This can be your driver's license, passport, or national identification card.
If you're verifying a business account, you'll need:
Tax exemption documents.
Articles of incorporation.
A certificate of formation.
A copy of a utility or phone bill.
A written explanation detailing why your account should receive a verification badge.
URLs that prove your account's notability.
As soon as you submit your request, it'll take you anywhere from 48 hours to 45 days to get verification.
If your request is denied, you can apply again after 30 days.
How to get a blue verification
The blue verification badge is meant to inform people that a page or profile of public interest is authentic. Its applied to eligible brands, media organizations and public figures. Eligibility for the blue verification badge is based on a variety of factors, such as account completeness, policy compliance and public interest.
Before you request for the blue verification badge, your page or profile must comply with Facebook's terms of service and have the following:
A cover photo
A profile photo
A name that follows Facebook's guidelines
Content posted to the account
"Follow" enabled (profiles only)
You can then submit a request by filling out this form. You will be required to submit a copy of your official government-issued photo identification (example: passport, driver's license, national identification card) to validate your request. And additional information to help them better review your request. Please include a few sentences explaining why the account should receive the blue verification badge and relevant URLs that help illustrate public interest for the account. You'll receive a notification once we review your request. Please don't submit more than one request for your account. For denied requests, you can submit a new request after 30 days.
Instagram and Facebook have similar methods for account verification. Here's how to get started on Instagram.
What does Instagram verification mean?
Instagram verification means establishing your Instagram account as the "authentic presence of a notable public figure, celebrity, or global brand."
An Instagram verified account gets a verified badge.
It's a blue seal with a little checkmark that appears next to your username. You can apply for Instagram verification with either a personal account or a business account.
Step 1: Log into the Instagram account you want to verify.
Step 2: Go to your profile and tap the options button at the rightmost corner of your screen.
Step 3: Click on your Settings, then go to Account. You'll see an option for Request Verification.
Step 4: Fill in your information and provide a government-issued ID.
Step 5: Wait for your verification badge. Like Facebook, you can request a badge again after 30 days if you get denied.
Twitter was the social platform that started it all.
How to Get Verified on Twitter, Step-by-Step
Fill out your profile completely with profile picture, cover photo, name, website, and bio
Add a verified phone number and confirm your email address
Add your birthday
Set your tweets as "public"
Visit the verification form on Twitter
(Note: If you're applying for verification of a personal profile as opposed to a business profile, you'll also need a copy of a photo ID like a passport or driver's license.)
In Twitter's announcement about verified accounts, they listed a few particular elements that might be a factor in which accounts they choose to verify and which they don't. The biggest factor in getting verified on Twitter is that the profile is of public interest.
It was the first to hand out blue badges to verify accounts.
Compared with Facebook and Instagram, getting verified on Twitter is simple.
All you need to do is make sure your account doesn't lack any important information.
Then, you can prove your brand's worth by showcasing a few example URLs of your web properties.
The bad news is Twitter account verification is on hold for now.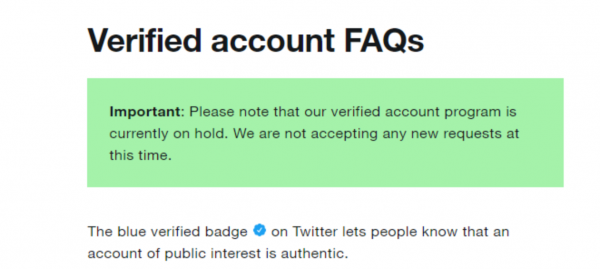 According to Twitter, they're working on a new verification program.
The good news is, if you already have a blue badge, it won't be removed from your account.
Even if you skip getting verified on Facebook, Instagram, and Twitter, never skip verification on Google My Business.
This is super important because the blue verification shield you get will show up when users look for you on Search or Maps.
Here's how to get verified on Google My Business.
Sign into your account on the platform.
Select Verify Now and request a verification postcard (on-screen prompts will make this super simple).
Once you receive your verification postcard, type the verification code into it.
That's it!
You'll receive the blue shield that tells people your website's information is accurate and updated.
Instead of a blue verification mark, Pinterest has an attractive red checkbox next to all verified account names.
Check it out.
The good news is getting this cool checkbox is super easy.
Just follow these three steps.
Log into your account and go to the Settings
Upload your business logo as a profile picture.
You're verified!
Remember, you can only verify your account if you've already claimed your website on Pinterest.
TikTok is super popular today.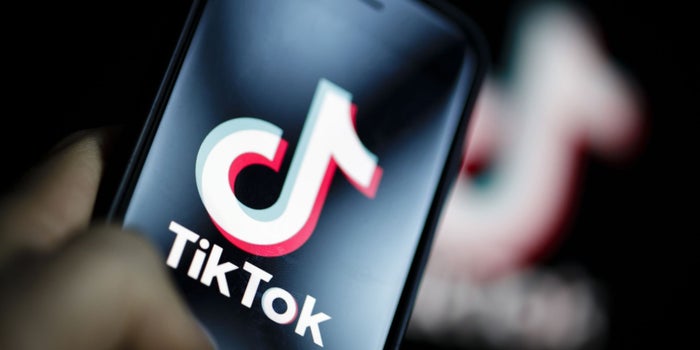 It's where the young (and young at heart) gather to create buzz and have fun with creative photos and videos.
With TikTok, however, verification isn't in your hands.
There are two possible ways of getting verified:
Becoming a verified user. This means you're a world-renown superstar like Taylor Swift, Kim Kardashian-West, or Rihanna.
Becoming a popular user. If you keep creating fun content people love, TikTok can select you as one of its popular users.
Standing out on social media is essential today.
With 3.8 billion users, it's the perfect place to showcase your skills and market your brand.
But how can you show you're a leader in your industry?
How can you prove you're a well-known brand?
It's simple. Get your social account verified.
When you do, you'll stand out in the crowd.
You'll show users you're an industry leader.
And you'll get that special boost of self-confidence every time you visit your profile page.
Confirm Your Identity
Increase Popularity of your Profile
Share on other Social Media Sites
Fill out the Correct Information
Ask for Verification
Getting verified across all social media platforms is important
for businesses and personal brands for a number of reasons.
Snapchat verification
One of those reasons is that it makes their accounts more visible to potential followers — on most platforms, when people are searching for accounts, it'll push a verified business' or brands' verified account to the top of the search results. This brings in a whole lot more followers, and increases engagement among your followers since they're seeing the business' or brands' posts first.
What is a Twitch Verified Badge ? To get verified on Twitch, it is necessary to meet certain criteria…
what is Twitch ?
Twitch is a video live streaming service operated by Twitch Interactive, a subsidiary of Amazon.
Please add a link to your Telegram channel to your profiles on these services — so that we can confirm that they indeed belong to you. Once this is done, please contact our @VerifyBot for verification.
What if I don't have a verified account on all of these services?
If you have an undisputed page on Wikipedia, that satisfies Wikipedia's Notability Guidelines – and that page lists a link to the channel, bot or public group – it can be counted as one of the missing verified accounts.
In the case of organizations, a link to the Telegram channel from the official website of the organization may also be taken in the account. The bot will offer to submit additional data and comments after checking the social media links.
YouTube has officially backtracked on controversial plans to take away verified badges from some creators.
The original plan was to introduce new criteria for earning verification status, and removing existing badges from channels that no longer meet the new criteria.
YouTube announced these plans on Thursday and went back on its decision roughly 24 hours later. That means all YouTube channels that are currently verified will get to keep their badge.
All channels that are not yet verified will be eligible to apply for verification when they reach 100,000 subscribers, which has always been the case.
The key word here is all channels. YouTube's original plans involved limiting verification to channels and creators that are at a high risk of being impersonated.
Unlike Facebook, Twitter & Instagram, LinkedIn doesn't provide a way to verify your profile.
If you are a high-profile person, Facebook, Twitter and Google+ will put a little tick next to your name and photo so people know it's really you.
Retweeting the wrong Barack Obama can be a bit embarrassing, but how about hiring someone who didn't actually graduate from Harvard?
The superficial reasons for needing a system of verification on LinkedIn still apply, but there are important employment based reasons. Including name, employment history, education, professional associations and references.
How To Get Leads On LinkedIn ? Generate B2B leads
How can you remain productive while working From Home ?