Final Fantasy XVI, the latest installment in the long-running and popular role-playing game series, has achieved impressive sales figures in its first week of release. The game, which is exclusive to the PlayStation 5 console, has sold more than 3 million copies worldwide, according to Square Enix, the publisher and developer of the game. This makes it the fastest-selling Final Fantasy game ever, surpassing the previous record held by Final Fantasy XV, which sold 2.5 million copies in its first week in 2016.
Also read: How to find electrum in Final Fantasy 16
A Number One Hit in the UK
One of the markets where Final Fantasy XVI has performed exceptionally well is the United Kingdom, where it has topped the weekly sales charts for boxed games, according to GfK, a statistics firm that tracks physical sales in the country. Final Fantasy XVI has managed to outsell other major releases such as Star Wars Jedi: Survivor, NBA 2K23, and The Legend of Zelda: Tears of the Kingdom, which was the previous number one game.
Final Fantasy XVI is also the first Final Fantasy game to reach the number one spot in the UK since Final Fantasy XII in 2006. The game has received critical acclaim from both British and international media outlets, praising its dark and mature story, its fluid and dynamic combat system, and its stunning graphics and music.
However, not everything is rosy for Final Fantasy XVI in the UK. Despite being the number one game in the country, its physical sales are significantly lower than those of Final Fantasy XV. According to GamesIndustry.biz's Christopher Dring, physical sales are 74% lower than the launch week of Final Fantasy XV in 2016. This means that Final Fantasy XVI has sold around 40,000 copies in its first week, compared to 150,000 copies for Final Fantasy XV.
The Rise of Digital Sales
The reason for this drastic drop in physical sales is not necessarily a lack of interest or demand for Final Fantasy XVI, but rather a reflection of the changing habits and preferences of gamers. Digital sales have become increasingly popular and convenient in recent years, especially with the advent of the PlayStation 5, which offers a digital-only version of the console that does not have a disc drive.
Digital sales are not counted in the weekly sales charts, so they do not reflect the true popularity and success of Final Fantasy XVI. Square Enix has not disclosed the exact numbers of digital sales for Final Fantasy XVI yet, but they are likely to be much higher than physical sales. In fact, according to Push Square, a PlayStation news website, Final Fantasy XVI has been flying up the best sellers charts on Amazon after its stellar State of Play showcase in April, where it showed 25 minutes of gameplay footage. The game has topped the PS5 best sellers on Amazon US, and has moved up several places in Europe as well.
Digital sales are also more profitable for publishers and developers than physical sales, as they do not have to pay for manufacturing, distribution, or retail costs. Therefore, even if Final Fantasy XVI sells fewer copies than Final Fantasy XV overall, it may still generate more revenue and profit for Square Enix.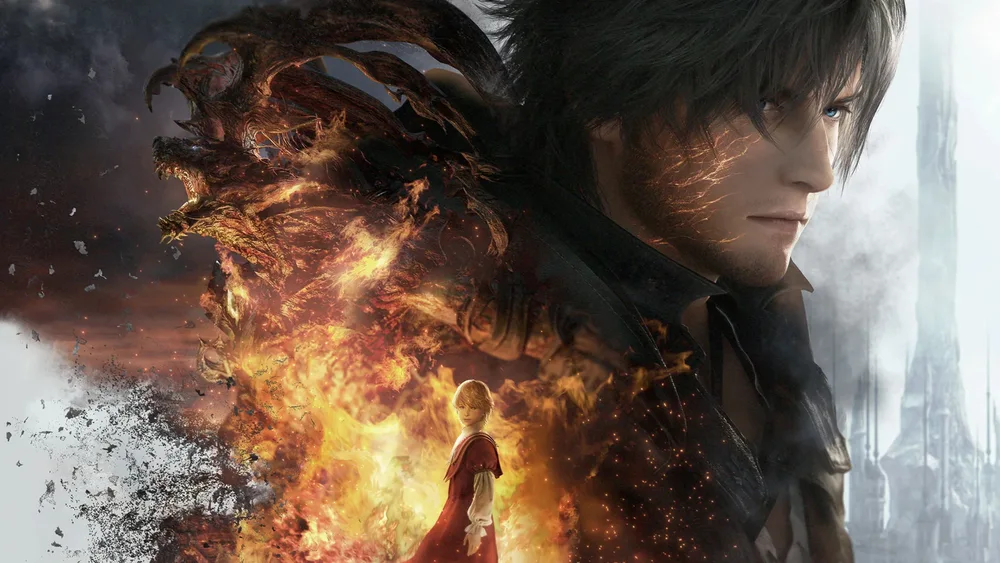 A Controversial Game
Another factor that may have affected the sales of Final Fantasy XVI is its controversial reception among some fans of the series. Final Fantasy XVI is a departure from previous games in terms of its tone and style. It is set in a dark and gritty medieval fantasy world called Valisthea, where humans are at war with each other and with monstrous creatures called Eikons. The game follows the story of Clive Rosfield, a young knight who becomes the protector of his brother Joshua, who is blessed with the power of an Eikon.
Some fans have criticized Final Fantasy XVI for being too dark and violent, and for abandoning the traditional turn-based combat system in favor of a real-time action system that resembles games like Devil May Cry or God of War. Some fans have also expressed dissatisfaction with the British voice cast and accents of the characters, which they feel do not fit with the Japanese aesthetic of the series.
These criticisms have led to some negative user reviews on Metacritic, a website that aggregates scores from critics and users. Although most user reviews are positive and praise Final Fantasy XVI for its innovation and quality, some are negative and accuse the game of being boring, generic, or disappointing. Some of these reviews may be made in bad faith or without having played the game at all.
A Bright Future
Despite these challenges and controversies, Final Fantasy XVI has proven to be a huge success for Square Enix and Sony. The game has received widespread acclaim from critics and fans alike, who have hailed it as one of the best games of 2023 and one of the best entries in the series. The game has also sold millions of copies worldwide in its first week, making it one of the most popular and profitable games of the year.
Final Fantasy XVI is not only a great game, but also a great showcase for the PlayStation 5, which is still in high demand and short supply due to the global chip shortage. The game demonstrates the power and potential of the new console, with its stunning graphics, fast loading times, and immersive features. The game also offers a rich and expansive world to explore, with multiple endings, side quests, and secrets to discover.
Final Fantasy XVI is not the end of the journey for Square Enix and Sony, but rather the beginning. The game is expected to receive updates and expansions in the future, adding new content and features to the game. Square Enix has also hinted at possible spin-offs or sequels set in the same world of Valisthea, which could further expand the lore and appeal of the game. Final Fantasy XVI is a game that will keep players engaged and entertained for a long time, and will surely be remembered as one of the best games of this generation.