Rev up your engines and get ready for an adrenaline-pumping ride as we bring you the ultimate list of the best bike games on consoles! Whether you're a speed demon seeking high-octane thrills or a master of stunts looking to conquer gravity-defying challenges, these games have something for every two-wheeled enthusiast. From realistic racing simulators to action-packed adventures, these titles have captured the hearts of gamers worldwide with their immersive gameplay and stunning graphics. So, tighten your helmet straps, grip those handlebars, and let's dive into the world of the most exhilarating and best bike games available on your favorite consoles!
And don't forget; we have already revealed some of the best bike games on both PC and mobile platforms for you to check out!
10. Pure
Pure is a quad-bike game that shares more similarities with Tony Hawk than with the ATV series. While its core is a racing game, the focus lies on performing stunts and tricks on the bike rather than solely racing at top speed.
The game is designed for single-player only, but it offers extensive customization options for all the quad bikes. Additionally, there are over 70 tricks to master, although some may require considerable time and effort.
Keep in mind that the game's visuals appear outdated, reflecting a mid-2000s art style and color grading reminiscent of Need for Speed: Most Wanted. However, enthusiasts of quad-bike stunts will find much to enjoy in this game.
9. Road Redemption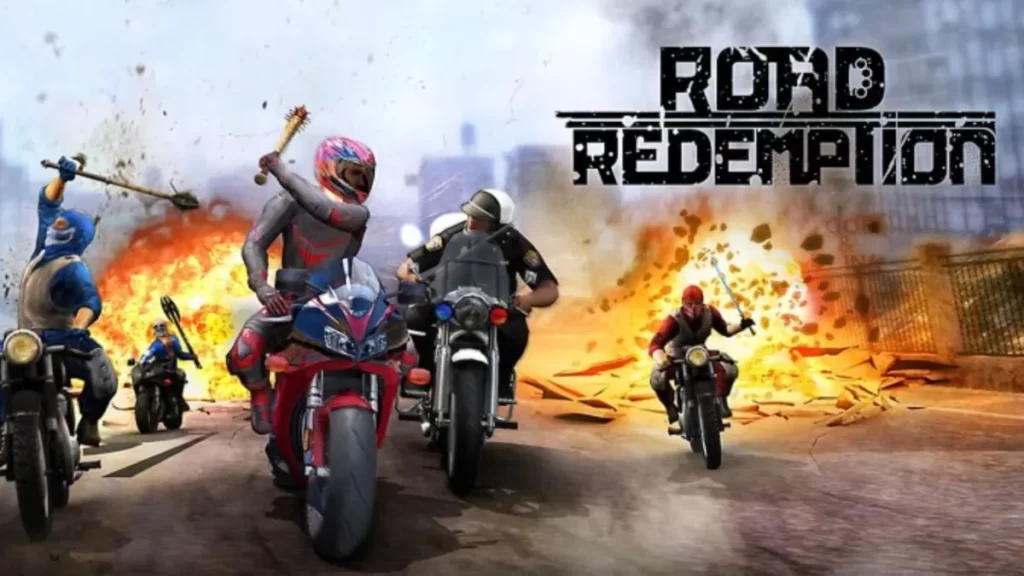 Road Redemption is the next game in our selection of the best console bike games. While most races in Road Redemption occur on the road rather than dirt tracks, the game is still as extreme as any other on this list.
If you are familiar with the classic game Road Rash, you will recognize the basic concept of Road Redemption. In this game, winning the race is not solely based on speed but also on ruthlessness.
Your opponents will constantly try to damage you and your bike, and you must do the same to them in order to emerge victorious. The game offers split-screen multiplayer for up to four players and online multiplayer for ten. The one drawback is that the single-player mode may become repetitive after a while. However, Road Redemption truly shines when played online, making it a great choice for multiplayer enthusiasts.
8. MX VS ATV All Out
Rainbow Studios and THQ Nordic developed MX versus ATV All Out for Xbox One, making it the eighth installment in the MX vs ATV series and a sequel to Supercross Encore. In the game's career mode, players can progress through a professional off-road racing career, earning new vehicles and advancements. The game offers various racing options, including Motocross, Supercross, Open cross, Rallycross, and Freestyle, and allows players to customize their vehicles. Dirt bikes, ATVs, and quads are all available for use.
One of the standout features of MX vs ATV All Out is its multiplayer options. Players can enjoy both offline and online multiplayer races and competitions with friends. Additionally, the game includes a robust track editor, allowing players to create their own custom tracks. With its extensive career mode, tracks, cars, multiplayer modes, and track editor, MX versus ATV All Out is a highly enjoyable off-road racing experience on Xbox One. It is ideal for gamers seeking the best motorcycle game on the platform.
7. The Crew 2
The Crew series has always prioritized quantity over quality. This doesn't mean that the racing experience is poor; rather, there are many other games with superior gameplay mechanics compared to The Crew 2.
However, the game's expansive nature allows players to choose from various vehicles. Players can use cars, trucks, SUVs, airplanes, and dirt bikes in the second installment. To succeed in the game, one must participate in all the disciplines.
If you are a racing enthusiast and don't mind dirt bikes being just one aspect of the game, The Crew 2 will surely satisfy your racing cravings. You can opt to exclusively race dirt bikes in various single-player challenges or the eight-player multiplayer mode.
6. Trials Fusion
UBISOFT Entertainment, a studio known for producing blockbuster AAA titles with varying degrees of success, has also ventured into the realm of indie games, including the Trials series. In fact, they have produced some of the best bike games on consoles.
Initially, Trials Fusion may appear like a game designed for mobile devices, but as you delve deeper, you'll discover its substantial depth, demanding mastery to tackle the more challenging aspects.
While the game incorporates platforming elements, the races deliver a thrilling experience. The inclusion of eight-player online and four-player local multiplayer options is fantastic for enjoying the game with friends. However, it's worth noting that finding online lobbies may prove a bit difficult.
5. MXGP 2021
MXGP 2021 stands out as one of the best bike games available on consoles, specifically Xbox. The game sets high standards for racing games with its career, online, and 2021 MXGP modes. The realistic scenery and riders create stunning visuals, while the physics engine ensures a lifelike experience with realistic crashes, jumps, and corners. Players can personalize their bikes, helmets, and clothing in the game.
MXGP 2021 offers great controls, making it easy to play. The controller vibration feedback adds to the immersion by enhancing terrain and bike position awareness. The AI riders provide tough and competitive challenges, making mistakes a learning opportunity to improve racing skills. Racing enthusiasts will find MXGP 2021 captivating, with its features, aesthetics, and challenging AI making it a game worth revisiting. Overall, MXGP 2021 is an outstanding racing experience for motorcycle enthusiasts.
4. Monster Energy Supercross 5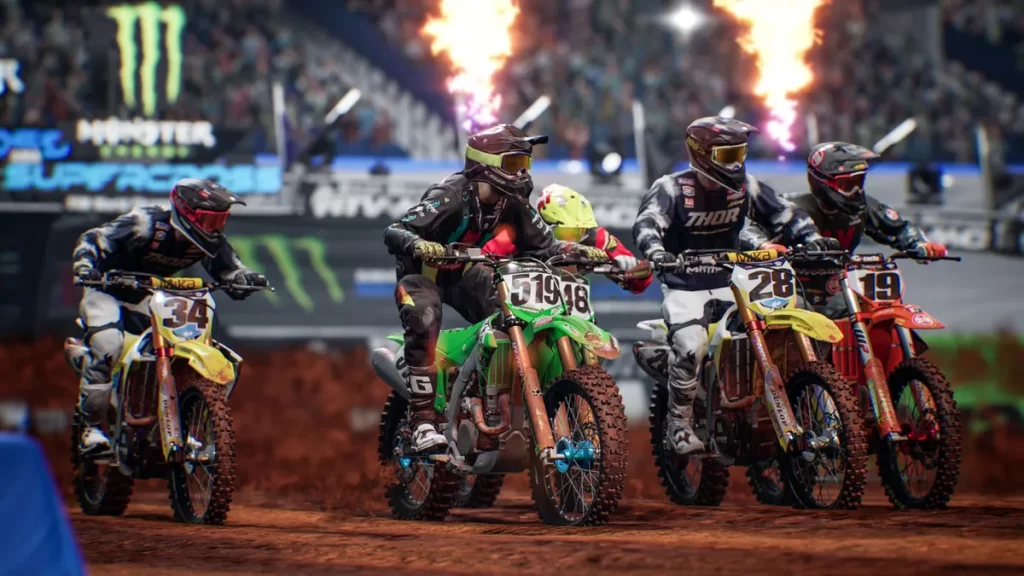 The Monster Energy Supercross series is another major contender in the world of dirt bike games. However, it falls behind MXGP 2021 in terms of gameplay. In other aspects, MES5 offers a better experience compared to its rival. It boasts more content and provides players with various options to customize their gameplay through the track editor. Additionally, there's a practice compound where players can refine their skills.
The game's career mode is remarkably detailed, and players must be cautious about injuries affecting their performance. Race outcomes are influenced by the rider's condition rather than just bike maneuvering skills.
For multiplayer enthusiasts, a mode accommodates up to twelve players. Despite the developers' impressive e-sport mode integration, the game faces a similar issue to MXGP 2021: a shortage of players in the multiplayer community.
3. Riders Republic
Riders Republic, developed by Ubisoft, offers an exciting blend of extreme sports and massive online multiplayer in an open-world setting. Players can enter a stunning open world filled with thrilling activities and intense competitions. The game allows racing, exploration, and various forms of competition while also offering extensive options for personalizing avatars, bikes, and clothing.
Being one of the best bike games on consoles, Riders Republic impresses with its visually stunning environment, featuring realistic lighting, weather, and flora. The gameplay is smooth and complemented by user-friendly controls.
The game keeps players engaged with a substantial narrative mode and a wide array of daily, seasonal, and special events. Clubs can partake in team events and challenges, while the Point Chase and Marathon game types offer both fun and challenging experiences. Riders Republic is an exceptional choice for fans of extreme sports and open-world adventures. Its vast open world, superb graphics, and abundant content ensure a captivating experience for players interested in open-world extreme sports.
2. TT Isle of Man: Ride on the Edge 2
TT Isle of Man: Ride on the Edge 2 is a highly commendable racing game, widely praised for its realistic and high-paced gameplay. The standout feature is the inclusion of the 37.73-mile Snaefell Mountain Course, characterized by tree-lined corridors, medieval city streets, and exhilarating coastal stretches. Navigating this challenging course at breakneck speeds presents a daunting and unforgiving task, akin to the actual TT races, renowned for their risk and danger.
The game's remarkable speed and the narrow roads create a thrilling experience that often resembles the intensity of WipeOut, rather than a conventional racing game. The top-notch music, particularly the sound of wind rushing past as your bike zooms by trackside obstacles, further amplifies the sensation of speed and immersion in the game. Overall, TT Isle of Man: Ride on the Edge 2 delivers an exciting, heart-pounding racing experience.
1. Ride 4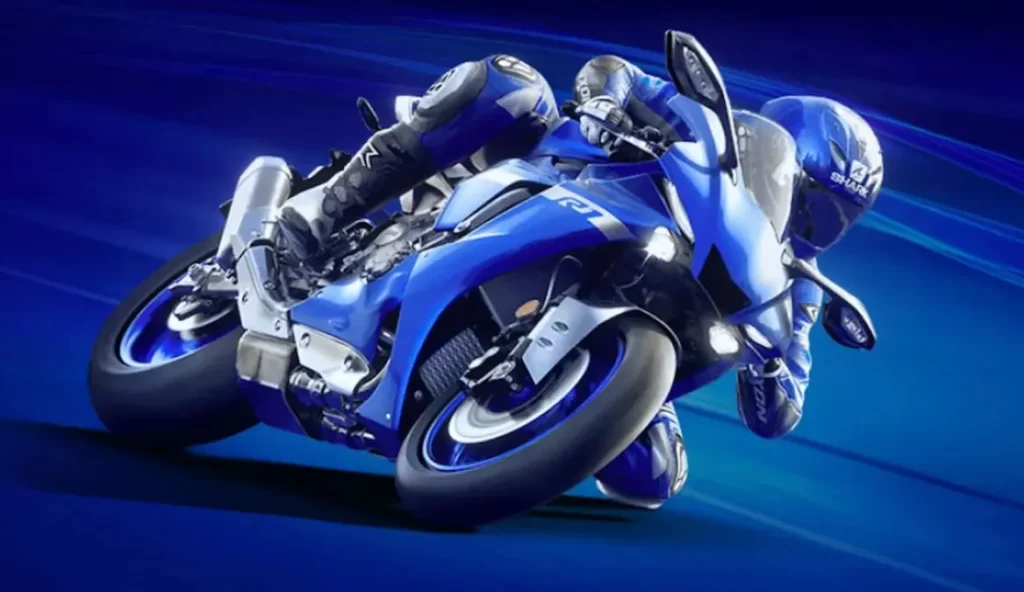 Get ready to hit the road and experience the thrill of speed with Ride 4, the action-packed racing game brought to you by Milestone! Offering an extensive selection of motorcycles, tracks, and lifelike physics, this game delivers an authentic and heart-pounding racing experience like no other. Whether you're a seasoned rider or just starting your two-wheeled journey, Ride 4 has a bike for every level, allowing you to fine-tune and personalize your ride to match your unique style.
Test your skills against AI opponents that can be tailored to challenge even the most seasoned players. From the breathtaking vistas of the California coast to the treacherous trails of the Alps, Ride 4 offers a global adventure with meticulously detailed visuals, ensuring each course provides a distinct and immersive racing experience. So, buckle up and feel the rush of the road as you navigate the game's immersive physics engine, where every twist and turn can be felt through the bike's detailed and responsive controls. Are you ready to rev your engine and dominate the tracks in Ride 4? Let's kickstart the action and race to victory!