The best bike racing games on PC provide tons of fun if you know how to embrace them and enjoy their fast-paced arcade-ish racing experience.
There's something truly special about riding fast motorcycles like Yamaha or Ducati, and it's so satisfying to see when a gamer or a man truly appreciates a great bike or a bike game. In this article, we'll explore some amazing games that let you experience the thrill of riding a bike. So, get ready and fasten your seatbelt for this exciting ride. Here are the best bike racing games for PC.
But first, please check out our list of best bike games on mobile here!
10. Bike Stunt Games: Motorcycle Racing 3D
Starting off our list of best bike games on PC is the Motorcycle Racing 3D. For fans of the Trials series, this free bike racing game offers an exciting new world of bike stunt games. With millions of gamers striving to be the best in the business, you'll be introduced to various stunts and challenges that push your skills to the limit.
As you advance in the game, you'll unlock new tracks and face tougher opponents, keeping the gameplay fresh and engaging. While it's easy to pick up, the game remains thrilling as long as you discover new strategies to compete against the top players. Get ready to showcase your bike racing skills and conquer the challenges ahead!
9. Mountain Bike Xtreme
Mountain Bike Xtreme offers an exceptional dirt bike racing experience as a free-to-download bike racing game for PC. With a variety of tracks and the freedom to customize your bike, you can unlock new bicycles, helmets, tires, and accessories as you advance through the game.
The added track editor feature allows you to create your own tracks, adding a delightful touch to the overall experience. Thanks to the helpful tutorial, you'll have no trouble getting into the game and mastering its mechanics. Get ready to hit the trails, race through thrilling tracks, and unleash your creativity in this exciting bike racing adventure!
8. ATV Quad Bike Impossible Stunts Racing Mania
ATV Quad Bike offers an immersive off-road bike riding experience through various landscapes, striking a perfect balance between approachability and challenging gameplay. Once you get the hang of the simulation, the pace of the game picks up, making it more thrilling.
To add excitement to your races, you'll encounter obstacles and collect items along the way. Imagine a blend of hyper-casual running games, but instead, you're on a quad bike, maximizing your speed to conquer the terrain and emerge victorious. Prepare for an adrenaline-pumping adventure as you navigate challenging tracks and aim for victory in ATV Quad Bike!
7. Midnight Bike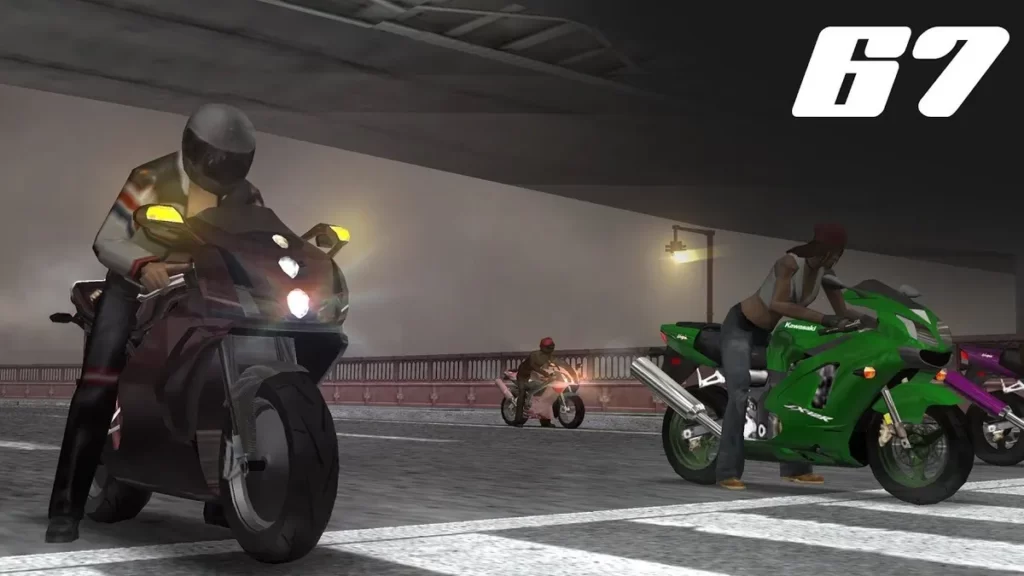 Another one of the best bike games on PC is Midnight Bike. Midnight Bike stands out as a truly distinctive bike racing game, offering a thrilling and challenging experience. Your objective is straightforward: navigate through traffic by dodging obstacles in front of you. But here's the twist – the game takes place at midnight, creating limited visibility with just one light illuminating the way. To avoid the traffic ahead, you must swiftly turn left or right.
The simplicity of the goal belies the high-speed intensity of the gameplay. You'll find yourself moving at incredible speeds, demanding quick reflexes and precise timing to navigate the obstacles successfully. Midnight Bike promises an exhilarating ride, where split-second decisions can be the difference between victory and a crash. Brace yourself for a unique and adrenaline-pumping journey through the dark streets in Midnight Bike!
6. MotoGP 18
MotoGP 18 impressively utilizes Unreal Engine 4 to create a highly realistic bike racing experience. Each new entry in the series ensures that finer liveries, teams, riders, and sponsors are up to date, making it a yearly update to a sports game. The real-world accuracy is praised in this game. The track list has been upgraded to include popular tracks like Assen and Silverstone. For the first time, it features the Buriram International Circuit in Thailand, reflecting the current season.
Thanks to Unreal Engine 4, the game feels and looks fresh, and all this year's courses have been drone-scanned, adding to the level of realism and immersion.
5. Road Redemption
In our childhood days, many of us enjoyed playing Road Rash. This arcade racing game provided a fun experience, allowing players to use various tactics or weapons to damage other riders and win races. But this unique aspect of the game, where participants could hit and kick their opponents, set it apart from others. Now, we have Road Redemption, a driving combat road rage adventure that lets you lead a motorbike gang on an epic journey across the country.
Similar to Road Rash, Road Redemption allows you to wield a variety of weapons, such as bats and rifles, to take down your rivals. However, you'll need to be careful and dodge the pursuing cops who are determined to put an end to the chaos and halt your races in multiple ways. The game has garnered very positive reviews from the gaming community.
4. Ride 4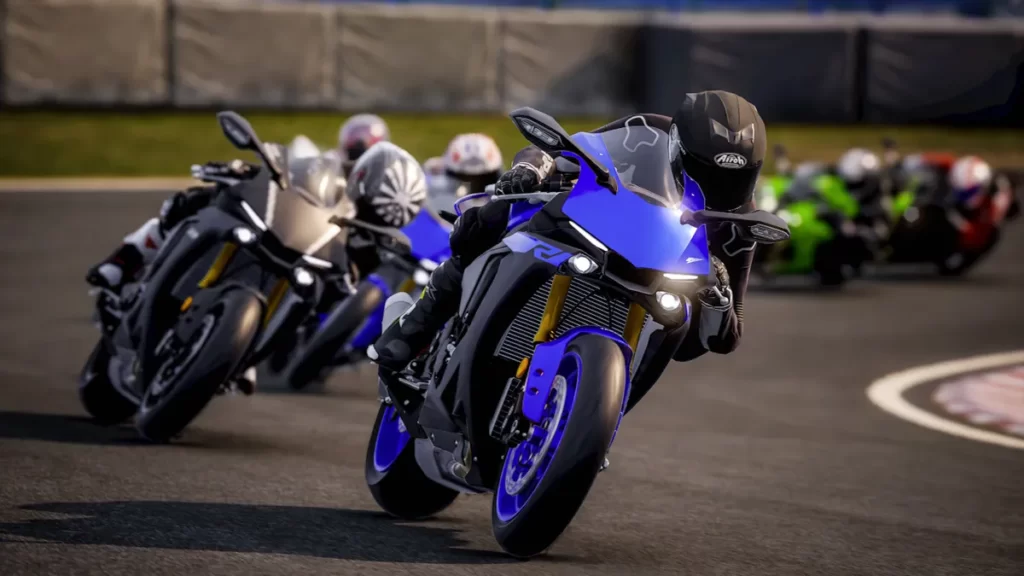 Ride 4 takes bike racing to a whole new level of realism, offering a wide range of options to ignite your competitive spirit. With hundreds of legally licensed motorcycles and dozens of meticulously constructed tracks worldwide, you'll have plenty of choices to showcase your racing skills. The game features a dynamic weather system and a full day/night cycle. This allows you to experience races in different lighting conditions and prove yourself as the ultimate rider in any situation.
In addition to the standard races, Ride 4 introduces an Endurance mode that tests your endurance with animated pit breaks and long-lasting races, requiring strategic planning and driving skills. To further personalize your racing experience, you can choose from various official brands for your rider's attire and customize your motorcycles both visually and technically. Moreover, Ride 4 offers an immersive and thrilling bike racing experience that will keep you engaged for hours on end.
3. MXGP PRO
MXGP PRO offers a narrative-free bike racing experience that might appear casual and easy to grasp, but don't be fooled. It is actually a complex bike racing simulator where you create a character in career mode and guide them to climb the rankings by winning various races. But the game features both single-player and multiplayer modes, including a 'Time Attack' level where you compete against the clock.
You participate in numerous professional competitions to showcase your skills as a dirt bike racer on confined, uneven courses in multi-lap races. MXGP PRO presents a challenging and immersive experience for those seeking a realistic dirt bike racing adventure.
2. Trials Rising
Trials Rising, part of the Trials Bike racing series, offers some of the most remarkable dirt tracks and challenging courses. As a rider on a dirt bike, you face various obstacles, including rings of fire, nails, and other thrilling challenges.
You must navigate through these breath-holding moments and make the best out of each track. The game's exciting and intense gameplay makes Trials Rising an amazing experience for players looking for adrenaline-pumping dirt bike racing action.
1. MotoGP 23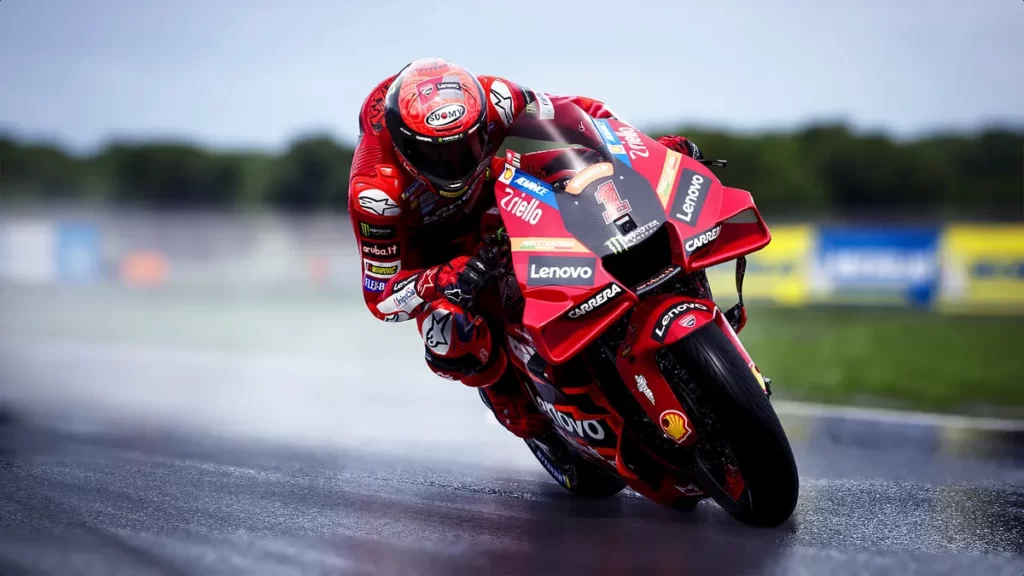 Rounding off our list of best bike games on PC. This simulation-style racing game offers players the opportunity to experience the latest MotoGP 23 by participating in various races. As an official bike racing game, it demands a high level of concentration. Success in this motorbike game relies on mastering the tracks and ensuring your bike's performance allows for aggressive racing.
While it may not appeal to everyone, especially those seeking an arcade-like experience, fans of the game can explore additional DLCs to expand the content or even try earlier installments like MotoGP 22 to relive past season races. With over 120 riders and nearly 70 different championships, the game offers an extensive selection of MotoGP races for players to enjoy.
Editor's Picks: