Mobile gaming has become easily accessible to almost everyone, and it has brought along a wide variety of fascinating game genres. Most smartphones are equipped with powerful processors capable of handling these games. Among the diverse options available, bike games for smartphones are particularly popular. Even if you own a low-budget smartphone, most of these games can still be enjoyed as they do not have ultra-high requirements. Moreover, we will also include apps available on iOS. The bike racing genre has seen several new releases in recent years, and without delay, we present the best bike racing games on mobile for Android and iOS.
10. Real Moto
Starting off our list of best bike racing games on mobile is Real Moto, a top-notch mobile motorbike game, immerses players in the thrilling world of motorbike racing. The game features realistic engine speed and sound, enhancing the overall racing experience. With over 150 challenges to participate in, players can test their skills in various scenarios. Additionally, the game offers a selection of 11 fantastic motorcycles and a wide range of customization options to make your bike unique.
Real Moto boasts incredibly polished racing mechanics that grant players excellent control over their bikes, allowing them to maintain high speeds. Alongside the top-notch core mechanics, the game offers stunning race circuits for added excitement. Available for free on both Android and iOS platforms, Real Moto has already garnered over 10 million downloads.
9. Xtreme Motorbikes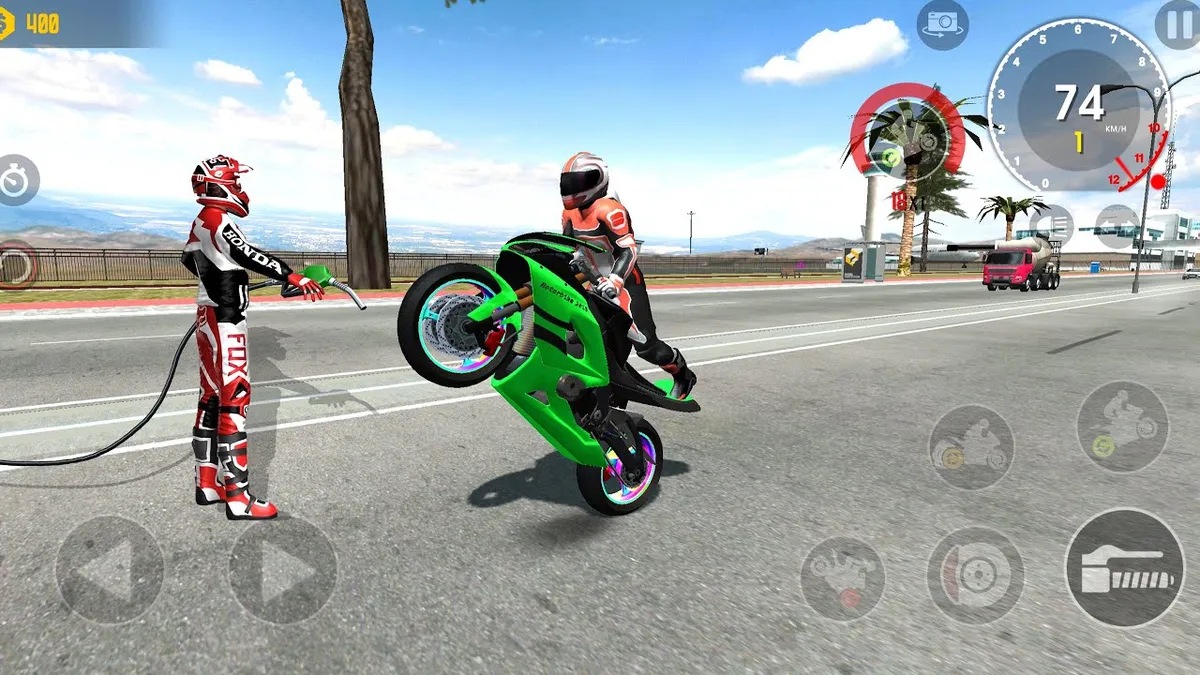 Finally, let's talk about the Xtreme Motorbikes bike game, a free-roaming game that offers players a range of side tasks based on their ability levels, such as Time Trial and Parkour. The game allows players to perform incredible stunt leaps with powerful motorcycles. However, if you drive too fast, you'll attract the attention of the cops, and you'll have to flee, similar to situations in GTA games.
Players can unlock up to 25 bikes and master their skills. The game's main theme revolves around the freedom it provides to players. With a bike, you have the freedom to do almost anything. Its realistic physics and drifting abilities have made it highly popular among mobile gamers, with over one crore downloads.
8. Trials Frontier
Ubisoft developed Trials Frontier, making it one of the best bike games on mobile operating systems. This skill-based bike racing game will keep you thrilled as you perform various stunts using realistic physics. With over 250 racing circuits available, you can showcase your abilities. Additionally, there are 15 bikes for you to ride. The game also features a PvP mode, where you can compete against top racers from around the world. Trials Frontier is free to play, but it does offer in-app purchases.
7. MotoGP Racing 22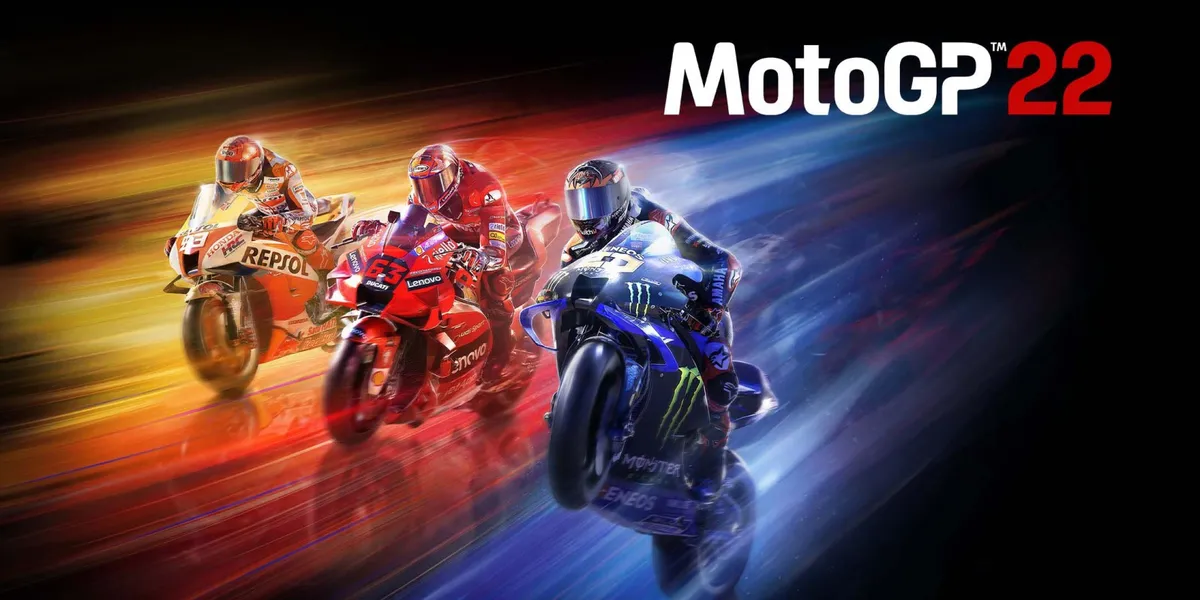 Moto GP stands out with its unmatched realistic visuals and official licensing in the world of best bike racing games on mobile. This game delivers an incredible racing experience with its lifelike visuals. Players can either be professional bike racers from the game or create their own characters. The thrill of high-speed bike races on famous race circuits awaits you.
The game provides an ultra-real experience of braking in turns, giving players an adrenaline surge. Participants in the MotoGP Fan World Championship have a chance to win incredible prizes. Climbing the multiplayer leaderboard with numerous victories is also within reach. Moto GP is free on Android and iOS platforms, with in-app purchases available.
6. Death Moto
We enjoy playing Death Moto, one of the oldest and most popular android racing games. One intriguing feature is the ability to pick up tools along the road and use them to damage other motorcycles. Eliminating opponents rewards you with new helmets that unlock more motorcycles for you to ride.
The game follows a similar structure to many other moto racing games, with intense racing through busy city streets and highways, while evading cops and coping with the bike's increasing speed. Death Moto is available for free download on Android and iOS smartphones and doesn't take up much storage space.
5. Dirt Bike Unchained
Dirt Bike Unchained is a unique PVP gaming app that offers high-level street bike racing on various terrains. Players can compete against others worldwide on stunning desert, swamp, and woodland paths. An exciting feature is the ability to interact with other Red Bull athletes, unlocking authentic Red Bull bikes and gear.
The game's main selling point is the collection of different Dirt bikes through its reward system. Players can enjoy a fun and thrilling gameplay experience with various terrains and stunt modes. Developed by Red Bull, the app is free to use and includes all the Red Bull merchandise and upgrade paths.
4. Gravity Rider Zero
Gravity Rider Zero is yet another one of the best bike games on mobile which offers a challenging and enjoyable bike racing experience for players who love a good test of their skills. The game stands out with its simple yet precise controls, making it one of the most difficult bike racing games available on app stores. Despite the difficulty, the game offers players the advantage of having a limitless amount of garage space for their motorcycles.
What sets Gravity Rider Zero apart is its diverse selection of bikes, ranging from trial motorcycles to ATVs, World War-era motorbikes, and even space-themed bikes. This variety adds an exciting element to the gameplay and makes it a fantastic choice for bike racing enthusiasts. Whether you prefer thrilling races or exploring new bike types, Gravity Rider Zero is a fun and engaging way to spend your time gaming on your phone or tablet.
3. Traffic Rider
Traffic Rider is an entertaining game with a rich narrative, featuring over 70 missions in its narrative mode. The game boasts an impressive selection of more than 25 real-life bikes, giving players fascinating customization options to personalize their experience. As a unique bike simulation game, Traffic Rider delivers incredible controls and a genuinely realistic bike riding simulation that can be enjoyed on most smartphones.
Players can explore various game modes, including arcade and full career modes. The first-person bike riding perspective is a standout feature, which adds an immersive gameplay element. While some players may wish for additional camera angles and more personalization options, the game still offers enjoyable gameplay. Whether you want to speed through the roads, perform wheelies, or even ride in the opposite direction, Traffic Rider provides a thrilling experience for bike enthusiasts.
2. SBK 16
This Digital Tales game offers a wide range of high-performance bikes from renowned brands like Aprilia, Kawasaki, Honda, Yamaha, and more, allowing players to race on these powerful machines. With high-quality 3D visuals and various control options such as a virtual joystick, mobile gamepad, and standard gesture controls, the game provides a customizable experience for players.
Players can choose from multiple races and challenges to showcase their skills and abilities. Completing trials and achieving milestones on their smartphones rewards players with a plethora of in-game goodies. The game has improved graphics and an excellent soundtrack, enhancing the overall gaming experience.
However, a notable downside is the presence of unpredictable advertising and popups that can be irritating to players. On a positive note, players can select the character they prefer and enjoy four distinct game modes, adding variety and excitement to the gameplay.
1. Asphalt 8: Airborne
Rounding off our list fo best bike games on mobile is none other than Gameloft's Asphalt 8: Airborne. Gameloft took its time to introduce motorcycles in their racing games, and they have now included them through their Moto Blitz section in Asphalt 8: Airborne. Despite Asphalt 9 being the more recent game, the eighth version remains one of the best racing games available for both Android and iOS. The addition of motorcycles brings a multiplayer feature and exciting tricks to boost your nitro bar, providing an exhilarating racing experience for bike enthusiasts.
Players can upgrade bike parts and enjoy various customization options. However, it's important to note that the game takes up a significant amount of storage space, approximately two to three GB, on your smartphone after installation. Consequently, unless you have a flagship phone or the latest iPhone model, you might experience occasional frame drops during gameplay.
Editor's Choice: