Learning how to get verified on Twitter is a key step towards building a credible brand. Therefore, this guide shows you how to boost your chances of being approved and also improve your social media marketing.
How to Get Verified on Twitter?
Social media has that unique ability to take non-celebs into the spotlight every now and then.
Well, now Twitter's gone one step further. You can apply to be Twitter verified and receive a blue checkmark badge next to your name.
To become verified on Twitter, you simply update your profile with current information, verify a phone number and email address. Then, fill out a form requesting consideration as a verified user.
It does provide a bit of an ego boost and celebrity moment to see the blue badge, but here's the real kicker: There are significant business/brand advantages to being Twitter verified.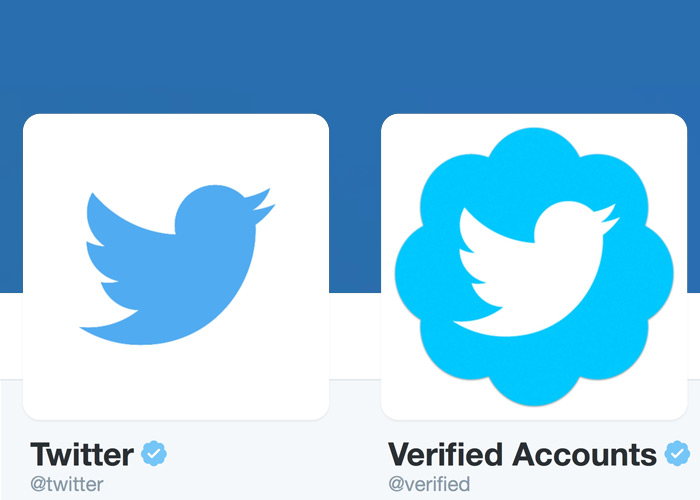 What is a Blue verified badge on Twitter?
Everybody wants that little blue checkmark.
According to Twitter, "The blue verified badge on Twitter lets people know that an account of public interest is authentic."
The social network notes that accounts of public interest may include public figures and organizations in the fields of:
Music
TV
Film
Fashion
Government
Politics
Religion
Journalism
Media
Sports
Business
and other key interest areas
What does Twitter verification mean?
That blue badge signals to all Twitter users that the platform recognizes the account as real, credible, authentic and of interest to the public.
Not sure what an "authentic" Twitter account means? It means you're not impersonating, manipulating or spamming anyone. And you're not violating any copyright or trademark laws, either.
Only Twitter can verify accounts and add that blue badge to profiles. Third parties can't do it. And you certainly can't add it yourself.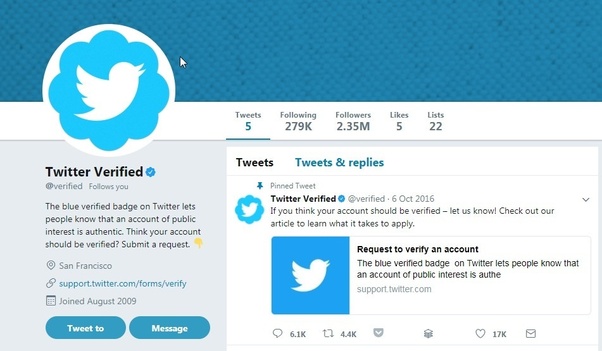 Moreover, other things to know about Twitter verification include:
Verification doesn't mean endorsement. The blue badge only means your account was deemed credible by Twitter.
The official verification badge will always show in the same place. Verified accounts will always have the check mark next to their username, both in their profile and any tweet they send. It also shows next to the username in search results.
The official Twitter verification badge always looks the same. The badges are always the same shape and colour.
The number of tweets from your account and your number of followers don't matter. These aren't taken into consideration for the verification process.
Also Read:
How to Get Verified on TikTok ?
How to Get Verified on Twitter, Step-by-Step
Fill out your profile completely with profile picture, cover photo, name, website, and bio
Add a verified phone number and confirm your email address
Add your birthday
Set your tweets as "public"
(Note: If you're applying for verification of a personal profile as opposed to a business profile, you'll also need a copy of a photo ID like a passport or driver's license.)
In Twitter's announcement about verified accounts, they listed a few particular elements that might be a factor in which accounts they choose to verify and which they don't. The biggest factor in getting verified on Twitter is that the profile is of public interest.
If you go through the process once and don't get verified, no worries. You can try again in 30 days.
Get Verified on Twitter: guidelines
In terms of the minimum guidelines, here's a bit more about how to complete each one successfully.
Verify your phone number on Twitter.
You can add a phone number to your account here. Moreover, to verify the number, enter the verification code that Twitter sends to your email.
Confirm your email address.
You can add your email address here; to confirm the email, click the link that Twitter sends to your email address.
Add a bio, profile photo, cover photo, birthday, and website.
To add or edit this information, visit your profile on Twitter. If you're logged in, you should see an "Edit Profile" button to the right of your Twitter stats.
Clicking the edit button will make the various aspects of your profile editable.
In editing this information, Twitter recommends that your profile name is the real name of the person or the organization, that the profile photo and cover photo accurately represent what you're about, and that the bio mentions an area of expertise or company mission.
Your tweets must be publicly available to earn verification. To do this you'll need to venture into your privacy settings. Just go to your Twitter settings, click "Privacy and security" and make sure the "Protect your tweets" box remains unchecked.
What is the point of having a Twitter verified account?
There are a few reasons:
It builds credibility. Right away, users know this isn't an account run by bots or an impersonator.
It shows your account is authentic. The badge signals you aren't spamming, manipulating or misleading followers.
It shows your account is of interest to the public. And this might lead to an increase in your followers.
also read :
How to get verified on Facebook ?
Tips on how to get verified on Twitter
As Twitter's verification application process is no longer available, getting verified is now reliant on Twitter acknowledging your account as worthy of public interest.
1. Stay active to get verified on twitter
This one's a no-brainer. Twitter won't give a verification badge to an account that keeps its Twitter activity nearly non-existent. Many obtain a Twitter handle to simply claim their brand name, or for pushing out periodic PR content. However, maintaining a more steady marketing presence in the form of updates, communication, and participation in Twitter activities can increase the potential for your Twitter profile to be verified.
An extra point for consideration is posting consistently in the weeks leading up to when you apply for verification. This helps give your account the impression of being active on the platform.
Also Read:
How to get Verified badge on Social networks likes Instagram & Tiktok
2. Get Specific to get a verification badge
Verify your expertise and value by including specifics in your bio. Showcase key accomplishments and use specific numbers or KPIs when possible. It may feel self-promotional, but it helps to verify and visualize your credibility.
3. Contribute to the public interest to get a blue check on twitter
We don't have to think too hard to understand what "public interest" means in this context. As you can see, Twitter has explicitly spelled out which categories of handles can be positioned as public interest oriented to help you identify your profile:
Politics
Film/Theater
Music
Fashion
Sports
Journalism or other media
Business or companies
Other public interest areas
4. Make sure your Twitter profile is optimized to get verified
You want your Twitter account to look good and reflect your brand. Be sure to optimize your account by writing a brief, descriptive bio, including your business's location and including a link to your business's website.
An optimized Twitter account will also use high-quality images for the profile picture and heading picture. And both will reflect your brand.
Moreobver, take optimization one step further by pinning your top tweet. That way users visiting your profile for the first time will see your best, or most timely, content.
5. Tag Verified Accounts on twitter
Including an employer or partner-organization's handle in your bio section will also add credibility and connect you with another verified account. It will help users quickly verify your profession or common Twitter connections.
Relevant hashtags are another tool to showcase your connection to a specific topic or audience. Consider including those you regularly engage with, or have authority in, to your bio.
Also Read:
How to get verified on instagram ?
6. Keep it real to get verified
Buying followers or relying on bots will undermine your account's credibility fast. So will posting spammy content.
To appear authentic, credible and reliable, your brand has to be authentic, credible and reliable. Shortcuts won't cut it. Your brand has to put in the work.
7. Showcase Accomplishments to get verified on twitter
Add credibility and context in any way that you can. For example, by using your cover image and bio to showcase major accomplishments, noteworthy articles, or events that you've been a part of, you're able to quickly verify your authority or excellence on your topics of choice.
8. Include photos and video for verification
When you only have 280 characters to work with, using imagery and video can help emphasize what you're trying to say. Plus, adding a high-quality visual component can boost engagement.
9. Track engagement with Twitter analytics
Using Twitter analytics will give you an in-depth understanding of who is engaging with your brand's account. By tracking important analytics like top tweet, new followers, engagement and Twitter reach percentage, your brand will have qualitative data showing what content performs well.
Moreover, Tracking analytics will give you an idea of the days of the week and best times of day for your brand to share content and for optimal engagement.
also read :
How to get verified on Snapchat ?
10. View the list of recently verified users on twitter
The Twitter account @verified follows all the verified accounts on the network. If you click over to their "following" tab, you can see a list of everyone who has recently been verified. The full list is over 215,000 people and companies.
You can scroll this list for ideas and inspiration for what might be worth trying to get verified.
One thing you're likely to notice: There's a lot of variety! It seems there might not be any one right way to get verified.
So, Our best advice would be to find people or organizations that might be similar to you and take some learnings from the way they pitch themselves.
Conclusion
There are likely to be a lot of obvious benefits to be verified on Twitter.
You might get more followers
You're bound to gain trust and respect from the community
You have one more data point on your being an influencer/authority
There are some immediate platform benefits, too. You can opt out of group DMs, and you can filter your notifications to include only notifications from other verified users.
In short, Each of these tips are valuable to building a respected, effective Twitter profile. And while there's no guarantee or timeline for Twitter verification, following these steps will best position your profile to earn the blue badge.