Crazy Games vs Poki : Which Is Best? Free Games Websites For Online Gaming
Poki or Crazy Games ? Which Is Best? Reviews & Comparison
Free Games websites are a fun way to play games online without any download. Whether you enjoy classic puzzles or fast-paced challenges, you can find a great selection of free games online.
Poki vs CrazyGames
Best Unblocked Games Websites to Play in Schools
In this article, I'll take a close look at 2 of the best websites to visit to play online games at no cost. I've spent time playing games on each of the websites listed below to ensure quality, check for ads and see what's available for free. So you can enjoy your time playing exactly the type of game you want without any hassle.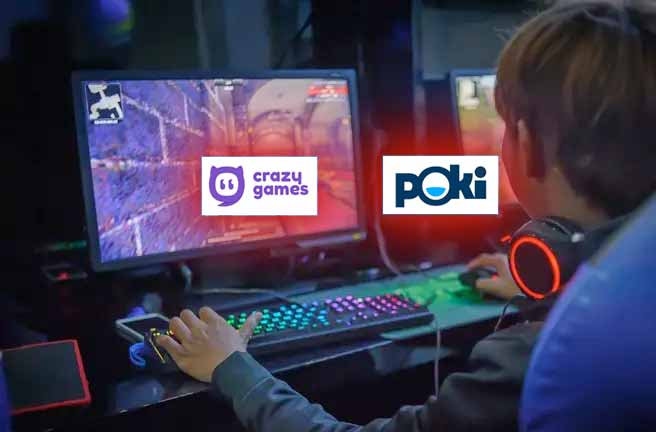 poki.com
Poki has the best free online games selection and offers the most fun experience to play alone or with friends.
In total poki.com offer more than 1000 game titles.
poki.com offer instant play to all games without downloads, login, popups or other distractions. poki games are playable on desktop, tablet and mobile so you can enjoy them at school, at home or on the road. Every month over 30 million gamers from all over the world play their favorite games on Poki.
Game developers release fun New Games on poki platform on a daily basis.
What are the 10 most popular online game on poki
Rabbids Wild Race
Stickman Hook
Rodeo Stampede
poki also have online classics like Moto X3M, Venge.io, Bullet Force Multiplayer, 2048, Minecraft Classic and Bad Ice-Cream to play for free.
Popular Unblocked Games on poki
Thinking Games
.io Games
2 Player Games
Dress Up Games
Car Games
Shooting Games
Puzzle Games
How old do you have to be to play Poki?
On Poki.com, you'll find games that are intended at users that are over 13. Poki.com is not targeted towards children under the age of 13 and it will not knowingly collect personal information from children under 13.
CrazyGames.com
CrazyGames is a free browser gaming platform, features the latest and best free online games.
You can enjoy playing fun games without interruptions from downloads, intrusive ads, or pop-ups. Just load up your favorite games instantly in your web browser and enjoy the experience.
Crazy Games today grown to over 15 million monthly users.
Best Unblocked Games on CrazyGames
Crazy Games has over 7000 fun games in every genre you can imagine.
Bullet Force
Uno Online
Drift Hunters
What are the best free Crazy Games online?
Become An Ear Doctor
JollyWorld
Life – The Game
Become A Dentist
Afterlife: The Game
YoHoHo.io
Clash of Tanks
Rooftop Snipers
Slopey
Tricks
What are the most popular Crazy Games for the mobile phone or tablet?
Become An Ear Doctor
JollyWorld
Life – The Game
Become A Dentist
Afterlife: The Game
What Are best Unblocked Games on "Poki" and "CrazyGames" ?
The best unblocked games for school that you can play
Fancy Pants Adventure
Gravitex 2
Happy Wheels
Hobo Prison Brawl
Impossible Quiz
Megaman Project X
Pacman
PacXon
Stickicide Deluxe
Super Mario Flash
Tetris
Ultimate Flash Sonic
What are some fun unblocked games?
Some of the fun unblocked games that you can play in school are listed here:
Adam And Eve
Agar.io
Air Hockey
Alchemy
Angry Birds
Animal Jam
Apple Shooter
Aquapark.io
Arkanoid
Avalanche
Backflip Dive 3d
Ball Picker 3d
Basketball IO
Basketball Legends
Bffs College Dorm
Bighero.io
Bike Master
Bloxorz
Bob The Robber
bonk.io
Bubble Shooter
Car Driving Stunt Game
Car Eats Car 2 Mad Dreams
Car Eats Car Winter Adventure
Car Eats: Dungeon Adventurecar
Cars Driver
Cat Mario
City Car Stunt 2
Crowd City IO
Cubefield
Custom Gun Creator
Cute Cat Hospital
Darts
Dashing Birds
Dead Paradise 3
Desert Road
Desktop Racing 2
Dino Run
Down The Mountain
Duckpark.io
Dumb Ways To Die Original
Dynamons 2
EarthBound
Eg Tornado.io
Extreme Bikers
Family Barn
Fireboy And Watergirl 3 The İce Temple
Fireboy And Watergirl 4 The Crystal Temple
Fireboy And Watergirl 5
Fireboy And Watergirl The Frest Temple
Fireboy And Watergirl The Light Temple
Fly Car Stunt
Fortnite.io
Galactic Judge
GIRP
Goldie Baby Bath Care
Grand Prix Hero
GTA (Grand Theft Auto)
Halloween Hit
Halo Unblocked
Hangman
Happy Wheels
Hole.io
İnstagirls Dress Up
Instagirls Halloween Dress Up
Kill The Coronavirus
Killer Assassin
klondike
Krismas Mahjong
Lordz.io
Mahjong Connect
Mahjong Titans
Marvelous Hot Wheels
Max Dirt Bike 3
Mexico Rex
Mighty Knight
Minecraft
Mini Brain Doctor
Money Movers
Moomoo.io
MOTO X3M 1
Moto X3m Spooky Land
Motorbike Simulator
Pacxon
Paintball
Paper.io 2
Park Your Car
Parking Fury
Pixel Force
Plants Vs Zombies
Police Chase Real Cop Driver
Princess Prom Photoshoot
PUBG Pixel 3
Radiator Springs
Real Minecraft
Real Stunts Drift Car Driving 3d
Red Ball Forever
Rider
Royal Story
Run Race 3D 2
Shift Run
Shooter Job
Shooter Rush
Silly Ways To Get İnfected
Slither.io Unblocked
Slope Ball
Snail Bob
Snowwars.io
Spider Td
Sports Heads: Football Championship 2016
Sprinter
Stick Run 2
Stick War
Stickman Archer 2
Stickman Team Force
Subway Surfers
Super Boxing
Super Hero.io
Super Rocket Buddy
Super Sneak
Superhero.io
Supra Drift 3d
Tank Trouble
Tic Tac Toe Paper Note
Tower Defense Alien War
Tower Defense Kingdom
Train Snake
Trollface Quest Usa 2
Two Punk Racing
Ultimate Chess
Vex 4
Warzone Getaway 2020
Wheely
Wings.io
Wormate.io
Xmas Wheelie
Zlap.io
Zombie Defense
Zombs.io
2048
3 Pandas İn Japan
4×4 Drive Offroad
4×4 Offroader
4×4 Soccer Unblocked
8 Ball Pool
Both of "Crazy Games" and "Poki" , beside of "Cool Math Games", "Armor Games", "KBH Games" and "Addicting Games" are best on online gaming industry.