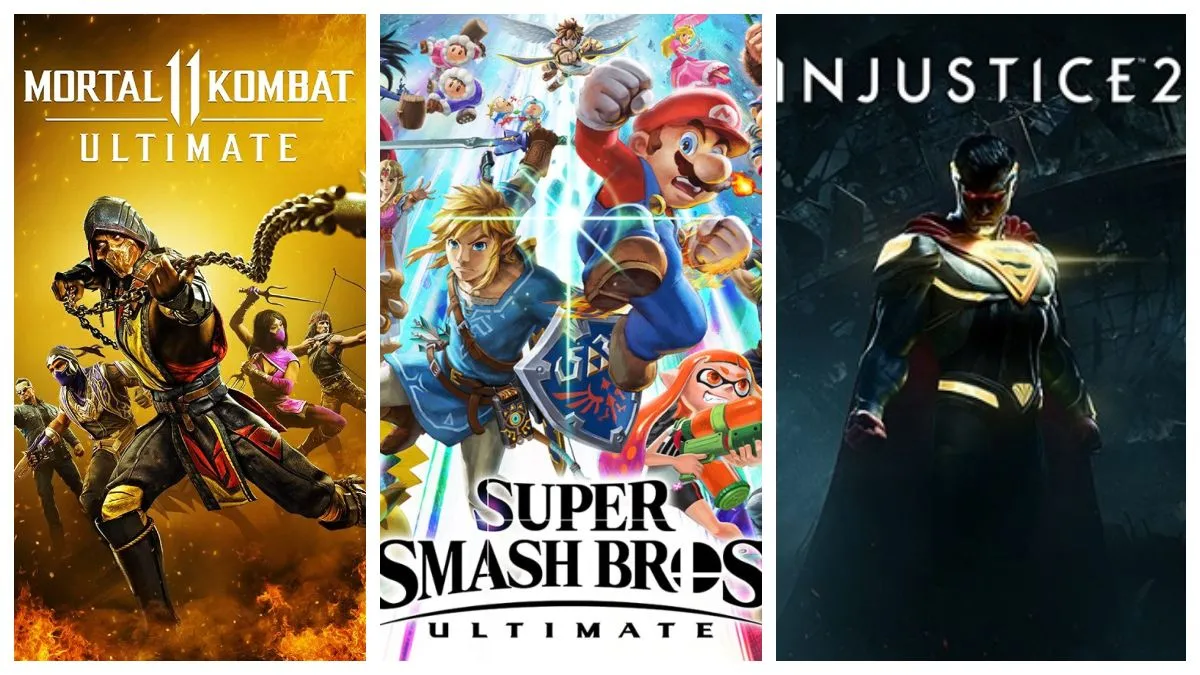 Fighting games hold a significant position in gaming history, both in the past and present. This genre demands quick thinking, rapid reflexes, and in-depth knowledge of one's and the opponent's options to excel at a competitive level, which can be daunting for newcomers. However, some of the best fighting games, like Street Fighter and Mortal Kombat have impacted popular culture within this genre. Now, here's our compilation of the top 10 fighting games.
Best Fighting Games On Mobile
Precision, concentration, and extensive training are essential in fighting games, making group play ideal. Mobile gaming, however, lacks the same level of precision, concentration, and group play. Nevertheless, gamepads and solo play have addressed the first two challenges, and online play has improved significantly.
Mobile fighting games acknowledge that organizing Mortal Kombat Mobile game nights is impractical, so they heavily support online play. Many of these games also offer native controller support and sometimes even excellent touch controls. While phones may not match modern consoles' specs, fighting games are not highly demanding and still look impressive on mobile devices.
Fighting games have surged in popularity, making it unfair to exclude mobile users from enjoying the thrill of unleashing a barrage of powerful moves on opponents. Some may argue that mobile gaming is not the optimal platform for fighting games, but there are plenty of games that effectively utilize touch controls, allowing players to take full control of their characters.
10. Streets Of Rage 4
The long-awaited fourth installment of the beloved Streets of Rage series finally arrived, continuing the tradition of delivering a spectacular and nostalgic beat-'em-up experience. The combat remains as solid as ever, and players were thrilled by the outstanding soundtrack, filled with one hit after another.
Streets of Rage 4's remarkable achievement lies in its ability to modernize the formula while staying true to its roots. Moreover, the game was successfully adapted for mobile devices, enabling nearly anyone with a decent phone to enjoy this title firsthand.
9. Injustice: Gods Among Us
Make no mistake, Injustice: Gods Among Us differs significantly from the game available on PC and consoles. Truthfully, this is not even a traditional fighting game. Nevertheless, fans of fighting games will likely enjoy this casual free-to-play button masher. In terms of mindless fighting, this mobile version of Injustice offers great fun.
Injustice: Gods Among Us is undoubtedly tailored for DC fans. The prices of some characters make this fact evident. While most unlocks require payment, it is entirely possible to play without spending any money.
8. Shadow Fight 4: Arena
Shadow Fight 4: Arena, the fourth installment in a series of free-to-play games, targets both new and returning players. The game places minimal emphasis on the story and instead focuses on quick 3v3 battles. Character progression, typically a priority in free games, is overshadowed by the action-packed fights.
One notable innovation in Shadow Fight 4: Arena is the implementation of a tag system, setting it apart from the rest of the series. Offline matches require a fee, but online play is free and offers rewards for victories. While this approach to monetization is not unusual for mobile games, it is a rarity among fighting games.
7. Vita Fighters
Vita Fighters, a mobile-first fighting game, is filled with video game references and features low-poly graphics. While it may not be the most unique game available, it offers a solid 2D fighting experience. Moreover, the game is completely free, boasting a roster of over 20 characters and providing both single-player and multiplayer modes.
The game's intuitive controls mimic a traditional gamepad, but players seeking a more immersive experience may consider using a Bluetooth controller compatible with their phones. As with many games in this genre, Vita Fighters supports Bluetooth controls without the need for additional setup.
6. Skullgirls: Fighting RPG
Skullgirls: Fighting RPG, the mobile version of the popular indie fighting game, offers an extensive and expansive free-to-play experience in the genre. With numerous fighters to unlock, each with its own customization options, the game ensures a continuous stream of content through regular updates.
The game boasts a thriving and engaged community, with frequent special events. Although there are some limitations for free-to-play users, the game has minimized these drawbacks, though it does demand time investment to build powerful fighters. Ultimately, success in Skullgirls: Fighting RPG depends on mastering a fighter's moveset and performing well in battles.
5. Tough Love Arena
Tough Love Arena, an indie 2D fighting game, boasts a distinct art style and an enthusiastic community. Despite its simple art and limited character roster, the game's development is continuous, and new content is regularly added.
The characters in Tough Love Arena are visually straightforward, consisting of uncomplicated lines and single colors, ensuring clear visibility even on small screens. Moreover, the game features streamlined controls that provide an equal playing field for players with or without a controller. As a web-based game, Tough Love Arena can be played on both PC and mobile devices.
4. King Of Fighters All Star
SNK has created The King of Fighters All Star specifically for mobile devices, adapting their renowned fighting game series. The game is a delight for fans, as it features every fighter from the original King of Fighters '94 up to the fourteenth installment released in 2016.
The gameplay in The King of Fighters All Star is intentionally simplified compared to the mainline King of Fighters games, making it more accessible on mobile devices. Despite this, the 1v1 matches and beat'em sections are impressively refined, setting a high standard in the mobile gaming market. The decision to replace complex combos with single buttons in the mobile version is a particularly brilliant adaptation of the series.
3. Brawlhalla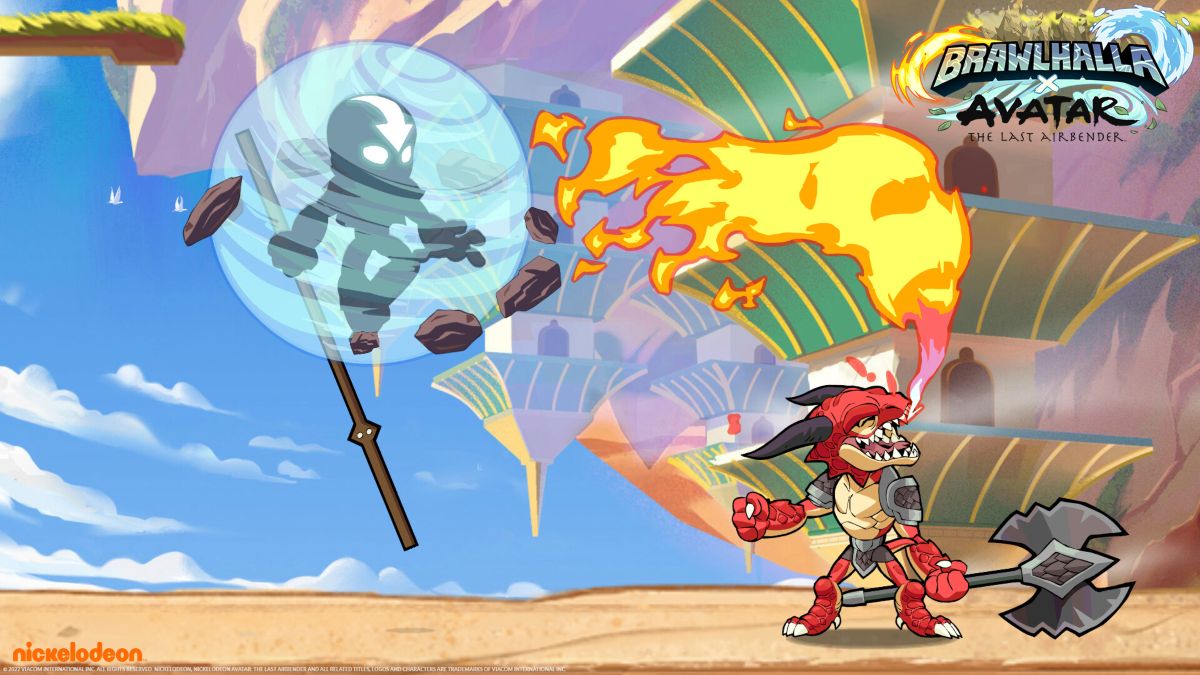 Brawlhalla, a free-to-play fighting game, combines elements of a platformer and Super Smash Bros. It allows up to 8 players to participate in a single match, offering over 50 different characters and various game modes. Unlike most fighting games, the mobile version is a direct port of the original, maintaining its full features.
Although the mobile version of Brawlhalla is impressive, its weaknesses highlight why other game studios don't simply transfer their fighting games to phones. While functional with touch controls, players without a gamepad face a significant disadvantage compared to others. The mandatory cross-play with PC and consoles exacerbates this issue further.
2. Final Fighter: Fighting Game
Final Fighter: Fighting Game is a fully functional 2D fighting game that offers both an arcade mode for offline battles against computer opponents and online matches against real players. However, the player base is currently small, leading to potential delays in starting online matches.
The game employs a blend of combos and one-off abilities, making it well-suited for mobile gaming. It also incorporates the classic rock-paper-scissors dynamics between strikes, blocks, and throws. Overall, this fighting game is comprehensive and well-developed, even though its visuals and gameplay may lack a bit of excitement.
1. Street Fighter 4 CE
Street Fighter IV Championship Edition stands out as one of the top mobile fighting game adaptations. Similar to Skullgirls mobile, this Street Fighter 4 CE version optimizes the classic fighter for touchscreen play, maintaining its competitive edge. This 2018 port of the 2008 game is widely regarded as the best mobile fighting game available.
It's worth noting that there are slight differences between the Android and iOS versions of Street Fighter 4 CE, with iOS having an advantage as it includes the single-player mode. However, the most significant aspect, the 1v1 battles, remains consistent across both platforms.
Best Fighting Games on PC
Over the years, with the growth of PC gaming, numerous multiplayer games that were initially popular on consoles have made their way to PC, and fighting games are no different. Many fighting games thrive on PC due to advantages such as reduced input latency and improved online capabilities, making it the preferred platform for numerous players.
Whether you're a seasoned brawler seeking intense combat or a newcomer looking to test your skills, the PC platform offers an impressive array of titles that cater to every taste. From classic 2D fighters to adrenaline-pumping 3D battlegrounds, this listicle brings you the finest fighting games that guarantee hours of heart-pounding action and endless excitement. Join us as we explore the best of the best, where precise moves, epic combos, and unforgettable characters await you in these virtual arenas. Grab your controller or dust off your keyboard, because it's time to step into the ring and fight for glory!
10. Guilty Gear Xrd Rev 2
Guilty Gear Xrd Rev 2 represents the culmination of over fifteen years of refining the classic Guilty Gear gameplay. It was the first game to adopt Arc System Works' renowned 2.5D cell-shaded visuals, which have continued to impress even as newer titles emerged.
The game largely preserves the beloved Guilty Gear mechanics, including roman cancels, unique gatlings, and variable wakeup timings, making it appealing to longtime fans and the fighting game genre newcomers. Despite the release of Guilty Gear Strive, Guilty Gear Xrd still enjoys a dedicated player base, and the addition of an official rollback netcode in 2023 ensures its popularity for years to come.
9. Multiversus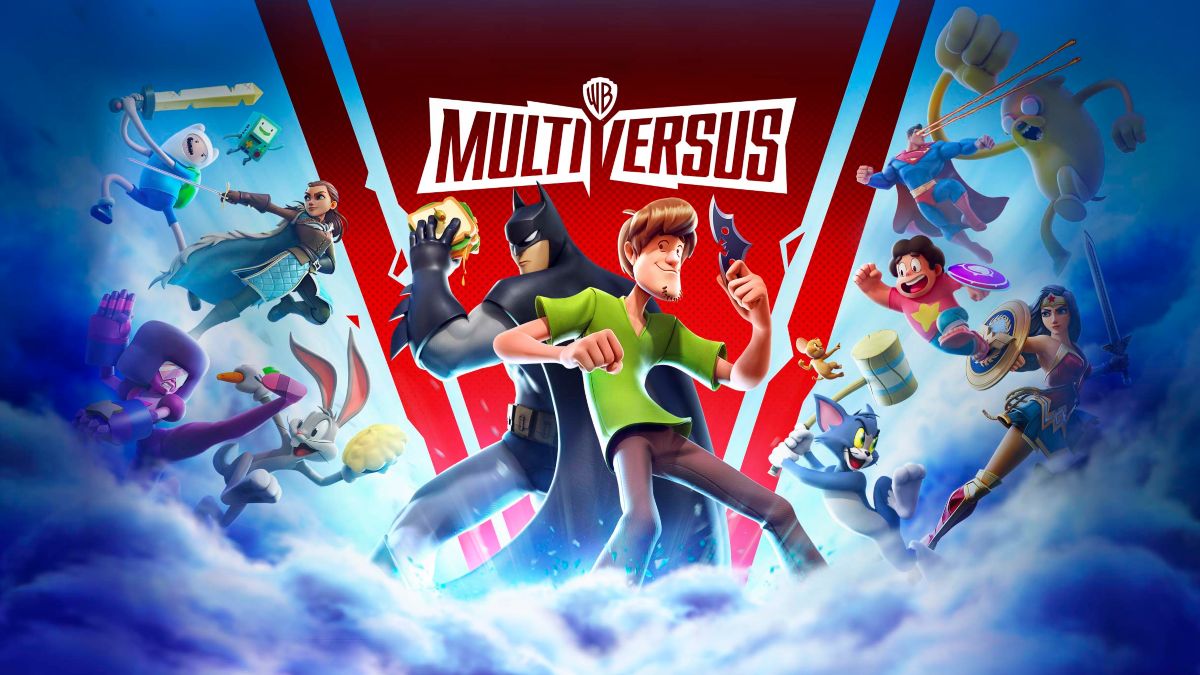 Player First Games has been diligently working to match the status of Super Smash Bros. with their platform fighter, Multiversus. This ambitious crossover game boasts a vast roster of Warner Bros. characters spanning multiple generations. A unique feature of Multiversus is its focus on two on two gameplay, although it can also be played in a one vs. one setting.
The gameplay in Multiversus strikes a balance between accessibility and depth, making it easy for newcomers to pick up and enjoy while offering ample room for mastery for those seeking a challenge. If you're searching for a fighting game to team up with your friends, Multiversus is undoubtedly a top choice to fulfill that desire.
8. Blazblue Centralfiction
Arc System Works' final revision of the Blazblue series, developed over nearly a decade of releases, stands as one of their greatest games. Originally envisioned as a spiritual successor to Guilty Gear, Blazblue has evolved into a beloved anime fighter with a distinct identity of its own.
Blazblue is a highly intricate fighting game that demands character mastery, as each fighter requires a deep understanding of their unique playstyle. The game's drive button, a signature mechanic, grants every character their own distinctive abilities, ensuring no two fighters feel alike. Blazblue is truly a one-of-a-kind experience, and with the recent implementation of rollback netcode, there has never been a better opportunity to give this game a try.
7. Dragon Ball FighterZ
Arc System Works finally brought to life the long-awaited 2D Dragon Ball fighting game, Dragon Ball FighterZ. This three s. three fighting game draws inspiration from the Marvel Vs. Capcom series and incorporates assists. Given the vast roster of iconic characters in Dragon Ball, this format proves to be a fantastic fit, although some players may find the abundance of Gokus in the game a bit excessive.
FighterZ plays exceptionally well and boasts stunning visuals with its 2.5D cell-shaded style, immersing players in the experience of playing an actual episode of the show. If you're a devoted Dragon Ball fan, trying this game is an absolute must.
6. Ultimate Marvel Vs. Capcom 3
The third entry (technically its fifth) of the original crossover fighter made a triumphant return, gifting us with an unforgettable fighting game. Ultimate Marvel Vs. Capcom 3 boasts seemingly endless possibilities, featuring 50 unique characters, each with three different assists, providing ample room for creativity.
The game's fast-paced and chaotic nature makes it not only enjoyable to play but also a thrilling spectacle to watch. While the possibility of another Marvel Vs. Capcom game remains uncertain, Ultimate Marvel Vs. Capcom 3 upholds the legendary status of the series and will continue to satisfy players for many years to come.
5. Street Fighter 5
Street Fighter 5, once one of the most controversial fighting game releases in history, has evolved into an excellent game over time. It's no secret that the initial launch left players disappointed, but through various gameplay changes, the addition of more content, and the introduction of creative new characters, the game now rivals some of the best titles in the series.
Street Fighter 5 was designed to be accessible to beginners while retaining the classic Street Fighter gameplay that fans adore. However, it also features a handful of characters with more challenging combo routes and game plans, catering to both newcomers and seasoned players. If the game's launch left you dissatisfied, consider giving it another chance, as it has undergone one of the most remarkable improvements in the fighting game genre in recent years.
4. Tekken 7
Tekken 7 marks a significant shift for the popular 3D fighting game series, as it finally made its debut on PC after years of skipping the platform. True to its legacy gameplay, Tekken 7 retains the familiar feel of past Tekken titles while introducing new mechanics like Rage Drive and Rage Art, giving it a distinct identity.
With one of the largest rosters in the series, Tekken 7 includes a mix of classic fan favorites, exciting newcomers, and intriguing guest characters, making it one of the most diverse and interesting lineups in any fighting game. If you're seeking the ultimate 3D fighting experience, Tekken 7 is undoubtedly a top choice.
3. Street Fighter 6
Street Fighter 6 provides players with three different control styles to select from, making it one of the most beginner-friendly installments in the franchise. Alongside its accessibility, the game boasts a diverse lineup of characters, a captivating single-player story mode, and a Battle Hub that acts as a gathering spot for players. These features alone secure its position on the list of top PC fighting games.
An additional noteworthy aspect is its support for cross-play, enabling PC gamers to compete against PlayStation users. This feature could be a significant draw for those seeking kungfu fighting games to enjoy online.
2. Injustice 2
It is unsurprising that Injustice 2 ranks among the top fighting games on PC since NetherRealm, the creators of the recent Mortal Kombat titles developed it. The studio incorporated characters from the DC Comics universe into a world controlled by an evil version of Superman.
In addition to its exceptional combat, the game features a cinematic story mode, numerous challenges to conquer, and a gear system allowing you to customize the fighters' stats and appearance. Injustice 2's quality surpasses the boundaries of the genre and is widely acknowledged as one of the best superhero games.
1. Mortal Kombat 11
While Mortal Kombat 1 is anticipated to hit the shelves later this year, it's essential not to overlook its immediate precursor, Mortal Kombat 11. The enhanced version, Mortal Kombat 11: Ultimate, packs an astonishing array of DLC content, enhancing the game's appeal even further. As expected from the franchise, the fighting in Mortal Kombat 11 is intense, gory, and utterly chaotic, promising an adrenaline-pumping experience for fans and newcomers alike. With its vast content and thrilling gameplay, Mortal Kombat 11: Ultimate remains a must-play title in the series.
Best Fighting Games on Consoles
Unleash your inner warrior as we embark on an adrenaline-fueled journey through the world of fighting games. From fierce punches to lightning-fast kicks, these interactive brawls have captivated gamers across generations and platforms. In this article, we've handpicked the crème de la crème of fighting games available on consoles, showcasing the ultimate battlegrounds where skill, strategy, and reflexes collide. Whether you're a seasoned fighter seeking new challenges or a rookie eager to throw your first virtual punch, our carefully curated list is bound to ignite your fighting spirit. So, grab your controller, tighten your gloves, and prepare to enter the virtual arena of the best fighting games the console world has to offer!
10. Nickelodeon All-Star Brawl
Nickelodeon All-Star Brawl offers a solid platform fighting experience with surprising depth, perfect for hardcore gamers seeking intense gameplay. However, it falls short in certain areas, lacking the desired polish beyond the fighting mechanics. Despite some rough edges, the game provides a delightful experience if you can overlook these issues. The absence of voice acting at launch is being addressed, promising improvements in the future. While it may not rival Super Smash Bros. Ultimate, fans of platform fighters and Nickelodeon characters will still find much to enjoy. With ongoing character additions, the game's potential for greatness only grows.
9. NARUTO SHIPPUDEN: ULTIMATE NINJA STORM 4 ROAD TO BORUTO
This Naruto game offers an extraordinary amount of fun, surpassing the typical tie-in experience. Its enjoyable gameplay makes it stand out as one of the most entertaining fighting games in this genre. The game's visuals are truly stunning, especially when compared to the source material.
The cell-shaded graphics are awe-inspiring on Xbox, creating a fully-powered crossover that faithfully recreates the world of Naruto. The game's graphical quality surpasses the Fortnite X Naruto crossover. As an Arena fighter, the title incorporates dynamic 3D elements that add depth to the gameplay. While you can engage in one-on-one fights, there's also a captivating story mode that allows you to delve further into the world of Naruto.
8. Samurai Shodown
Despite a slight visual downgrade during its transition to the Switch, Samurai Shodown successfully retains its crucial 60FPS core gameplay. While the reduction in visual quality may be more noticeable in handheld mode, the overall experience remains highly enjoyable and captivating, especially for players who appreciate fighting games that challenge both their minds and reflexes.
However, the single-player aspect of the game might be considered lacking by contemporary standards, and some of the introduced ideas, like the Dojo mode, may not function as smoothly as expected. Nevertheless, the game offers an appealing roster of fighters, decent multiplayer options, and a plethora of fresh gameplay concepts that contribute to keeping the experience invigorating and engaging.
Ultimately, Samurai Shodown stands as a confident and well-executed modern update of a classic fighting game series. SNK's efforts in revitalizing their esteemed collection of titles for the modern era are promising, as evidenced by this strong offering.
7. Killer Instinct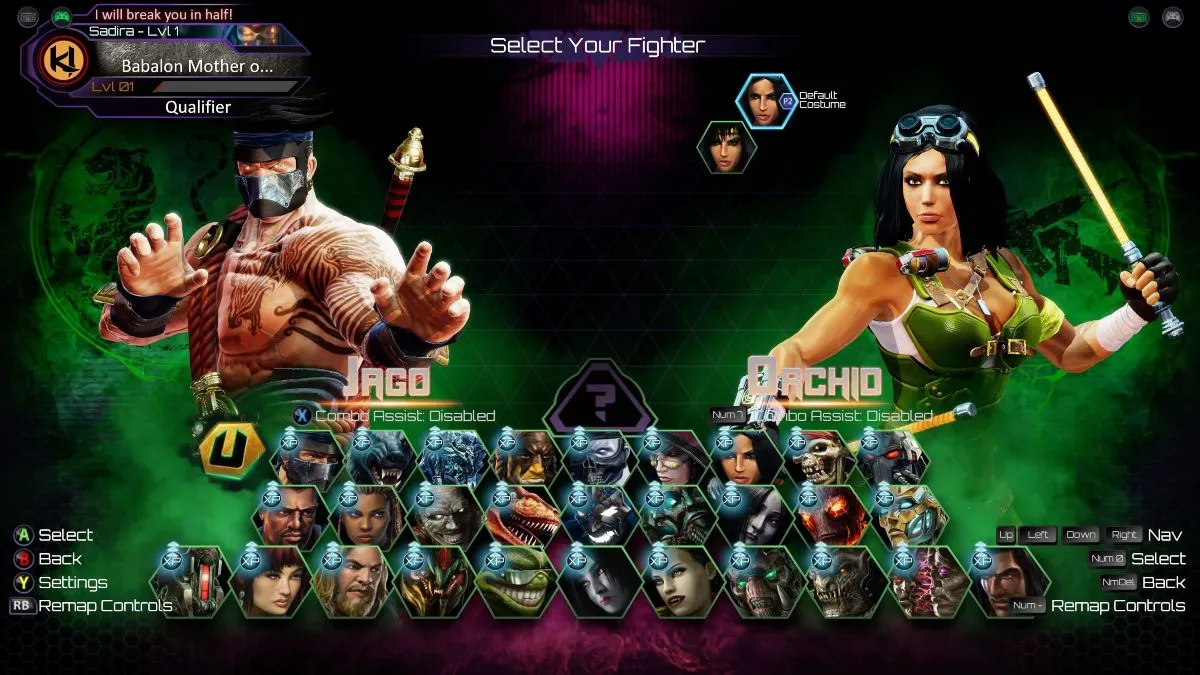 Killer Instinct stands as one of the premier fighting games available on Xbox. Initially introduced on the Xbox One, the platform doesn't boast a plethora of exclusive fighters, making this title a compelling and intriguing addition to the lineup. Originally crafted by Rare, renowned for their platformers like Banjo-Kazooie and Donkey Kong Country, the franchise incorporates some of their characters, which can also be found in the best fighting games for the Nintendo Switch. Following Rare's acquisition by Microsoft, the rights to the series naturally transitioned to the tech giant.
The most recent iteration of Killer Instinct is developed by Double Helix Games, which has taken the series in a fresh and distinct direction. Resultantly, the game has solidified its position as one of the best Xbox fighting games. Its gameplay features unique mechanics that set it apart from the rest. In addition to typical combos seen in other games, Killer Instinct incorporates Combo Breakers, Ultra Combos, and various other elements, making the action delightfully unpredictable and engaging.
6. Virtua Fighter 5
The Virtua Fighter series, which originated on the Sega Saturn, played a pioneering role in shaping 3D fighting games. Although it has somewhat lost popularity over time, its more subdued approach - devoid of robots or monsters - contributes to its enduring greatness. Virtua Fighter 5, with its emphasis on precise inputs and strategic counterplays, stands out as one of the most profound 3D fighters available. While it may lack flashy elements, its commitment to perfecting combat flow and balance compensates for any perceived shortcomings.
5. Street Fighter 30th Anniversary Collection
Picking this may seem like a bit of a cheat, as it's not just one game but rather a compilation of twelve games in one package. However, rest assured, this collection didn't earn its high rank on the list solely because of the quantity it offers. It's particularly noteworthy for including two of the most exceptional and highly regarded fighting games of all time: Super Street Fighter 2 Turbo and Street Fighter 3: Third Strike. The former is renowned for its role in revolutionizing and laying the foundations for the genre, while the latter stands out as an exquisitely crafted, visually stunning 2D fighter. With Street Fighter 30th Anniversary Collection, you no longer have to make a choice; you get the best of both worlds.
4. Persona 4 Arena Ultimax
The Persona games originated as a spin-off of the Shin Megami Tensei series. Persona 4 Arena Ultimax serves as a sequel to Persona 4 Arena, which, in turn, is a spin-off of Persona 4. Therefore, this game can be considered a sequel to a spin-off of a spin-off.
Despite this complex lineage, developer Arc System Works devoted significant effort to faithfully translating the characters from the Persona RPGs into a fighting game, resulting in a well-balanced and intricately designed combat system. If you are already familiar with Persona, you'll derive even more enjoyment from the game. However, even if you haven't played the series before, this is a robust fighter featuring a unique and memorable cast.
3. Dead or Alive 5: Last Round
The fighting game community views the Dead or Alive series somewhat differently, considering it a bit of an outlier. Some criticize it for being shallow and overly focused on emphasizing the sexual appeal of its characters, which affects its credibility. However, DOA5 took significant steps to address these concerns.
It achieved this by reducing the input window for combos, demanding more precise timing and accurate button presses, and rebalancing the entire roster of fighters. While it may not be as fast-paced or centered on counterattacks as Dead or Alive 4, it remains an accessible fighter with an enjoyable single-player mode, an effective tutorial system, and revamped gameplay, clearly indicating its intention to be taken seriously.
2. Soul Calibur VI
Soul Calibur 6 is the latest installment of the series on Xbox, and it stands out as one of the top fighting games on the platform, offering an expansive gaming experience.
The series revolves around weapon-based combat, focusing primarily on blades. It is renowned for seamlessly incorporating the precise and skillful controls found in 2D melee fighters into swordplay. Additionally, the game consistently introduces captivating sword fighters from other franchises, resulting in a distinctive roster. Notably, this time, crossover characters such as Geralt from The Witcher and 2B from Nier Automata join the fray, adding excitement to the gameplay.
1. Super Smash Bros. Ultimate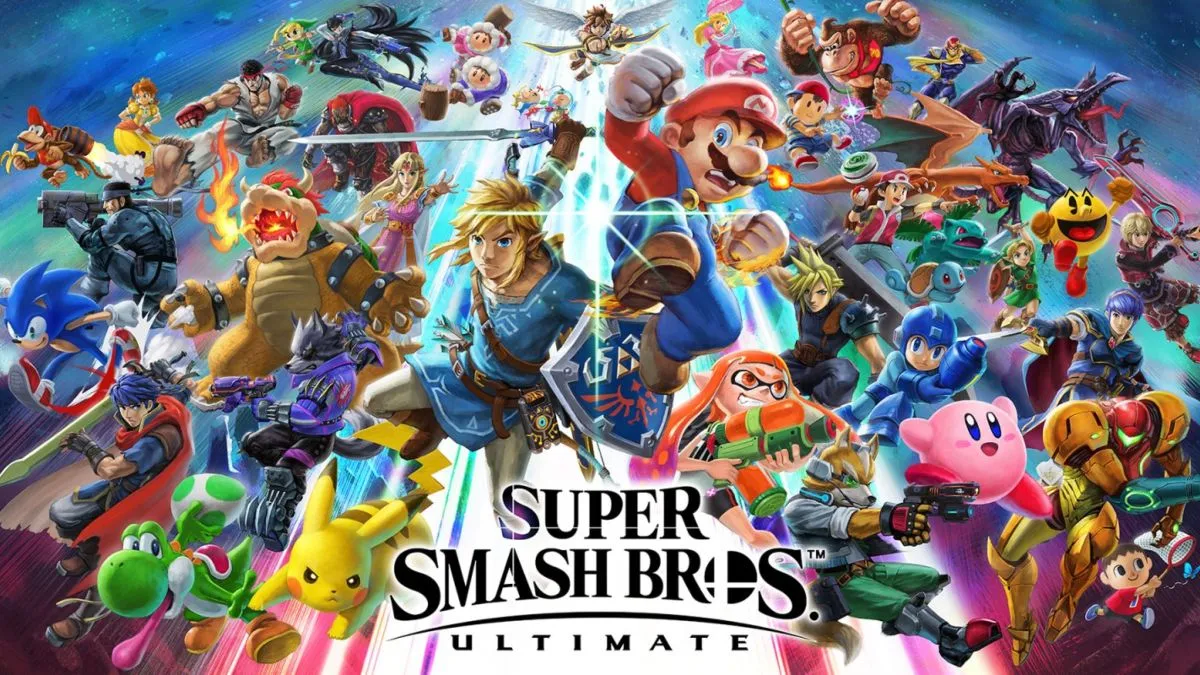 While some purists may always prefer Melee over any other version, it is essential to recognize that Smash's Switch installment stands out as one of the most exceptional fighters ever released. Unlike the Wii U edition, Ultimate eliminates the highly imbalanced roster and showcases Smash at its most exhilarating state.
With an astounding selection of 80 fighters, including iconic characters like Sephiroth, Ryu, and Persona 5's Joker, Ultimate transcends being just a Nintendo tribute and transforms into a celebration of video games as a whole. What makes Ultimate even more remarkable is its phenomenal gameplay. The game offers a diverse range of playable characters, each with their unique feel, ensuring there's something for everyone.
Additionally, it brings back an extensive adventure mode called the RPG-leaning World of Light and boasts the series' best net code to date, adding to the pure joy of playing. Regardless of whether you are a casual player raining items from the sky or a skilled pro executing frame-perfect counters, dodges, and combos to secure victory, Ultimate caters to all playstyles. In fact, it not only stakes a claim as one of the greatest fighting games of the HD era but arguably stands among the best games of all time. If you disagree, let's settle it on Final Destination.