TikTok is currently the fastest growing social media app with over 2 billion downloads, and monthly user engagement rising over 70% thanks to catchy and viral videos from top TikTok influencers. TikTok's differentiating factor as a social media channel is its inherent ability for any user to go viral. However, this also makes finding influencers with an impactful return on investment quite difficult.
Top 10 TikTok influencers by category
1. Entertainment on TikTok
At 46 million followers on TikTok alone, Zach King is one of the most recognizable social media entertainers. His eye-catching digital magic tricks make him a TikTok favorite. And the talented influencer saw an increase of 15 million followers within just 10 months. Brands have long taken notice of Zach's ability to captivate his audience with cleverly edited videos.
are just a few of the top brands Zach has creatively partnered with.
2. Influencer category : Beauty & Fashion
Alondra is a pop culture fashion and beauty macro-influencer making big moves all over social media.
Let's start with her rising 698k follower TikTok profile. Alondra is mostly dancing it up to hot challenges and beats – always on fleek of course. Her original influence is rooted in her super large 1.9 million followers Instagram profile.
Alondra's makeup talent with her insta-fabulous beauty plus her sassy style with her curves makes her as attention-grabbing as she is. From her catchy pics to her transforming makeup videos, Alondra's influence is outstanding. We're talking about an engagement rate of 22%+. For a macro-influencer, this is quite rare.
Neon green outfits, dazzling dresses, seductive swimwear and lingerie – striking Alondra has her followers dazzled post after post.
There's more. Followers can indulge more into her personal life on her 886k subscriber YouTube channel. Alondra is a content star, creating on all the buzzing social channels.
As far as collabs go, Alondra promotes a range of beauty and fashion brands, including her own eyelash extension line.
If you're a brand looking for a chance of TikTok influencer marketing and a talented TikTok influencer to reach a massive audience, Alondra is your girl.
3. Most Popular Tiktok Influencers Category: Dance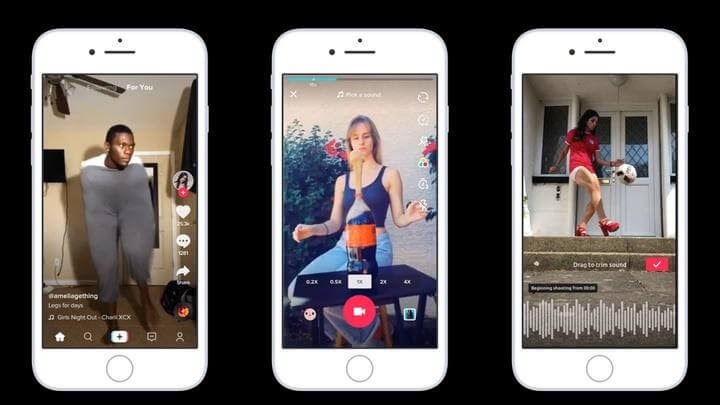 Addison Rae Easterling blew up on TikTok after her dancing videos with her mom Sheri went viral.
The Louisiana born star is a former Hype House member and has scored major brand campaigns on TikTok with Chipotle, Bounty, American Eagle, and CoverGirl. The coronavirus lockdown sparked an unlikely friendship between Addison and Kourtney Kardashian and the pair have since dominated TikTok with their viral skits.
also read :
How to get verified on TikTok ?
Top TikTok Beauty Trends That Will Be Huge : TikTok Trends
Frozen honey tiktok trend ! What is the Frozen honey challenge?
4.Fitness/ Health on TikTok
From the U.K., David Templer has really set the tone for hilarious cooking videos.
After hanging out on his TikTok influencer profile, you are really not interested in watching any other cooking vids. He is hysterical. His dramatic exaggerated humor will get you hooked.
And learning how to make a simple chicken fajita gnocchi cannot get any more hilarious than this.
He does have health and fitness vibes going on in his content, too. So when he drops a vid like how to make an easy "fake-away" to inspire you to ditch the takeaway temptation, you know you have to follow him.
And of course, you'll catch him participating in fun challenges and trends, like catchy magic illusions.
Because his sense of humor is just next-level, he has created his own brand of novelty Santa swimwear called Banter Santer. Made from recycled plastic from the ocean. His passion for recycling can't go unnoticed as you'll stumble upon one of his funny vids about recycled products.
5. Pranks
Brent Rivera conquered Vine and YouTube and now has millions of followers on TikTok.
This veteran social media star loves pranking his sister Lexi Rivera and doing skits with friends. In 2019 he was nominated for a Teen Choice award as Male Choice Web Star. His popularity and good looks have attracted sponsors like NYX Cosmetics and Softsoap.
6. Delicious TikTok Influencer Category: Cooking & Recipes
While TikTok is known for being popular with Gen Z, there are plenty of adults gaining attention on the platform, too!
41-year-old Tabitha Brown was inspired to get started on TikTok by the March 2020 coronavirus lockdown. She knew people were struggling to eat healthy, so she started sharing vegan cooking tips to make it easier. Her positive encouragement and relatable stories keep viewers coming back for more cooking tips and comfort, with 4.1 million followers tuning in to watch.
7. Travel Influencers on TikTok
Angela is from Australia but travels the world. Her travel content will grip you like nothing you've ever experienced.
A charming reveal of a hot bath with volcano views on the horizon in Japan. A sweet video of color-popping deserts in South Korea.
Or let her take your heart to Turkey with a whimsical scene of hot air balloons popping the sky. And to captivate you, even more, her video of a wild sunset in Turkey will wow you away. It's not every day you're swarmed by a flock of birds in the most beautiful way ever imagined.
After watching that, you'd want your own wild bird sunset in Turkey moment.
With visually appealing travel content like this, it's no surprise that Angela has an influence on Instagram, too.
You can got clicking through her social profiles where eventually landed on her beautifully presented website, Sunday Chapter. Here, she shares her love for travel, fashion, and beauty. And you can also shop for items from her looks.
8. Keto Health TikTok Influencers
When you find a TikTok star that's 36 years old, she deserves to be talked about.
Johnna from America, or known as Mrs. Boss Sauce online, is who I'm talking about.
TikTok is ruled by the young Generation Z influencers, your 13 to 24-year-olds. If you don't fall into that age bracket, it's difficult to adapt or even understand the TikTok culture. But Johnna is doing it and doing it so well.
With TikTok likes of over 1.2 million even though her follower count is growing, this proves just how she knows how to buzz the TikTok universe.
She's a Keto Coach that shares her journey with super cool vids like her blue ice berry shake that pretty much went viral. Hot music, cool food hacks and a lot of keto love are how she rolls on her TikTok.
Oh, and you'll love it when she drops a vid like her unmarked sale items from Walmart where she bought a bag full of cosmetics for just 10 bucks.
9. Home Reno/DIY
Chelsy Christina is a champion of change, teaching her 65K followers how to adopt an eco-friendly, zero-waste lifestyle. Her videos offer tons of tips on waste-free grocery shopping, sustainable clothing brands, and low-waste beauty alternatives.
Luke continually peaks interest on TikTok for his building projects series and his even-tempered method of story-telling. In a video that has over 15 million views, Luke reveals an untouched dungeon in the basement of his 1800 era house complete with a broken headstone, snakes, and spiders. He nonchalantly tells his followers he plans to install a mini fridge and make the spooky place his "dream hangout spot".
10. Hair & Beauty Influencers
Official Divya from India does it so well. From hair to makeup to skincare – she even promotes coupon codes on her videos.
Her profile is very forthcoming on promotional content, but it works.
With over one million followers and 23+ million likes, you bet she is great at promoting beauty products and the TikTok universe certainly approves.
She showcases beauty products while keeping her audience entertained.
Conclusion
To become a TikTok influencer, you must know what you're good at. Leverage your strengths and passions and create content that will attract attention. You could be good at dancing, singing, pulling pranks, or just simply being funny. But remember all of that is already available on TikTok.
Your style needs to be different for people to find and follow you in the crowd of TikTok influencers. Decide on your forte and go ahead with whatever you feel you can do differently.
How much do TikTok influencers make?
A TikToker can earn between $200 and $20,000 for a branded video. Earnings depend on the number of TikTok followers you have and how often users interact with your videos. Influencer marketing Hub estimates how much TikTok users can earn a video of their own to promote other companies and sell their own products.
Who are the top 10 influencers on TikTok?
Meet TikTok's Top Entertainers
Zach King. At 46 million followers on TikTok alone, Zach King is one of the most recognizable social
media entertainers. …
Dixie D'Amelio. …
Jason Derulo. …
JoJo Siwa. …
Jacob Sartorius. …
Liza Koshy. …
Jason Coffee. …
Jordi Koalitic.
Is TikTok good for influencers?
Many influencers are finding that TikTok is a great platform for them to grow their following and connect with new people. … You can even do a TikTok search to find the best people to work with so you find someone in your niche and budget. Some TikTok influencer marketing campaigns include creating challenges.
What does influencer mean on TikTok?
It means adding something new to an already existing video by someone else. For example, if someone posted a video of themselves falling down the stairs, then you can add your response to that or anything that's in-tune with the video. Like we mentioned earlier, hashtags on TikTok will show trending challenges.