TikTok has certainly been having quite the year compared to the rest of us. Throughout 2020, many of us have plunged into an infinite realm of minute-long videos.
Beauty and make-up fanatics have found the perfect platform for all their beauty hacks, make-up tricks and skincare saviors. Here, we counted down Top TikTok Beauty Trends.
Top TikTok Beauty Trends
As COVID-19 spreads across the world, society is slowly shutting down. From canceled events to closed schools, governments are putting extreme efforts in place in hopes of flattening the curve. While Americans are being urged to socially distance themselves, large beauty retailers like Sephora (who shut down in-store beauty services) and Glossier (who closed all of its retail locations) are taking steps to help slow down the spread as well. Self-isolation can become a bit mundane, but thanks to social media and technology there are tons of things to do. From streaming movies and podcasts to face timing your group chat, and if that's not enough, luckily like always TikTok is here to save the day. The app is quickly becoming the go-to social media platform with viral dances, comedic videos, and of course different beauty trends. To save you some time, we rounded up all the TikTok beauty trends you can try at home while social distancing.
Also Read:
How to get verified on TikTok ?
Facebook paying content creators and Influencers for competition with TikTok
Top TikTok Beauty Trends to look for in 2021
Hardships experienced around the world have put into perspective the relative importance, or not, of worrying about how we look. But 2020 has also reminded us what beauty is really all about: having fun, feeling better about ourselves and, thanks to social media, connecting with one another in the process. Let's here more about huge TikTok Trends that you'll see in 2021 too!
1. Winged Liner in TikTok trends
There's no better time than now to flawlessly perfect your daily makeup so that when you finally do head back out, your looks will be on point. One of the trickiest makeup applications is a winged liner, but thanks to TikTok there are a plethora of videos that teach you the best hacks to create a nice and easy wing. Fly high!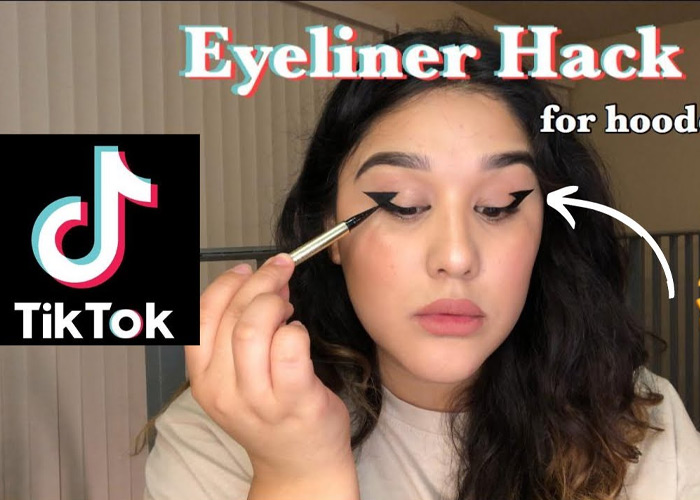 2. WIGS are 2021 TikTok Beauty Trends
This year has kept some of us away from the salons, so we've taken things into our own hands. Only, it's harder than it looks. But wigs are a great way to switch things up without commit to a drastic style (or worse, attempting said drastic style at home). And no, we're not talking about the ones in the costume store. There are plenty of places to find this ready-to-go accessory that actually looks like your own hair. If you're new to the game, check out some handy video to learn how to install one yourself.
3. Heatless curls and trends on TikTok
Singeing your fingertips on a curling iron is never the highlight to anyone's beauty routine. Thankfully, hair extra ordinaires have come up with a less painful alternative and all you need is a dressing gown belt. Simply – easier said than done – wrap your locks around the belt to wake up to gorgeous Hollywood curls. We can't guarantee you'll have a comfy night's sleep, though.
4. Fake Dimples among TikTokers
Are these fake dimples really so convincing that we can't tell whether the teens are joking with us or not? Unclear. Regardless, here's how you do it: with an ashy brown eyeliner, draw a tiny vertical line where a dimple would be. Then, using the pad of your finger, smudge it downwards. All we know is that this trend could only ever exist digitally, because in person it looks… like brown eyeliner smudged on your cheek.
5. TikTok Beauty Trends: The #GucciModel Challenge
Many TikTok users took part in the #GucciModelChallenge where they created humorous videos on how to dress like a high-fashion model by layering multiple mismatched pieces. The trend quickly gained popularity on the app and the hashtag has garnered more than 214.3 million views. Gucci took notice of the challenge and launched its #AccidentalInfluencer campaign on TikTok, which has 2.6 million views.  Also Read:
6. Rainbow Eyeshadow and beauty trends
The rainbow trend has been making its rounds for a few months on TikTok, thanks to James Charles. From blended looks with every color of the rainbow to cut creases with the vibrant colors, it's a playful trend that you can try multiple looks with. You can start with just about any color base and build the colors as you go.
7. Makeup trends on TikTok: '80S EYESHADOW
We're traveling back to the '80s for its bold, eye-catching colors.
Eyes are where you can really have the most fun with makeup. Since we'll probably be wearing masks for the first half of the year of 2021, eyes will still be the primary focus.
This is the chance to try those the over-the-top tones in your palette that have always caught your eye.
8. Faux Freckles on TikTokers' face
The legitimacy of this trend remains under question but as sun-kissed skin begins to fade as we head into winter, why not attempt to scatter some faux freckles over your cheeks? TikTokers have experimented with everything from brow gel and fake tan to hair root sprays in order to create a freckle-faced glow.
9. TikTokers Beauty Transformations
Transformation videos were just as popular in the beauty space as they were in fashion. These videos started off with a user showing their face without any makeup, and then doing a transition to show their full beauty look.
10. Easy Skin-Care Routines among the 2021 trends
TikTok users sought out quick and simple skin-care routines on the app. This May, TikTok by beauty influencer Young Yuh — while it is a parody considering his 12-step nighttime skin-care routine — is one of the most popular under the trend with 8.5 million views.
11. The 'fox eye' trend
The "fox eye" was perhaps the most regrettable "beauty" fad of this long, weird year.
It began trending on social media back in April, and continued growing in popularity until August, when people started realizing that using makeup to emulate the lifted "almond-shaped" eyes of celebrities like Kendall Jenner, Bella Hadid and Megan Fox — or, as it was pointed out, people of Asian origin — was not cool, but rather a glaring case of cultural appropriation.
12. Celebrity beauty trends on TikTok
Celebrity beauty lines are nothing new. They're almost mandatory for those who have been in the entertainment business long enough.
But stars' skincare and makeup ranges are now increasingly values-driven, whether that's about the ingredients used or the diversity of who they cater to.
And with Covid-19 making in-person promotion and in-store unveilings practically impossible, 2020 felt like the year when marketers started focusing not only on the celebs, but also what they stand for.
In July, Rihanna announced that Fenty Beauty was branching out into skincare with gender-inclusive Fenty Skin. Selena Gomez also released a new fragrance, makeup and beauty line called Rare Beauty, which is vegan-friendly, cruelty-free and designed with Gen-Zers in mind. And Issa Rae, the creator and star of "Insecure," announced that she had bought Sienna Naturals, a hair-care line for textured hair.
---
What are the beauty trends for 2021?
Beauty experts predict the biggest hair, make-up and skincare trends for 2021
Multipurpose Products. …
Representation of Skin of Colour. …
Improving sunscreen technologies. …
Mood-enhancer make-up. …
Barely-there make-up. …
Experimental but safe at-home hair colour. …
Nourishing at-home hair treatments.
What are the current trends in the beauty industry?
Top 10 beauty industry trends
Skincare is thriving. Skincare has become very popular recently. …
Natural beauty products are on the rise. …
DIY beauty and pampering has grown. …
eCommerce is becoming more popular. …
Moisturizing hand sanitizer. …
"Maskne" prevention. …
Mask-friendly makeup. …
Scalp care emerges.
What are the most popular beauty treatments 2021?
With the stress and uncertainty of 2021 still looming over us, this year more than ever, we all deserve to treat ourself to a little extra TLC.
HydraFacial. …
Microdermabrasion. …
CBD Facial Treatment. …
Dermaplaning. …
Lash Lift & Tint. …
Fat Freezing. …
Laser Hair Removal. …
Semi-Permanent Makeup
What are the makeup trends for 2020?
Keep scrolling to see the biggest makeup trend predictions for the coming year, according to five of the top celebrity makeup artists.
Exaggerated Eye Shapes. …
Pops of Blue. …
White Eyeliner. …
Colorful Eyeliner. …
Classic Products (Like Red Lipstick) …
Softly Illuminated Complexions. …
Makeup-Skincare Hybrids. …
Sheer Makeup.
What is the most profitable beauty treatment?
Top 5 most profitable beauty treatments revealed
Semi-permanent brows. Offering semi-permanent brows would make you the most money on average. …
Semi-permanent lip liner. Adding semi-permanent lip liner to your treatment menu would bring in £3,600 per week. …
Semi-permanent eyeliner. …
Ombre Brows. …
Microshading.
---
10 Beauty Trends That Will Be Everywhere in 2021, According to the Experts
1. At-Home Peels and Masks
After having little or no access to our go-to dermatologists and facialists, it comes as little surprise to learn that at-home treatments skyrocketed this past year—a trend that Sephora's Beauty Director, David Razzano, says isn't going anywhere in 2021. "This past year saw most of us stuck at home, without access to salons and spas, and combating things like 'maskne' breakouts," Razzano tells us. "As such, we saw a large number of people turn to products that allowed them to create a spa-like experience at home with the same professional-level results."
2. Scalp Care is the New Skin Care
Will 2021 finally be the year that we start giving our scalps the same level of care and attention that we do our skin? Looks like it. According to Hands, the "idea of skincare for the scalp" will continue to push into the mainstream this year, with even more advancements in LED hair masks and scalp-specific product offerings (think scalp scrubs and serums). And it's not just all about new technologies either. As terms like "wellness" and "self-care" continue to become a growing part of our daily routines, experts predict that hair care aisles are likely the next frontier to see a rise in more holistic approaches.
3. Elevated Bath and Body Products
If there was a silver lining to experiencing all of the stress and anxiety that came with 2020, it was that it finally taught us all the importance of self-care. And for many, that meant investing in one's beauty routine as a way to relax and boost health and wellbeing. "As a reaction to the turbulent times we are all enduring, we're finding that consumers are increasingly turning to skincare as self-care 'therapy' as they begin to rate how products make them feel, over how they make them look," says Inge. "This focus on beauty for the emotional benefits (a trend I call, 'Emo-beauty'), such as mood-boosting, energy-inducing, and stress-relieving masks, oils, home fragrances, and bathing products, has driven both a substantial rise in sales across our wellbeing category (117 percent) during the first lockdown versus the previous year, as well as a staggering 315 percent rise in Cult Beauty's bath and body category. We believe it will continue to inspire behavior well into next year and beyond."
4. The New Hero Ingredients
One of the first questions every beauty editor hears at the beginning of each year is, "what will be this year's new hyaluronic acid?" In previous years, the answer to this question has included everything from mushrooms to bakuchiol, but for 2021 Middleton says it's going to be all about polyglutamic acid: a powerhouse humectant capable of holding and trapping in four times as much moisture as hyaluronic acid.
5. Microbiome-Friendly Skincare
Microbiome health has been a buzzword in the beauty industry for some time now, but after years of overindulging in an ever-growing list of products, ingredients, and harsh exfoliants, experts agree that they expect to see a "less is more" approach to skincare take hold in 2021. "We've spent way too long overzealously exfoliating our skin, and it's taking its toll," says Choi. "[As a result,] microbiome-specific skincare and slow, conscious beauty products that meet our new normal of using skincare as self-care will continue to gain traction. At Violet Grey, we have always believed in the less-is-more philosophy, taking a mindful approach to our curation, which we believe is ever more important and relevant now and in the future. That ideology goes hand-in-hand with sustainability and the environmental impact that the beauty industry has, which will also be a major focus over the next year and beyond."
6. 'Cult of Personality' Brands
However you feel about celebrity and influencer-driven beauty brands, there's no denying the hold they continue to have on the industry. From Rihanna's Fenty Skin to Jennifer Lopez's recently launched JLo Beauty line, celebrity brands hit peak saturation in 2020, and by the looks of it, they're just getting started.
7. Biotech Beauty
If you haven't yet heard of biotech beauty, get ready, because according to experts, you're going to see it everywhere in 2021. Falling under the same sustainability umbrella as "waterless" and "refillable beauty," biotech beauty is the term used to describe lab-made ingredients that either fuse natural ingredients with synthetic chemicals or create synthetic alternatives to natural ingredients. As sustainability and waste issues continue to loom over the beauty industry, many brands are now tapping into the biotech industry to help innovate, enhance sustainability, and create better, safer ingredients at scale.
8. All About The Eyes
If there was one segment of the makeup industry that thrived in 2020, it was the eye category, and according to Razzano, it's showing no signs of slowing down. "With most people wearing masks while out and about, we are seeing a strong focus on eyes when it comes to makeup," he says. "This has allowed brands to push the envelope in terms of innovation, resulting in some extraordinary new formulas and shades. Eyeshadows that shift between multiple colors is one way we'll see this, and more creamy formulas that deliver unique results. The Natasha Denona -Triochrome Eyeshadow Palette has definitely captured a lot of attention [at Sephora] for that reason. The palette boasts 15 shades in a unique and beautiful assortment, with three multi-chrome shades that, when applied, create an optical color shift that is magical to behold. This type of futuristic innovation and curation will push eyeshadows to new levels this year and beyond."
9. Grown-to-Order Beauty
For many beauty brands, one of the toughest challenges of dealing with the global pandemic in 2020 was the effect it had on manufacturing and supply chains. As a result, Middleton believes that many brands will look to mitigate supply chain and overstock issues in 2021 by shifting to increasingly on-demand and made-to-order practices. She calls it "grown-to-order" beauty.
10. Increased Inclusivity
While beauty inclusivity is hardly just a passing trend, it is something that many of the experts we spoke to noted as being of increasing importance across every aspect of the industry moving forward into the new year. At Net-A-Porter, Hands says they "will be focusing hugely on inclusivity in all categories of beauty" this year and are excited to be adding several BIPOC-owned brands to their roster in the coming months.
---
Clean & Natural Beauty Trends: What's Big In Beauty In 2021
Beauty trends are always a product of their times. Since beauty is one means by which people express themselves and help contextualize the world around them, what becomes "popular" will, on some level, reflect this. And what times we live in now, no?
As we tepidly enter a new era, what I'm seeing in the zeitgeist certainly mirrors many of the shifts we've seen over the past year or so. When the great outdoors became more important to our daily lives than ever before in recent memory—so many of us started using nature as a means of inspiration and awe. And this was not just as a way to calm and sustain ourselves but as a way to have fun again. Or we decided that instead of constantly needing to exfoliate our skin in the search for brighter complexions underneath, we'd nurture the barrier instead. And given we're all so much more in tune with the science behind it all, we've moved away from marketing-speak and empty promises toward expecting data-driven results in our search for product efficacy. But of course, we are still met with some of the same hardships and realities that have plagued us in the past. Certainly one of the most pressing questions is how can we create a more sustainable world around us? And while mindbodygreen has been talking about a circular economy for years now in regards to packaging, we are starting to see upcycling gain broader traction in the formulas themselves. And in a time when longevity and healthy aging seem to be on all our minds, we've seen a shift away from youth-obsessed beauty coverage and brands. Yes, it's still there in spades, but there are also more resources and brands making room for people of all ages—notably those experiencing menopause. This is all to say, what I'm seeing in the beauty space isn't new or surprising. But that's actually what makes trends so interesting to evaluate and dissect: They're less about what's novel and next—and more about who we want to be.   Nature is your best accessory. Florals are back—well if they ever left. It's an all-natural accessory that has stood the test of time. Think Minnie Ripperton's crown of babies' breath. Elizabeth Taylor's '60s mod wedding with a bouquet of hyacinths intertwined with her famously raven strands. Beyonce's instantly iconic Vogue cover, in which she wore a massive arrangement of brightly colored florals.