BTS Butter
BTS fans are currently supporting two songs from the band they love the most, as the group has a pair of singles going strong on the Hot 100. Both "Butter" and "Permission to Dance" are currently present inside the top 10 on the all-encompassing songs ranking, with the former returning to the summit after stepping aside to allow the latter title to open in first place last period. As the septet makes history by replacing themselves atop the Hot 100 two weeks in a row (something that had never happened before this frame), one of their biggest hits yet reaches a special milestone worth noting on a very competitive radio list.
BTS's "Butter" advances slightly to No. 9 on this week's Pop Airplay chart, which ranks the tracks that reach the largest audience on top 40 and mainstream pop stations across the U.S. The tune is one of only a handful of top 10 smashes from South Korean stars, but this time around what may be more important than where the cut sits is how long it's been rising on the tally.
"Butter" has now spent a milestone 10 weeks on the Pop Airplay chart, which remains a rare showing among tunes produced by acts that hail from South Korea. In fact, BTS's latest radio success in America is now tied as the fifth-longest-charting track by a South Korean musical act of any kind, though it doesn't claim the honor entirely for itself. The catchy summer single is on the same level as BTS's previous hit "Mic Drop," which also found space on the roster for 10 frames before disappearing for good.
The record for the most weeks spent on the Pop Airplay chart among songs by South Korean artists remains BTS's "Dynamite," which narrowly broke the all-time best showing when it earned its twentieth turn on the tally. In doing so, it bested Psy's "Gangnam Style," which managed 19 weeks on he ranking during its time in the sun.
BTS's own "Make It Right," a song which found an audience at pop radio after Lauv jumped on board a remix, once charted on the Pop Airplay list for 15 weeks. Monsta X and French Montana's "Who Do U Love?" sits just one week ahead of both "Mic Drop" and "Butter," with 11 turns on the ladder.
Last week, "Butter" was tied with yet another BTS single, "Boy With Luv" (which features Halsey), but now that it has reached double-digit frames on the Pop Airplay chart, it stands as one of the longest-charting releases by a South Korean act of all time. Seeing as it's currently up at a new high of No. 9, chances are it will hold on for several more weeks, if not months. As summer continues unabated, the tune will almost surely tie Monsta X's "Who Do U Love?" next week and then perhaps progress from there on this all-time ranking.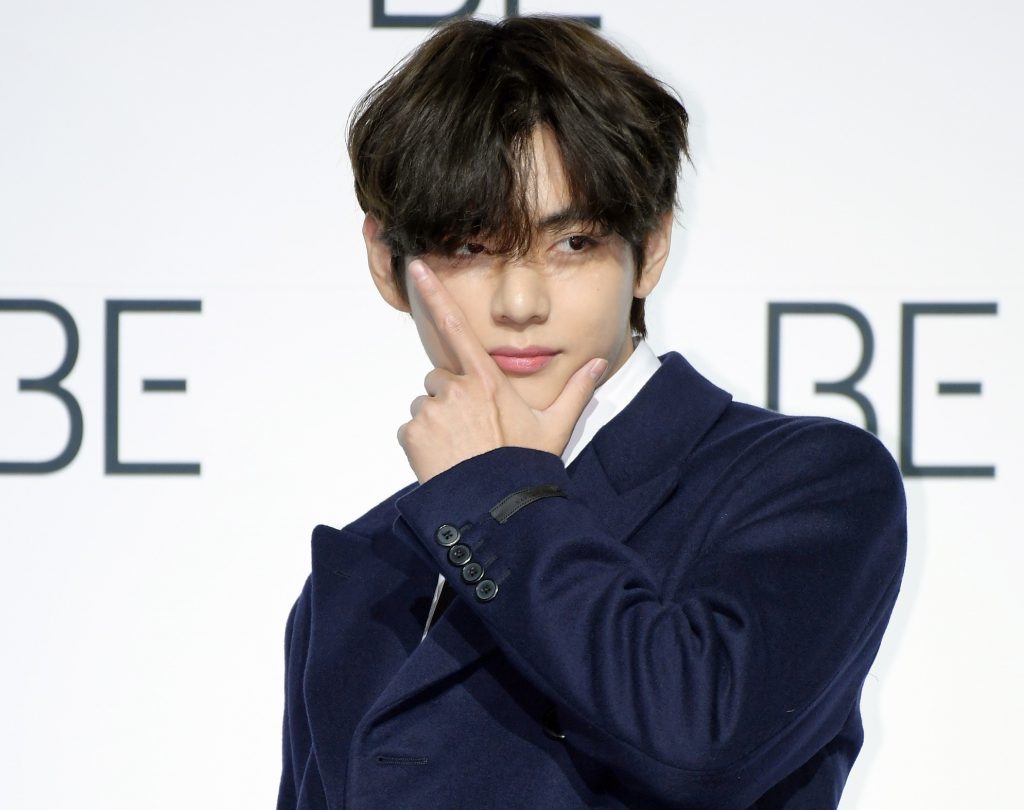 BTS: V Wanted 'Butter' to 'Feel Like a Teen Movie'
BTS released their second English-language single "Butter" on May 21. The song has spent eight non-consecutive weeks at No. 1 on the Billboard Hot 100, becoming BTS' most successful song on the chart to date. With the song, BTS give listeners a dose of carefree happiness amid the ongoing coronavirus (COVID-19) pandemic. In an interview with Weverse Magazine, V shared that he wanted the "Butter" music video to "feel like a teen movie."
V uses movies as inspiration for BTS' music videos
BTS typically release multiple albums a year, which means the septet film multiple music videos as well. V told Weverse Magazine that he incorporates movies he has watched in his performance in BTS music videos.
"When I shoot a music video, I think of a movie more than any one artist. And when I perform on stage, for some songs I think of the way movies like Reservoir Dogs look," V said.
When it came time to film the "Butter" music video, V used "teen movies" as his inspiration.
"For 'Butter,' I watched a lot of teen movies. And musicals. After that I randomly ended up seeing a video on YouTube of some scenes from an old teen movie Johnny Depp did [which turned out to be the movie Cry-Baby]. The image I got from that was really intense. That's the look I used in 'Butter,'" the BTS singer told Weverse Magazine.
Why V wanted 'Butter' to 'feel like a teen movie'
In the "Butter" music video, Jin, Suga, J-Hope, RM, Jimin, V, and Jungkook show off their smooth dance moves. During one scene of the music video, each member performs their own solo dance in an elevator.
"I did it like a teen musical, just like you say. When we shot the 'Butter' music video, I really, really tried to shoot the part in the elevator so it would feel like a teen movie. Although a lot of takes were edited, so not all of it's there. (laughs)," V told Weverse Magazine.
Speaking with Weverse Magazine, V explained why he felt "teen movies" were the perfect inspiration for the "Butter" music video, saying:
"For me, teen movies show a youthfulness that's appropriate for the age. I think there's an appropriate mix of emotion, energy, and a completely different and peculiar mood that everyone necessarily experiences at that age. If you watch teen movies, they're overflowing with energy and full of sunny emotion, but behind it all they're not as bright as they seem. They are really bright, but the color itself almost feels like some kind of filter. They feel like they have a different filter than other movies, so I tried thinking of teen movies when we shot the music video and put on performances."
V on the 'vibe' of BTS' 'Permission to Dance' music video
On July 9, BTS released their third English-language single, "Permission to Dance." The song was co-written by Ed Sheeran, and it briefly dethroned "Butter" on the Billboard Hot 100 by debuting at No. 1 on the chart.
Like "Butter," "Permission to Dance" also has a lighthearted feel to it, and people of all ages are featured in the music video. To V, "Permission to Dance" also feels like a "teen movie," but in a different way compared to "Butter."
"The teen movie vibe in 'Butter' and 'Permission to Dance' are different from one another," he told Weverse Magazine. "We showed the sunny image people usually think of when they think of teen movies in 'Permission to Dance.'"
BTS's 'Butter' Ties As The Longest-Running No. 1 Hit In America In 2021
After stepping away from the spotlight for a short break, BTS's "Butter" is in charge of the Hot 100 once again. The tune vaults from No. 7 to first place, recapturing the throne on the most important songs chart in the largest music market in the world…and in doing so, the tune ties an important current record.
Now that it's back at No. 1, "Butter" earns its eighth cumulative week atop the Hot 100. That means that BTS's chart champion is now tied as the longest-running leader of the year on the ranking, matching the eight-week run enjoyed by Olivia Rodrigo's "Drivers License." That tune, the singer-songwriter's first proper single, debuted as high as a cut can climb on the list and held there for eight turns in a row.
The returning champion that is BTS's "Butter" helps the band make history on the Hot 100 this frame as they become the first musical act in the half-century-long tenure of the tally to replace themselves atop the list twice in a row. Last week, the band's new single "Permission to Dance" debuted at No. 1, shoving previous ruler "Butter" down to seventh place. Now, the tracks have coincidentally swapped spots with one another, with their fifth and most recent champion dipping half a dozen spaces while the other rebounds just as many.
At the moment, there doesn't appear to be a real race for the No. 1 space on the next Hot 100, so there's already a good chance that "Butter" will hold atop the roster. If the smooth tune does end up running the show for at least one more frame, the catchy summer smash will break out of its tie with "Drivers License" and become the longest-running leader so far in 2021.
Both "Butter" and "Drivers License" stand as the longest-running Hot 100 No. 1s since spring of 2020 when Roddy Ricch's "The Box," which ruled for 11 frames in a row.
BTS' RM Says Working on 'Permission to Dance' Didn't Give Him Stress Like 'Butter' Did
Just dance it out! BTS' RM opened up in a new interview with Weverse magazine about how he felt making the group's latest uplifting hit, "Permission to Dance," compared to "Butter."
The singer-songwriter shared that there was discussion of putting some wrap into their third English-language single, which was co-written by Ed Sheeran and Snow Patrol's Johnny McDaid, but that BTS nixed it. "I have more fun when I'm singing and dancing than anything else," the 26-year-old shared. "I think this song was one of the few times that I felt like I was just having fun while singing and dancing on it. It feels amazing to give into the song with your whole body and just laugh instead of thinking about it too much. I think that's the power of the song."
He says working on the tune, which debuted in the No. 1 spot on the Billboard Hot 100 chart dated July 24, was different from their previous hit, "Butter," in that he felt more relaxed. "I wasn't stressed preparing for it like I was with 'Butter,'" he shared. "When it came to 'Butter,' I had to think about what we should show off and how I could do that. … But I really didn't have to worry about that with 'Permission to Dance.' Honestly, I felt like I only needed to add just a dash of the enjoyment I felt."
When discussing his solo track "Bicycle," which debuted during Festa in June, RM revealed that being a musician hasn't always been easy for him. "I've faced a lot of pressure while making music throughout my life to move ahead a little more or make music that stands out better," he said. RM added that because bikes "hold an important place in my heart," he decided to write a song about his.
"When I ride my bike, I'm free from the pressure of the things I'm supposed to feel and think about," he added. "I don't care if people recognize me, and that's the closest I get to feeling free, mentally and physically — when I'm riding fast and feeling like I'm up on a cloud."
Why is BTS so popular?
There are four reasons that BTS have become as popular as they have. With K-pop growing in popularity, they're simply making the music that people want to listen to! … While many K-pop songs are about relationships and love, BTS cover subjects that other bands may not like bullying, elitism and mental health.
Are BTS girls?
South Korea's boy-band, Bangtan Sonyeondan (BTS), with its seven members; RM, Jin, Suga, J-Hope, Jimin, V, Jungkook, come together to make the biggest boy-band in the world today.
How can I join BTS?
To join, ARMYs need a Weverse account, both for the app and for the Weverse shop. Fans also need a PayPal account, as this fan club charges a monthly fee to enjoy the perks, including a mobile membership card. From the Weverse app, fans have the options to choose from different "tiers" of the official fan club.
Why is V a hidden member?
Originally Answered: Why was V a hidden member? V was the "secret weapon" of BTS so Bighit didn't want anyone to know about him yet. They kept him out of pictures and other events, a fan even skipped V during a fan sign because no one knew who he was.
Who wrote BTS butter?
Jenna Andrews
Jenna Andrews, co-writer of the song 'Butter' has showered praise over BTS leader RM for his music production abilities. In a new interview Genius, Andrews was asked what it was like to work with RM on the song that has been reigning supreme on the number 1 spot of Billboard's Hot 100 charts.
In which country BTS butter is trending?
South Korean
That means the South Korean septet's new single beat the second-most-popular release on the platform this time around more than five times over. As if coming in at No. 1 wasn't enough of a show of dominance for BTS, the band also debuts another new clip at No.
Is BTS butter good?
It does what it set out to do and it does it very well. Not an Army but someone who genuinely loves some of bts songs like fakelove,euphoria(my fav),boy with luv,forever bulletproof etc.. Not being an Army I had no expectations on butter(good/bad).
Is BTS butter on Billboard?
BTS' latest single Butter has been riding the wave of success, and now it has landed at the top of Billboard Hot 100 chart. … "Butter" is also on top of the Billboard Global 200 and the Billboard Global chart (excluding the USA). "Butter" had the biggest debut on Spotify Global Charts with 11.04 million streams.
BTS butter Lyrics
Smooth like butter, like a criminal undercover
Gon' pop like trouble breaking into your heart like that (ooh)
Cool shade, stunner, yeah, I owe it all to my mother
Hot like summer, yeah, I'm making you sweat like that (break it down)
Ooh, when I look in the mirror
I'll melt your heart into two
I got that superstar glow, so
Ooh (do the boogie, like)
Side step, right-left, to my beat
High like the moon, rock with me, baby
Know that I got that heat
Let me show you 'cause talk is cheap
Side step, right-left, to my beat
Get it, let it roll
Smooth like butter, pull you in like no other
Don't need no Usher to remind me you got it bad
Ain't no other that can sweep you up like a robber
Straight up, I (got ya)
Making you fall like that (break it down)
Ooh, when I look in the mirror
I'll melt your heart into two
I got that superstar glow, so
Ooh (do the boogie, like)
Side step, right-left, to my beat
High like the moon, rock with me, baby
Know that I got that heat
Let me show you 'cause talk is cheap
Side step, right-left, to my beat
Get it, let it roll
Get it, let it roll
Get it, let it roll
Ice on my wrist, I'm that nice guy
Got that right body and that right mind
Rolling up to party, got the right vibe
Smooth like (butter), hate us (love us)
Fresh, boy, pull up and we lay low
All the players get moving when the bass low
Got ARMY right behind us when we say so
Let's go
Side step, right-left, to my beat (right-left, to my beat)
High like the moon, rock with me, baby
Know that I got that heat
Let me show you 'cause talk is cheap (you know that talk is cheap)
Side step, right-left, to my beat
Get it, let it roll
Smooth like (butter), cool shade (stunner)
And you know we don't stop
Hot like (summer), ain't no (bummer)
You'll be like, "Oh my God"
We gon' make you rock, and you say (yeah)
We gon' make you bounce, and you say (yeah)
Hotter? Sweeter! Cooler? Butter!
Get it, let it roll