Critics have praised Billie Eilish's hotly-anticipated second album Happier Than Ever for its unflinching portrayal of life as a teenage pop megastar.
The follow-up to her 2019 debut When We All Fall Asleep, Where Do We Go?, it addresses the pressures of fame, as well as weighty issues facing young women, including sexual coercion.
Reviewers said the record is "defiant" despite its "muted" tone.
The Guardian's Alexis Petridis gave the "universally great" album four stars.
He said that "on perhaps the most anticipated album of 2021, Eilish uses subdued yet powerful song writing to consider how fame has seeped into every corner of her life.
"Listening to a pop star complaining about being a pop star is usually enervating. It says something about Eilish's skill as a song writer that, in her hands, the topic feels genuinely affecting."
This is partly, he wrote, because despite her stratospheric success, Eilish continues to express her fears with relatable intimacy as pop's anti-hero.
Billie Eilish is the youngest person ever to win the Grammy Award for album of the year
The album's title track sees her wonder if her dates have read her personal revelations made in interviews. My Future dissects the stress of personal relationships versus career progress, while Your Power and Getting Older both deal with unwanted sexual attention and consent for a MeToo generation demanding accountability.
At times however, Petridis felt this authenticity removes her from the everyday experience of her fans: "There's not much point in pretending you're still just like them when you've sold millions, sung a Bond theme and appeared on the cover of Vogue dressed in a custom-made Gucci corset".
In a lengthy Instagram post sharing the album artwork, Eilish said she "grew so much in the process of making this album and experienced so much self realisation and self reflection".
View this post on Instagram
Musically, her trademark whispered vocal tones remain, but the album – produced in lockdown with her brother and collaborator Finneas – contains "lots of clever production touches".
Despite being "less obviously ear-grabbing and immediate than its predecessor… the fact that it's a lower-key album than her debut shouldn't distract from Happier Than Ever's quality", Petridis concludes.
Similarly The Telegraph's Neil McCormick gave a four-star review, noting that the record contains "surprising musical twists and glittering barbs of lyrical empowerment".
He said "shimmering harmonies" combine to take the listener on an "emotional journey" that ultimately casts "optimistic light on a long dark night of Billie's tortured soul".
However, the subdued tone has divided some critics, and fans, underwhelmed by the lack of bombastic, radio-friendly singles.
In a five-star review of the new album, NME's El Hunt wrote, "Happier Than Ever fully establishes Billie Eilish as one of her generation's most significant pop artists – and, better still, does so without repeating a single trick from the debut that turned her life upside down."
But The Line of Best Fit's review saw writer Matthew Kent lament a lack of daring.
"The tempo never quite reaches fever pitch; instead Eilish is content with the tranquillity of tried and tested methods", he said, giving the album six out of 10.
The Times' Will Hodgkinson also mentioned "there are no collaborations, no Elton Johns popping up for guest spots, just Billie and Finneas making one subdued, minimal song after another".
But his four-star review finishes by recognising "Happier Than Ever hits home because it has a core of authenticity and a dreamlike mood that intoxicates.
"Given how easily Eilish could have been blown off course by now, that alone is an achievement."
Billie Eilish: Up Close, will be broadcast on BBC One on Saturday at 22:30 BST and streamed online (UK only).
Billie Eilish: 'To always try to look good is such a loss of joy and freedom'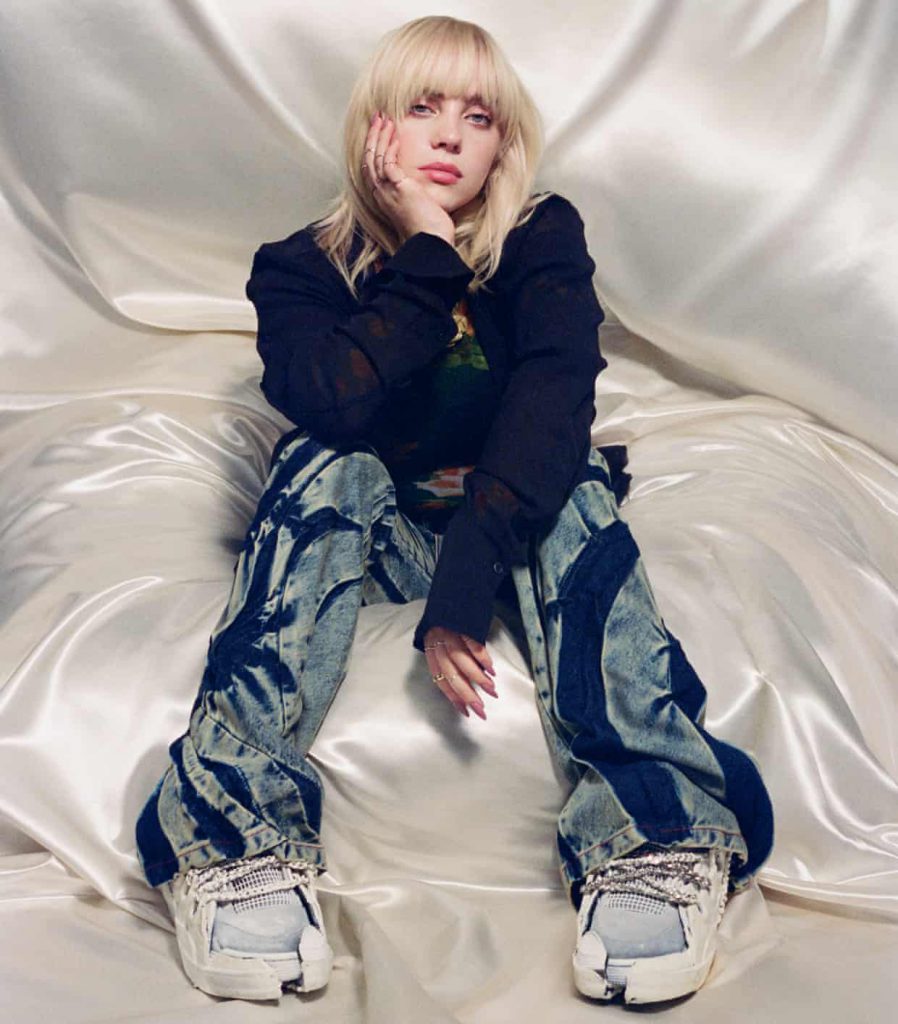 In an exclusive interview, Gen Z's biggest pop star talks about body image, oversharing with fans and what she's missed most since becoming famous
Miranda Sawyer
@msmirandasawyer
Sat 31 Jul 2021 07.00 BST
Billie Eilish is making me nervous. She has called, as arranged, bang on time – 11pm in Los Angeles – but, she admits, she is not quite ready to speak: "This is a mess, I'm so sorry!" Her pale face and platinum hair loom from her phone screen, surrounded by darkness. Her head is at a funny angle and… oh God, she's driving, her mobile apparently balanced on the car's dashboard.
Help! I don't want to inadvertently cause the death of one of the world's most gifted and valuable pop stars; to watch as a generation-defining musician at the top of her game crashes her car.
"Girl, crashing is not me! I am not that person," Eilish says, half-laughing, half-stressed. "I went to my brother's house for a swim and to check on his dogs, because he's away, and now I'm driving to my parents' house, I promise it's really close."
OK, I say, still jumpy. But what's that beeping sound?
"It's my dog – he's sleeping on the other seat and he's 70 pounds, so he's making the car beep because he doesn't have a seatbelt on. I have mine on, look," she says, showing me. "The beeping is really perfect for this call, isn't it? And now the car wants to Bluetooth my phone. This is great," she says, almost to herself, her sarcasm instantly familiar to any parent of a teenager.
Such bombastic attitude is forgivable, because Eilish is a teenager, albeit one of the most famous in the world. She's 19 now, a music veteran of six years, ever since she made a track, Ocean Eyes, with her songwriter elder brother, Finneas O'Connell, known professionally as Finneas, for her dance class. She uploaded it on to SoundCloud, where it gained a couple of thousand listens and almost instantaneously landed her a management deal. At her early gigs she had to sit outside on the pavement before shows, not allowed in because she was underage. But within a few months, something happened: in 2017, her EP Don't Smile At Me made a splash with young fans, and a year or so later Wish You Were Gay and Bad Guy smashed her into the mainstream. Eilish's intimate, breathy vocals over the driving beat, her eye-rolling, nose-bleeding, blue-haired look in the video, and the flip of the lyrics ("I'm that bad type… might-seduce-your-dad type") took her stratospheric. ("Duh," she sang.) She was 17.
Her first album, When We All Fall Asleep, Where Do We Go?, released in 2019, went multi-platinum and landed her five Grammys; she picked up another two, this year, for her theme for the still-awaited Bond film No Time To Die and her single Everything I Wanted. She'd done three dates of a massive world tour when lockdown arrived, so she and Finneas used the time to write another album.
"It's not a Covid album, but it was the first time in four, five years that we had time off to actually make songs, without anybody telling us to, or any deadlines, or any pressure. It was great because I don't write fast," Eilish says. Her voice is deeper than you might expect. "We were so in the mindset, I loved it." She's pulled over, to get her dog (Shark, a pitbull) to lie on the car floor. As she talks, she holds her phone up at random angles; no standard video-call etiquette here – her phone is an accessory, a witness to her life. "Ask me questions!" she says, as she organises herself. Within a few seconds, she's driving again. "My parents' house is literally five minutes away!" she hoots.
Advertisement
Billie Eilish Pirate Baird O'Connell is full-on, in all senses. After a rocket-powered zoom from cool indie artist to massive global fame, her second album, Happier Than Ever, is coming out and she's working hard to promote it. Everyone wants her, from the press to her fans (88 million on Instagram); she recently admitted to having crying jags over the number of photoshoots she's had to do. She is huge across the world; her every move, official or papped, is clickbait. Her devotees span all ages, but she has an especially besotted young fanbase. She has said that her fans are why she does what she does – "I wouldn't want to do any of this if they weren't involved," she tells me – but they also analyse her every move, flipping between worship and informing her where she's gone wrong.
Recent gripes include her choice of boyfriends – her ex, rapper Brandon "Q" Adams, wasn't nice enough to her; her supposed current boyfriend, actor Matthew Tyler Vorce, used racist and homophobic language in the past – but also: aged 13, she once sang along with a racial slur in a Tyler, the Creator lyric (she's apologised, saying she had no idea what it meant at the time; plus, no heat for Tyler, you notice); her video for recent single Lost Cause, in which she appears to be having a fun sleepover with other young women, is "queer-baiting", because she is straight. Cancel culture, where one misstep can send you to societal Siberia, seems impossible for anyone to navigate, but especially so when you're young, famous and doing your growing up online. "Uuuugh," she says of online trolls. "These people don't do anything. I'm like, do something with your life! Go somewhere. Go get a hobby."
Advertisement
Lost Cause, with its all-together merriment, is a bit of a departure for Eilish, who has long presented herself, at least in videos, as an outsider. Nonconformity is her appeal: her music uses experimental production, she hides her soulful voice by singing close to the mic or using Auto-Tune. Her lyrics reveal the teenage life pop usually ignores: not just the intensity of its romantic love, but also its strange fears and stupid jokes; its revenge fantasies, ineffable sadness, loopy drama and life-death obsessions. In her lonely videos, she floats like she's possessed; cries black tears; has cigarettes stubbed on to her cheeks. In photos, she stares into the camera with a hood-eyed, eff-you stare. She has Tourette's, and when she's stressed, she tics, her head flicking, her eyes pulling wide, as if she wants to expel something crawling in her brain.
Teenage girls, as an audience, have been targeted by adults ever since pop was invented. Eilish has shown that they're a lot weirder, cooler and on it than the grownups ever credited, by detailing the switchback moods and defiant peculiarity of contemporary teenage life. But she's becoming an adult now. Can her fans allow her to evolve?
to my relief, Eilish is now parking the car in her parents' yard: "The entrance is so small and my car is such a tank." I know her car is a black Dodge Challenger, given to her on her 17th birthday by her record company. And I also know her parents' house is a scruffy, detached bungalow, packed with the detritus of long-term family living. I know these things because Eilish enjoys her life being documented – via home videos when she was young and recently in a book of photos from her childhood to now – though there are limits, as she will tell me.
Advertisement
She bustles through the house, calling "hello" to her parents, plonks down on a bed and leans the phone against something. After a while, I realise it's a mirror, because she starts brushing her fringe.
Although we start by talking about her album's themes – there are two, broadly: one is a fuck you to an old flame, the other calls people out for the way they treat young women – we soon start discussing body image. Eilish loves to play with fashion and changes her style all the time – she remembers making the deliberate decision, aged four or five, to go out with her knickers on top of her trousers – but tries hard not to be overly concerned with her looks.
For a long while, her aesthetic references combined the gothic (coloured hair, pet spiders, the Babadook) with hip-hop (baggy shorts, hoodies, Louis Vuitton), culminating in her dyeing her hair black with neon green roots, sporting claw-like nails, neon green top and shorts.
Her new look is less cartoonish, though it still seems a little dress-up: Marilyn Monroe blond hair; soft beige and pink clothes; references to 1930s Hollywood and French boudoir. As it's Eilish, there's a twist (big trainers, over-the-knee socks, a huge new tattoo of a dragon across her lower hip). She launched this style in British Vogue in May, where she stared from the cover, defiant in a corset, instantly confounding those who previously lauded her for covering herself up. Today, beneath that glamorous platinum fringe, she's rocking a baggy Eazy-E T-shirt.
"Since I was a kid," she says, "my dad and I have always talked about a certain type of person who's so insecure, or hyperaware and self-conscious, that they never move in a weird way, or make a weird face, because they always want to look good. I've noticed that, and it makes me so sad. If you're always standing a certain way, walking in a certain way, and always have your hair just so… It's such a loss to always try to always look good. It's such a loss of joy and freedom in your body."
This loss of freedom is more likely, of course, if you're a young woman. Eilish recently released Not My Responsibility, which is on the new album: a spoken-word piece that questions why her physique is seen by others as provocative, no matter whether she covers herself up, or doesn't. "The body I was born with, is it not what you wanted? If I wear what is comfortable, I am not a woman. If I shed the layers, I'm a slut." And in Your Power, a song about older men preying on young women, a punch-to-the-gut lyric hidden in the prettiest of tunes, she talks about the terrible ways that those who are "provoked" by such young women can act. "You ruined her in a year, don't act like it was hard… She was sleeping in your clothes… now she's got to get to class." "It's an open letter," she says, "a general statement. I had multiple people I was thinking about in that song, which is sad, I know. But it's not all about one person. Some lines have nothing to do with me, they're just things I've seen, or things my friends have gone through."
Another song on the album has a similar call-out theme: "OverHeated applies to all the people who promote unattainable body standards," she says. "It's completely fine to get work done – do this, do that, do what makes you feel happy. It's just when you deny it and say, 'Oh, I got this all on my own, and if you just tried harder, you could get it.' That makes me literally furious. It is so bad for young women – and boys, too – to see that."
She knows from experience of the music industry that most perfect Insta-friendly images are unreal. But it still affects her. "I see people online, looking like I've never looked," she says. "And immediately I am like, oh my God, how do they look like that? I know the ins and outs of this industry, and what people actually use in photos, and I actually know what looks real can be fake. Yet I still see it and go, oh God, that makes me feel really bad. And I mean, I'm very confident in who I am, and I'm very happy with my life… I'm obviously not happy with my body", she adds casually, "but who is?"
On stage, I disassociate from the ideas I have of my body. Then a paparazzi picture is taken and everyone's like 'Fat!'
She picks up a small jade roller and runs it over her cheek as she speaks. I'm taken aback that she's "obviously" not happy with her body, but Eilish is nothing if not honest; she responds in the moment. And actually, despite her enormous social media presence, she can often seem like she's in disguise. Her style is so distinctive, it has become a camouflage. (You can order her green and black look as a costume online; several of her friends, and her mum, dressed up as Eilish for Halloween 2019; Eilish herself dressed as a ghost.)
She used to be a dancer, and imagined that would be her career, until she suffered a serious hip injury, aged 13. We talk about how dancing makes you feel, its exhilaration. She used to love jumping in mosh pits, "the freedom and independence", though she hasn't managed to do so since 2016. "Even though there's many people around you in a mosh pit, you're alone. Nobody knows who you are. That's what I really loved. I miss mosh pits." Before her gigs got really big, she was proud of creating mosh pits in them – "I once created seven!" – but some of her fans were too young and didn't know what to do.
also read :
amber heard johnny depp abuse : ACLU must reveal if Amber Heard donated $7M divorce settlement
Miley Cyrus Takes the Stage in a Graphic Tee, Short Shorts & Metallic Go-Go Boots at Lollapalooza
Will Smith stars as Williams sisters' 'relentless' father in 'King Richard' movie
Marilyn Manson Files to Dismiss Esmé Bianco's Sexual Assault Lawsuit
Billie Eilish's Second Album Has Strong Words for Her Critics
She's Happier Than Ever, but happiness sounds more somber than jubilant.

When you're 19, two years can feel like an eternity. Later, it can go by in a flash. Which is why, under more regular circumstances, many listeners might have been startled by Billie Eilish's new album Happier Than Ever, which feels like a transformation compared to the jumpy and slinky playfulness of her massively successful, full-length debut, 2019's When We All Fall Asleep, Where Do We Go? But in the interim, humanity's collective rhythm fell into a Covid-19-shaped wormhole, and two years ago now seems impossibly distant to even people decades Eilish's senior. Many of us are feeling more subdued, shaken, and shorter on swagger, and with notable exceptions, that is how Eilish sounds here.
The title of Happier Than Ever is double-edged: If anyone was expecting a more upbeat, carefree record from the 21st-century pop goth known for her nightmare-channeling lyrics, this ain't it. The vibe is slower and more somber than her defining hits. But the album does find a maturing artist working through her obstacles to find contentment, asserting her right to self-possession, in ways that make happiness more viable in the long run.
Where much of her debut saw Eilish knifing the nasties under the bed in the dark, as stand-ins for more substantial psychological demons, on her sophomore release, her main foils aren't the Babadook—they're stalkers, internet haters, lousy boyfriends, body shamers, power abusers, and other real-world bad guys. It's hard not to long for the fanciful horror-movie world-building of the younger Eilish at first, which in 2019—supported by her sibling co-writer and producer Finneas's way with eccentric sonic effects—felt like such an unpredictable, liberating new presence in mainstream pop. Paired with Lil Nas X's "Old Town Road" breakthrough the same year, Eilish seemed to be a harbinger of a further-out, cliché-crushing pop-generational turn.
But early celebrity is a powerful force, especially under the surveillance of social media. Eilish and Nas X (whose own debut full-length Montero is expected to appear anytime now) perhaps inevitably have now harnessed much of their energy to defending their psychic and personal integrity against the intense scrutiny they've experienced, which few people can even imagine. Eilish has pointed out in interviews that the flattery can often be as confusing and damaging as the criticism. Consider the way her penchant for baggy, form-camouflaging clothing was counterposed with the supposed sexual excesses of other female pop stars: It not only made her an unwilling party to slut-shaming, but implied she would be making a mistake if she ever dressed more revealingly. That's part of why, in the runup to this release, Eilish swapped her trademark dyed-green hairstyle—which had become its own kind of identify-confining trap—for bombshell-blond, and had herself photographed in voluptuous lingerie for the cover of Vogue. Which, of course, brought another backlash.
There are lines peppered throughout Happier Than Ever that side-eye the internet peanut gallery's presumption to know what's actually going on in a life they only intuit through rumors, speculation, and ancient online breadcrumbs. But the focus on her body has clearly hit Eilish hardest. The album hinges around a mid-album, spoken-word monologue, "Not My Responsibility," which she premiered during her short-lived world tour in 2020, with a short film of Eilish slowly removing clothing and then sinking into a pool of tar. "You have opinions about my opinions, about my music, about my clothes, about my body," she intones. "But I feel you watching always." That piece informs everything before and after it, such as "Halley's Comet," perhaps the album's only real love song, a pretty piece about being tempted by passion but held back by risk, and "OverHeated," a less musically interesting statement in defiance of a traumatic paparazzi incident. Eilish so far hasn't gone through what someone like Britney Spears did, thanks to a trustworthy circle of family and well-vetted business associates, but even then she can come shockingly close.
A second album about the pressures of fame is an industry staple, and very often it marks the point when an artist loses the thread that bound them to an audience in the first place, only seeing the world through a scrim of travel and publicists. In the album's charming opening salvo, "Getting Older," I began to worry about that as Eilish sang in the chorus, "Things I once enjoyed/ Just keep me employed now." I was reminded of the moment in The World's a Little Blurry, the documentary from early this year, where Eilish told her family she never wanted to make another record. Still, at the end of this first song, she sets out another reason to carry on: "I've had some trauma, did things I didn't wanna/ Was too afraid to tell ya, but now, I think it's time."
And that is, in its best moments, what lifts Happier Than Ever beyond the second-album curse: It is grounded in a determination to testify that would have been beyond the Eilish of 2019, while still preserving enough privacy to demand her autonomy. It swirls together the fame album, a post-#MeToo feminist-protest album, the breakup album (the songs return enough to overlapping complaints about a relationship situation to recall her peer Olivia Rodrigo's more single-minded debut Sour, from May), and just enough familiar Billie-and-Finneas sardonicism not to be an endless bummer.
It could have been shorter—a song like "Billie's Bossa Nova," about a fantasy clandestine hotel rendezvous, feels like a Finneas-led musical exercise, and "Everybody Dies" is a reach for a bigger idea, a return to some When We All Fall Asleep preoccupations, that is a welcome change of pace yet whose poignancy falls short of profundity. But the way that Eilish mixes themes from song to song and within songs manages to connect relative mundanity with her unusual life experiences as a very-young-adult celebrity: the public component of growing up today regardless of fame, when an Instagram post or an out-of-date tweet can rattle any young person's reputation or become bullying bait. They may not have to cope with articles and interviews, which she mentions in several songs as things she both dislikes and wants her intimates to take note of, but ordinary people can feel similar things about their online interactions.
That complexity is combined with the musical switch she and Finneas have made. They do less of the second-hand, homespun-trap that distinguished When We All Fall Asleep and draw upon more jazzy torch-song textures that Eilish has credited to the influence of the 1950s-'60s singer Julie London. Often, as on the strummy title track or the floatingly ambient "My Future," the songs begin with retro mellow and then switch to beats halfway through. In the case of "Happier Than Ever," that escalates to the point of Eilish ultimately shouting, "Just fucking leave me alone"—which may be the unspoken subtext of every torch song ever.
So could the flipped version that emerges at the end of the closing track, "Male Fantasy," when Eilish sings, "I know I should, but I could never hate you." That song starts daringly with Eilish distracting herself in a down moment by watching porn and pondering how the male gaze shapes unrealistic portrayals of women's satisfaction with sex—but by its conclusion, it's about an equally distracting fantasy about a male, and how he might have been better to her.
The album's most thematically encompassing and memorable track is probably the single "Your Power," on which Finneas uses 1970s acoustic-singer-songwriter textures to couch gently some of Eilish's most confrontational lyrics about male power abuse, touching briefly upon personal experience while weaving in stories she's heard from or about others, to make a more universal point. Lyrics like "She was sleepin' in your clothes/ But now she's got to go to class" and "You swear you didn't know/ You thought she was your age," as well as the musical arrangement, are reminiscent of the impact of Phoebe Bridgers' song about her brief relationship with Ryan Adams: "You said when you met me you were bored/ And you were in a band when I was born."
There are a few tracks here that aim a bit more at being bops. Last summer's sarcastic-yet-Socratic single "Therefore I Am," the one with the great pandemic-minded video of Eilish scarfing snacks in an empty food court, is represented. So is the recent "NDA," which winkingly hints at off-the-radar romances who have to sign non-disclosure agreements and recaps a bunch of the album's other songs in its second verse. "I Didn't Change My Number" is an anthem for fully-justified-ghosters everywhere, with some classic Finneas-and-Billie musical humor in the loops of menacing dog barks. And "Oxytocin" is "Bad Guy"-esque in its keyboard and vocal stylizations, but with a much more grown-up, eroticized groove and lyrics; Eilish presents herself simultaneously as the pursuer and the pursued in a fully consenting-aged pleasure pretzel, with a sensuality that is newer to her.
Happier Than Ever needs those sparkly moments to sustain fans through the balladry and hush, but it parses them out sparingly. And then there is the beginning of "Goldwing," preluded by layered Eilish voices performing a verse from early-20th-century English composer Gustav Holst's orchestral transliteration of the Hindu Rig Veda, and ascending to a whole other Kate Bush-fusion-hemispheric level of transcendence—something I would never in a century have guessed she would include. It reminds me that as much as Billie Eilish's second album matters— as a cultural phenomenon, a statement of Gen-Z womanhood, an intervention in pop music's possible direction—both Billie and Finneas are artists who, as far as anyone can guess, could do practically anything in the future, compared to the short history we already know. Provided the future will let them.
Review: Billie Eilish remains brilliant with sophomore album
Billie Eilish seems to be in a good place on her sophomore album

Billie Eilish announces 2nd album 'Happier Than Ever'
Happier Than Ever," Billie Eilish (Darkroom/Interscope Records)
Billie Eilish seems to be in a good place on her sophomore album. "I'm happier than ever," she sings on the first song. But there's a tear running down her cheek on the cover. And before the collection is done, she returns to the phrase "I'm happier than ever" but qualifies it with "When I'm away from you." So it's complicated.
Few people do complicated like Eilish and "Happier Than Ever" is a fascinating look at a messy, famous pop star's life, as diaristic as Taylor Swift but more self-critical and emotionally candid. It's a superb album, ambitious and mature — a young woman pulling the fire alarm while we all stare at the flames.
The 16-track album that clocks in at just under an hour kicks off with "Getting Older" and a 19-year-old prodigy's cutting, clear-eyed observation that "Things I once enjoyed/Just keep me employed now."
Using that as a launching pad, Eilish goes on to explore fame and it's dark sides. On "NDA," she acknowledges a real-life stalker ("Had to save my money for security") and on "OverHeated," an encounter with paparazzi leads to an examination of surgery and "plastic" bodies.
Eilish also reaches up to expose unequal power structures, often returning to the theme of innocence polluted. On the hypnotic "GOLDWING" — which starts as a hymn based on a Hindu verse — she warns a novice: "You're sacred and they're starved/And their art is gettin' dark/And there you are to tear apart."
Those same evil forces are at play on the album's triumph — the acoustic guitar-driven "Your Power," pleading with a mentor abusing his power over someone in his thrall. "Will you only feel bad if it turns out/That they kill your contract?" she taunts.
So much for living happily ever after. Seven Grammy Awards haven't changed her or her co-writer and producer, Finneas. If 2019's "When We All Fall Asleep, Where Do We Go?" was sarcastic, quirky, internal and angsty, "Happier Than Ever" is fuller and grander, the songs stronger in their construction, crisper.
The brother and sister have an ability to take a spare noodle of a sound and build a sturdy song around it, with Eilish wrapping her expressive and whispery-lush vocals.
Her spoken word "Not My Responsibility" is important and powerful. "Would you like me to be quiet?" she asks and the answer is always no, no, no. She even targets mortality itself in "Everybody Dies."
The new album isn't all serious. There are terrific kiss-off songs ("I Didn't Change My Number," "Therefore I Am," "Lost Cause" and the slow-building "Happier Than Ever") and one where she's hopelessly in love ("Haley's Comet"). Eilish and Finneas even play with bossa nova in one terrific slinky tune.
But Eilish is best in the shadows, exploring our messiest impulses. "Oxytocin" starts off as sexy come-on, appropriate for a song named after a hormone that controls reproduction. But it brilliantly shifts halfway through, turning lust into something darker: "'Cause as long as you're still breathing/Don't you even think of leaving." Hey, its complicated.
Billie Eilish Pirate Baird O'Connell
(/ˈaɪlɪʃ/ EYE-lish; born December 18, 2001) is an American singer and songwriter. She first gained public attention in 2015 with her debut single "Ocean Eyes", which was subsequently released by Darkroom, a subsidiary of Interscope Records.
The song was written and produced by her brother, Finneas O'Connell, with whom she frequently collaborates on music and in live shows. Her debut extended play, Don't Smile at Me (2017), was commercially successful and charted within the top 15 in the US, UK, Canada, and Australia.
Eilish's first studio album, When We All Fall Asleep, Where Do We Go? (2019), debuted atop the US Billboard 200 and reached number one in the UK. It was one of the best-selling albums of 2019, buoyed by the success of its fifth single and Eilish's first number-one hit on the Billboard Hot 100, "Bad Guy". In 2020, she co-wrote and performed the theme song "No Time to Die" for the James Bond film of the same name, which topped the UK singles chart. Her next singles "Everything I Wanted", "My Future", "Therefore I Am", and "Your Power" each peaked within the top 10 in the US and UK.
Eilish has received several accolades, including seven Grammy Awards, two American Music Awards, two Guinness World Records, three MTV Video Music Awards, and two Brit Awards. She is the youngest artist in Grammy history and second overall to win all four general field categories—Best New Artist, Record of the Year, Song of the Year, and Album of the Year—in the same year. She was named to Time magazine's inaugural Time 100 Next list (2019). According to the RIAA and Billboard, Eilish is the 26th-highest-certified digital singles artist and one of the most successful artists of the 2010s decade.
Is happier than ever Billie Eilish on Spotify?
The event celebrated Spotify's new Enhanced Album feature and artist hub for Happier Than Ever with interactive experiences for attendees to enjoy the album in Billie Mode, Lyric Mode and Fan Mode. On the Spotify app, fans get to interact with several songs as they're brought to life with immersive experiences.

What is Billie Eilish biggest hit?
Top 10 Most Popular Songs by Billie Eilish
bad guy. BillieEilishVEVO. …
when the party's over. BillieEilishVEVO. …
bury a friend. BillieEilishVEVO. …
lovely (feat. Khalid) …
wish you were gay. BillieEilishVEVO. …
you should see me in a crown. Billie Eilish. …
Come Out and Play. BillieEilishVEVO. …
&Burn (w/ Vince Staples) BillieEilishVEVO.
How many songs are on happier than ever?
And in its first day, the 16-track Happier Than Ever (Interscope) immediately shot to the top of Apple Music's albums chart in the U.S. and many other countries; the album sees her expanding her musical palette, exploring personal trauma and abuses of power, and tweaking her unique fashion sensibilities.

Is happier than ever out?
Happier Than Ever is the second studio album by American singer and songwriter Billie Eilish, released on July 30, 2021, by Darkroom and Interscope Records.
…
Happier Than Ever
Released July 30, 2021
Recorded 2019–January 2021
studio Finneas' home (Los Angeles)
Genre Electropop

When did happier than ever come out?
July 30, 2021
What is Billie Eilish's favorite thing to do?
As a fan of horror, some of Billie Eilish's favorite movies and TV shows are The Babadook, American Horror Story, and The Walking Dead. In fact, her first real composition is about the apocalypse inspired by The Walking Dead, called "Fingers Crossed."

Who is Billie Eilish dating?
Matthew Tyler Vorce
Well, it turns out that the lover in question is actor Matthew Tyler Vorce.

Is Billie Eilish a one hit wonder?
She's definitely not a one hit wonder or an artist only known for one song or work. Billie Eilish is not a trend. She has been around for so long.

When did Billie Eilish album come out?
The album, which features 16 songs, was released earlier today (30 July) by Interscope Records, and has already garnered strong reviews from critics. Fans shared their enthusiasm about the release on social media, with many impressed by the 19-year-old pop star's efforts.

Who produced Billie Eilish new album?
Finneas
Eilish wrote the album with her brother and primary collaborator Finneas, who produced the record in Los Angeles. Ahead of the new album's release, Eilish shared the songs "My Future," "Therefore I Am," "Your Power," "Lost Cause," and "NDA." Listen to Billie Eilish's new album Happier Than Ever below.

Does Billie Eilish have a boyfriend?
What is Billie Eilish's boyfriend Matthew Tyler Vorce's Instagram? Matthew Vorce's Instagram handle is @corduroygraham, where he has almost 42,000 followers.

Does Billie Eilish have tics?
Billie bravely revealed to her fans that she lives with Tourette's after they started to notice her tics. They even made compilation videos of the 16-year-old, causing her to speak out on Instagram: "I would love to get this straight so everyone can stop acting goofy… I have diagnosed Tourette's.

Where does Billie Eilish live?
Los Angeles
Los Angeles, California, U.S.

What is Billie Eilish net worth?
Billie Eilish is best known for her successful debut single, 'Ocean Eyes. ' Today Billie Eilish is only 17 years old and has already taken the world by storm with her unique style and music.
…
Net Worth: $25 Million
Country of Origin: United States of America
Source of Wealth: Professional Singer
Last Updated: 2021

Does Happier Than Ever come out at midnight?
Billie Eilish's new album has officially arrived! The singer debuted her sophomore studio album Happier Than Ever at midnight Friday, alongside its cover art and a lengthy note about how much the project means to her. … "Finneas and i were just on cloud 9 making this album i feel," she continued of the 16-track offering.