If you already have a personal Instagram account with brand-appropriate content and an established following, you might want to simply convert it to an Instagram business account. This is absolutely one of the keys to successful social Media Marketing.
Everything about Instagram business account
Sharing photos and videos is what Instagram is all about. You can tell graphically rich and inspiring stories about your business and brand through visuals. As other social networks place increased importance on photo and video posts, Instagram is the perfect complementary network to include in your marketing mix for ease of cross-posting content.
Instagram introduced Business Profiles in 2016. Since then many businesses have chosen to switch their Instagram accounts from a personal profile to a business profile.
The change seemed inevitable, with Instagram now being owned by Facebook. In many ways, Instagram acts as an extension of Facebook, emphasizing the visual element. This is particularly the case for business accounts and advertising.
Why create an Instagram business profile?
If you're a brand looking to create a following on Instagram and use the platform strategically, you're going to need an Instagram business profile.
This is because there are so many added perks that improve usability as a brand. Let's dive into a few of the biggest benefits of using a business profile versus a basic personal profile.
Benefits of Instagram business account
1. You're taken more seriously
Take a look at the differences between the two Instagram profiles below. You'll probably notice a few of them.
Because the differences between the two types are so obvious, Instagram users can automatically tell when a profile is for a business, and it provides a greater sense of trust.
2. You get access to analytics
This is a big one. Switching to a business account gives you the ability to access built-in Instagram insights about your account and its performance.
You're able to take a look at your post performance, follower activity and audience insights. While these insights aren't extremely in-depth, it's a great glance at your account success and can give you a basic understanding of how well your content is doing.
3. You can add links to your Instagram stories
While it might take awhile to get your Instagram account to 10,000 followers, if you create a successful Instagram strategy, you'll be linking content in your Stories in no time.
Using Story links is a great way to highlight your latest content, highlight short-term deals or resurface timely content and products based on what's trending.
Instagram business account advantages
4. You can take advantage of Instagram advertising
Instagram ads and promoted posts are created through Facebook's ads manager, which means you must have an Instagram business profile that is attached to your Facebook Page to be able to create Instagram ad campaigns.
5. You can schedule your posts ahead of time
Another major Instagram update. It had significant value for marketer. The users can automatically schedule their posts instead of having to just schedule a reminder to manually post content.
6. You can tag products in your posts
Finally, another great perk that's only available to business accounts is the ability to turn your feed into an online shop.
Also Read:
How to Find Your Target Audience on Instagram
How to Set Up An Instagram Business Account
Before we begin, you have to set up a a business Facebook account. Already have a business Facebook page? Then let's jump right in. Here's a step-by-step on how to set up an Instagram business account.
Step 1 is to pull out your smartphone, find Instagram in your app store and download.
Create an account using an email address
While it might seem easiest to use your personal Facebook account…don't do it! That will create an account based on your personal Facebook page. Since this is for your business, you should use your business email address.
Next, you'll create a username and password. If you're setting up Instagram for a company, the username should be the company's name, or as close as you can get it.
Picking the right profile photo
Picture time! Your profile picture should be your logo or something recognizable that's associated with your brand if you don't have a logo.
Remember, this is your Instagram business account, not a personal page. Avoid the selfies or group pics. If you're the face of your business, use a professional headshot you like or take a new one.
Tap on the profile button on the bottom right to see your account, then tap on the "Edit Your Profile" button. This is where you complete your profile info.
Fill out bio and contact information fields. This is the only place on Instagram that allows you to use a clickable URL.
As for your bio, you're limited by character count. Briefly summarize what you do and where you're located. You can edit this section whenever you'd like so don't worry if the perfect words aren't coming to you right away.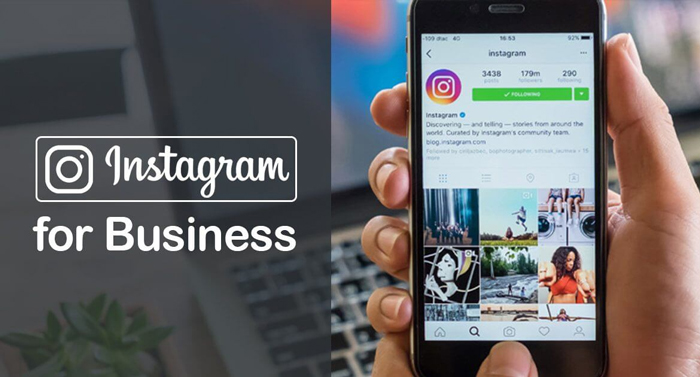 Set Up An Instagram Business Account
Click "Try Instagram for Business Tools" and follow the self-guided steps and instructions to complete your profile. So, you can take advantage of the tools offered.
Link your business Facebook page
Remember at the beginning of this journey when we said you needed a business Facebook page to be able to use the Instagram for business tools? Here's why.
Instagram will ask you to link your business Facebook page or create one. For those unaware, Facebook acquired Instagram a few years ago so there is more integration than ever with the two platforms.
Write captions and use hashtags
Keep your caption brief and use appropriate Instagram hashtags.
By this point you have a complete profile, a couple of posts shared, and now it's time to start following people so they start following you. If you want to you increase Instagram followers, you can check some tips and tricks.
Define your brand's story
Once you're set up and ready to go, it's important to decide what your Instagram business account's purpose should be and keep it on message.
Also Read:
How To Use Instagram Reels For Business ?
Choose Instagram business profile to get noticed in the Instagram feed
Instagram's algorithm is changing how and when users see the content you post. Upgrading your Instagram account to a business profile can help you beat the odds.
Access the Insights tools to find out what content is working for you, what content to create in the future, and when to share it to get seen and get engagement.
Try promoting one of your best-performing posts with the ads tools to get your content in front of more people, and promote your profile. You'll increase Instagram engagement and followers.
In addition, these users may be more likely to interact with and purchase from your business directly with the new contact button on your business account.
Start taking advantage of Instagram business account
So, ready to ramp up your Instagram marketing strategy? By switching over to an Instagram business profile, you gain access to so many more great brand tools and perks, allowing you to really wow your audience on the platform.
After you have your Instagram business account set up, enjoy the new interactions with friends and clients while building your brand.