In making money online and digital marketing, affiliate marketing is a skill-based approach, anyone could learn that. It is one of those segments of the online world, that doesn't require any degree or formal education. Want to understand what is Affiliate marketing? So, keep reading to learn everything about this popular passive income method.
Affiliate marketing
Smart entrepreneurs running a thriving business know there's always more they can do to make that business grow. One way of taking things to the next level is by finding an alternate stream of income. That doesn't mean starting a second business, but finding ways to complement and grow the business you have by offering more value to your customers and followers.
If you aren't participating in affiliate marketing, it's time to consider taking advantage of this lucrative revenue stream.
What is affiliate marketing?
Affiliate marketing is an online sales tactic that lets a product owner increase sales by allowing others targeting the same audience—"affiliates"—to earn a commission by recommending the product to others. At the same time, it makes it possible for affiliates to earn money on product sales without creating products of their own.
Simply put, affiliate marketing involves referring a product or service by sharing it on a blog, social media platforms, or website. The affiliate earns a commission each time someone makes a purchase through the unique link associated with their recommendation. Done well, this performance-based opportunity can become an important part of your business by netting you a healthy income.
Also Read:
Improve Your SEO Ranking + Step-by-Step Guide
How does the programs work?
Here is how affiliate marketing works in 4 simple steps:
You join an affiliate program
And, you pick a product to promote (You will get a unique affiliate link)
You share the link via Social media, Blog, YouTube videos, Facebook ads or any other form
When someone makes a purchase, you earn a handsome affiliate commission
How to Start Affiliate marketing for beginners:
You can get started with Affiliate marketing in many ways.
Here are a few that you can pick from:
Start a blog in a targeted niche and use it to promote a product. This is by far the cheapest and easiest way to start an affiliate marketing business. For example: Start blogging about Women shoes, Work from home products, and so on.
Buy traffic from PPC sites like Google, Facebook, Quora and drive traffic to affiliate products or services. This is called PPC marketing, and those who have taken a basic course of digital marketing, could understand it better. For rest, give it a little time and you will understand this.
Create a YouTube channel and promote products.
Create an email list by creating a mini-website. An example if Finshots
Start a Podcast and recommend products.
Here are steps to get started with affiliate marketing via your blog:
Start a blog
Select a profitable industry and then pick a niche for your blog
Choose the affiliate products that you can promote
Create content around those products
Drive traffic to your website/affiliate post
Use email-marketing services to capture email of visitors
Create email-sequence to automate the funnel (We will discuss this in details soon)
Focus on driving more traffic and repeating the process.
Also Read:
Instagram Marketing Tips : a Complete Guide to Instagram Marketing
Benefits of the affiliate marketing model
Affiliate marketing offers several benefits to affiliates (i.e., you), one of which is its ease. Your side of the equation simply involves handling the "marketing" side of building and selling a product—educating customers. You don't have to worry about the harder tasks, like developing, supporting, or fulfilling the offer.
Affiliate marketing is low risk. Since there's no cost to join affiliate programs, you can start making money with an established affiliate product or service without any upfront investment. Affiliate marketing also can generate relatively passive income through commission—the ideal money-making scenario. Though initially you'll have to invest time creating traffic sources, your affiliate links can continue to deliver a steady paycheck.
Finally, successful affiliate marketing offers the potential to significantly scale your earnings without hiring extra help. You can introduce new products to your current audience and build campaigns for additional products while your existing work continues to generate revenue in the background.
Statistics of this type of marketing
Affiliate marketing is a popular tactic to drive sales and generate significant online revenue. Extremely beneficial to both brands and affiliate marketers, the new push towards less traditional marketing tactics has paid off. In fact:
81% of brands and 84% of publishers leverage the power of affiliate marketing, a statistic that will continue to increase as affiliate marketing spending increases every year in the United States.
There is a 10.1% increase in affiliate marketing spending in the United States each year, meaning that by 2020, that number will reach $6.8 billion.
In 2018, content marketing costs were gauged to be 62% of traditional marketing schemes while simultaneously generating three times the leads of traditional methods. In fact, 16% of all orders made online can be attributed to the impact of affiliate marketing.
Moreover, In March of 2017, Amazon's affiliate structure changed, offering rates of 1-10% of product revenue for creators, providing the opportunity for affiliates to dramatically increase their passive income based on the vertical they're selling on.
The affiliate marketing of Jason Stone, otherwise known as Millionaire Mentor, was responsible for as much as $7 million in retailer sales just in the months of June and July in 2017.
Also Read:
7 Marketing Strategies to Improve Your Business Growth
Affiliate marketing terminologies:
Affiliates: Publishers like you and me who are using affiliate program links to promote and make sales.
Affiliate marketplace: There are many marketplaces like Shareasale, CJ, and Clickbank. These work as central databases for affiliate programs in different niches.
Affiliate software: Software used by companies to create an affiliate program for their product.
Affiliate link: Special tracking link offered by your affiliate program to track the progress of your affiliate promotion.
Affiliate ID: Similar to the affiliate link, but many affiliate programs offer a unique ID which you can add to any page of the product site.
Payment mode: Different affiliate programs offer different methods of payment.

Example: Cheque, wire transfer, PayPal, and others.

Affiliate Manager/OPM: Many companies have dedicated affiliate managers to help publishers earn more by giving them optimization tips.
Commission percentage/amount: The amount or percentage you will be receiving in affiliate income from every sale.
2-tier affiliate marketing: This is a great way of making money from an affiliate program. With this method, you recommend that others join affiliate programs, and you receive a commission when a sub-affiliate makes a sale (similar to MLM or multi-level marketing). This income is also known as a sub-affiliate commission.
Marketing terminologies
Landing pages: A unique product sales or demo page used for the purpose of increasing sales. Most of the programs that you will be promoting have many landing pages, and you can run A/B testing to see which pages convert best for you.
Custom affiliate income/account: Unlike a generic affiliate account, many companies offer custom affiliate income to people making the most affiliate sales for them.
Link clocking: Most of the affiliate tracking links are ugly. Using a link clocking technique like URL shorteners, Thirsty Affiliates, etc., you can turn ugly links into links that can be read and understood by your readers.
Custom coupons: Many programs allow affiliates to create custom coupons which are also used to track sales. So, Custom discount coupons help you to increase affiliate sales as well.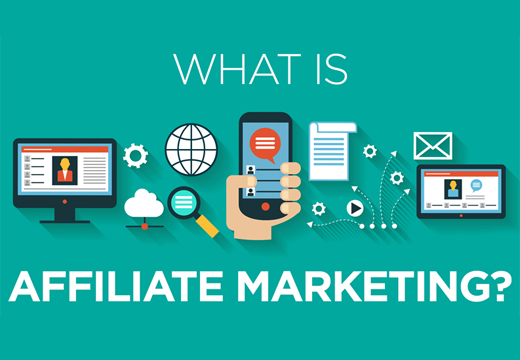 Also Read:
Content Marketing and PPC Advertising to Increase Website Traffic
How to find affiliate programs
If you're wondering how to get your feet wet in affiliate marketing, you've got a few options. Also, Not every company offers affiliate programs—some businesses manage their own affiliate programs while others use an affiliate network.
An easy way to find affiliate programs is to visit an affiliate marketplace or platform. Browse your niche to find top performing affiliate platforms. Here are some of the most popular:
AffiliateNetwork
AvantLink
CJ by Conversant
ClickBank
FlexOffers
LinkConnector
RevenueWire
ShareASale
Another option is to visit the websites of the products and services you use and like to see if they have an affiliate program. Large companies often have programs they promote on their site, such as Amazon Associates or the Shopify Affiliate Program.
Summary
In short, Affiliate marketing is an ideal solution for those looking to gain control of their own income by focusing on performance-based revenue options. Working in tandem with a seller, a motivated affiliate marketer will be able to achieve a passive income from the comfort of their home without worrying about producing their own product or service.
Although the success of the job does depend on the affiliate's marketing skills, it can prove to be an effective way to meet your income goals as either a primary career or a profitable second job.