Looking for marketing strategies proven to be the most effective for business growth? This article is designed to help you explore the best marketing tactics for any kinds of marketing, including social media marketing.
It's probably safe to assume a major part of your marketing strategy today is digital. Consumers and businesses alike are almost always online and on-the-go — and you want to be able to reach them and observe their behavior where they spend their time.
What are marketing strategies?
It's important to understand how a marketing strategy differs from a digital marketing strategy before implementing one or both at your company.
A marketing strategy is a plan for reaching a specific marketing-related goal (or goals) in a focused and achievable way. It takes into consideration what your business is currently doing well and what you're missing in regards to the objective you set, so you're more likely to accomplish it.
But what's the difference between a marketing strategy and marketing tactics — two terms often used interchangeably?
Also Read:
How to use Augmented Reality in your marketing strategy ?
Marketing Strategy vs. Tactics
As we mentioned above, a strategy is an achievable and focused set of steps used to help you reach a specific goal.
Marketing or not, there are three parts of any strategy:
1) a diagnosis of your challenge, 2) a guiding policy for dealing with the challenge, and 3) a set of targeted actions that are necessary to accomplish the policy.
Depending on the scale of your business, your marketing strategy may include several moving parts, each with different goals. With that said, working on your strategy can become daunting at time. So, if you're ever feeling overwhelmed about your marketing strategy, refer to these three steps to keep you focused on achieving your objectives.
Marketing tactics, or tactics of any kind, are the specific actions you choose to take throughout your strategy to help you reach your end goal. In other words, a strategy is your destination — it's the achievable, focused plan for getting you to your target. Tactics are concrete and definable steps within your strategy that ensure you reach your objective.
To provide a better understanding of what they may entail, check out the following list of basic marketing strategies commonly utilized by teams across a range of industries.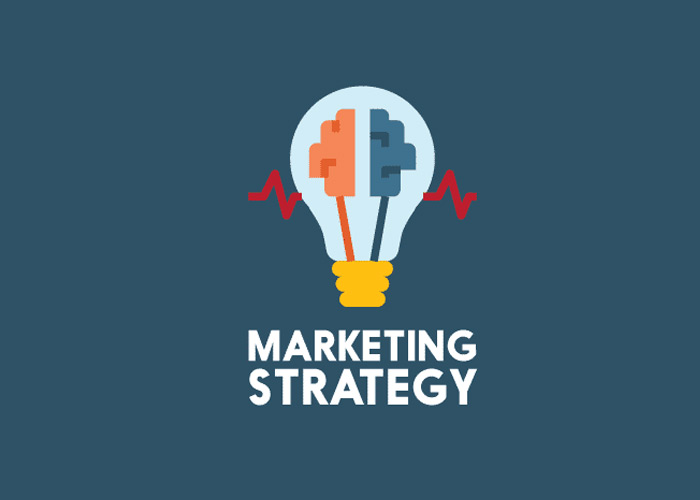 Marketing Strategy vs Marketing Campaign
When it comes to marketing, there can be some confusion over the difference between a marketing strategy and a marketing campaign. They're both the same thing, right?
In short, no. Your marketing strategy framework is more of a high level, overall strategic plan that is connected to the entire brand, and its organizational objectives. Whereas marketing campaigns are much more focused, short-term initiatives set out to achieve a very specific goal.
Your marketing strategy should be used to help inform your marketing campaigns. A marketing strategy encompasses the bigger picture. A marketing campaign, on the other hand, describes the logistical details for each specific project.
But that is an entirely different topic for another time, so let's get back to focusing on your marketing strategy…
What are the best marketing strategies to use ?
There is no obvious and clear answer to that question that covers all situations. But there are things that can be done today, right now, even on a shoestring budget, to reach more customers without breaking the bank. However, it all boils down to time. If you lack the money, you sure better have the time to put in the sweat equity.
Either way you slice it, as long as the fundamentals of a sound business are there and you're working tirelessly to build an authentic relationship with the consumer by sincerely trying to add value, then there are 7 go-to strategies you can use to market any business online.
1. Identify your goals 
Your marketing goals should always be tied back to the fundamental goals of your business.
For example, if your business's goal is to increase online revenue by 20%, your marketing team's goal might be to generate 50% more leads via the website than the previous year to contribute to that success.
Whatever your overarching digital marketing goal is, you must be able to measure the success of your strategy along the way with the right digital marketing tools.
Best marketing strategies
2. Use social media
You can't ignore social media. That's where all the so-called magic is happening. Some businesses have been built solely on the backs of social media. It can be intimidating at first. Sure. But as you build momentum, you'll find posting on social media to get easier and easier over time.
Of course, you could also hire a social media manager if you have money to burn. But if you don't, just be yourself. Be authentic. Post your thoughts. Then post your products. Post anything that you find relevant and useful that would help your audience either learn more about you and your business, or about the industry that you're in.
Use direct messages on platforms like Instagram and even Snapchat or Twitter to reach out to other successful businesses or even to communicate with potential customers who might be looking for your products and services. This is very powerful marketing.
Also Read:
Instagram Marketing Tips : a Complete Guide to Instagram Marketing
A good Marketing Strategy
3. Try Content marketing
Content has long been king and 2019 was no different.
Citing figures from trends report, 77% of B2B marketers use content marketing.
In fact, the majority of B2B content marketers use educational assets to nurture leads and build audience trust, which is absolutely essential for inbound marketing. Think about informational blogs, white papers or quizzes.
4. Create video tutorials
One of the most effective ways to get the word out on your business is to create video tutorials. Teach people something useful. Walk them through it. Hold their hands. Step-by-step tutorials are all the rage. The better you are at this, and the more value you provide, the quicker you can boost your visibility, and ultimately, your sales.
Today, YouTube is the second largest search engine in the world behind Google. Whenever someone wants to learn something visually, they head there. You've likely done it yourself countless times. So just ask yourself what you could teach in your business that would help consumers solve some pain point? What got you into business in the first place?
Also Read:
How to Get More Views On YouTube ? Channel Optimization
Marketing Strategies for your business
5. Start blogging now
Sure, you could start blogging. If you don't have a blog for your business, then you need to start one immediately. But you don't just have to blog on your own blog. Most people find blogging mundane because they lack the visibility. The truth is that your blog is going to be like a barren desert unless you know what you're doing.
But this isn't just about posting your ideas on your own blog. You should start authority blogging. Use platforms like Medium to post content. Answer questions on Quora and Reddit. Or get out there onto LinkedIn's publishing platform.
When you do blog, ensure that you blog effectively. Don't post thin content. Think about adding value.
6. Update your content
And don't forget the content you've already published.
Focus on the tactic of refreshing older content instead of just pumping out new, high quality content.
It's no secret Google prefers fresh content.
Also Read:
User Generated Content : What Is It and Why is it important ?
Different strategies for your business
7. Use Email Marketing Sequences
Part of any good sales funnel is going to be an email marketing sequence. These are the automated messages that go out to users once they subscribe to your list. Use your email sequence to build a relationship with the subscriber. Be authentic and transparent. And convey your journey.
Use the email responses and clicks to segment your list. For example, if someone clicks on a specific link, they've clearly shown an interest in something. Tag that subscriber to market to them later. If someone buys, tag them as a buyer. Identifying your buyers and the interests of your subscribers is huge for segmenting.
When you do send broadcasts, split test. Split test everything, in fact, You never really do know what's going to be the most effective until you pull the trigger and really test it out. This will help you understand what your audience responds to better, making you a better communicator, and better able to sell to your customers.