Ice Spice, whose real name is Isis Naija Gaston, is an American rapper born on January 1, 2000, in New York City's Bronx borough. Gaston grew up in the Fordham Road neighborhood and is the oldest of five siblings. Her parents divorced when she was two years old, and she spent much of her childhood with her grandparents and cousins due to her parents' busy work schedules.
Ice Spice developed an interest in hip hop at the age of seven after listening to Lil' Kim and Nicki Minaj. She began writing poetry and freestyle raps, and her father's rap background exposed her to the likes of Jay-Z, 50 Cent, and Wu-Tang Clan. She attended Sacred Heart High School and went on to study biology at the State University of New York at Purchase. However, she dropped out due to her commute and feeling like it wasn't the right fit.
Ice Spice started her music career in 2021 after meeting record producer RiotUSA while attending SUNY Purchase. Her debut song, "Bully Freestyle," was released in March 2021, and her song "Name of Love" gained traction on SoundCloud, leading to her popularity on Instagram. In August 2022, she released "Munch (Feelin' U)," which became a viral hit on TikTok, and followed it up with "Bikini Bottom" and "In Ha Mood." Her debut extended play, "Like..?" was released in January 2023, featuring the three singles.
Ice Spice achieved her first entry on the US Billboard Hot 100 chart with the Lil Tjay collaboration "Gangsta Boo" in February 2023. She also collaborated with PinkPantheress on the remix of "Boy's a Liar Pt. 2," which peaked at number three on the Hot 100. Ice Spice's collaborations with Nicki Minaj and Taylor Swift, "Princess Diana" and "Karma," respectively, also charted in the top five, making her the artist with the most Hot 100 top-five singles in 2023.
Ice Spice's music is primarily Bronx drill, and she has cited Lil' Kim, Nicki Minaj, Cardi B, Foxy Brown, and Remy Ma as musical influences due to their New York roots, along with Erykah Badu and Lauryn Hill for their "graceful angelic vibe of timeless beauty." She writes all her own lyrics and identifies as queer.
There is limited information available about Ice Spice's personal relationships, as she tends to keep her private life out of the public eye. She has not made any public statements about her romantic relationships, and it is unclear whether she is currently dating anyone.
In interviews, Ice Spice has spoken about her close relationship with her family, particularly her siblings, whom she considers her "best friends." She has also mentioned the influence her father had on her music career as a former underground rapper.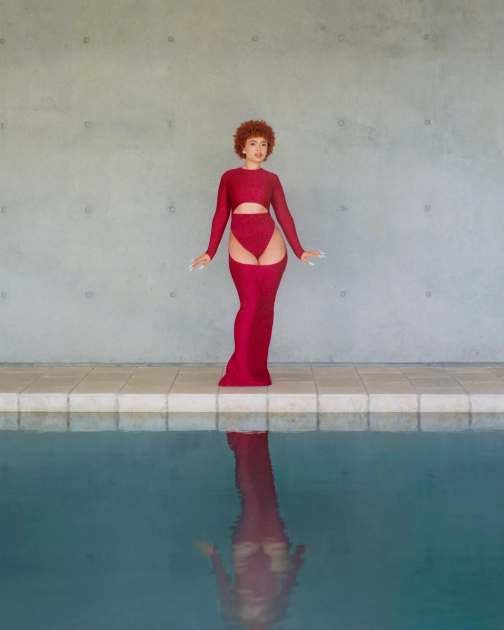 Ice Spice has identified as queer and has expressed support for the LGBTQ+ community. In her music, she often references relationships and sexuality, but she has not confirmed any specific romantic partnerships.
Overall, Ice Spice appears to prioritize her music career and personal privacy over publicizing her personal relationships.
Also Read: GloRilla's Impact on the Music World: A Look at Her Revolutionary Sound
Why do they call Ice Spice Princess Diana?
Ice Spice responds to 'confusing' Princess Diana comparisons …
Ice Spice has responded to fans naming her the "People's Princess". The term became associated with the late Princess Diana after former UK prime minister Tony Blair used the sobriquet following her death in 1997.