$1,000,000 Influencer Tournament!
MrBeast INVITED 15 CREATORS TO COMPETE FOR $1,000,000 FOR THEIR FANS! Who is MrBeast? Earnings as a YouTuber
Best YouTubers of 2021: Top 5 Ranked
Jimmy 'MrBeast' Donaldson comes in at first place in our Top YouTubers list
, and it's not hard to see why.
This year, MrBeast started his very own charity to help feed his local community, raised millions of dollars to clean the world's oceans with his #TeamSeas project, and partnered with a number of top influencers for his MrBeast Burger restaurant.
Who is YouTuber MrBeast?
Jimmy Donaldson, better known by his online alias MrBeast, is an American YouTuber, internet personality, businessman, and philanthropist.
(born May 7, 1998)
He has been credited with pioneering a genre of YouTube videos that center on expensive stunts.
He is also the founder of MrBeast Burger and the co-creator of Team Trees, a fundraiser for the Arbor Day Foundation, which has raised over $23 million, and Team Seas, a fundraiser for Ocean Conservancy and The Ocean Cleanup, which aims to raise $30 million by January 1, 2022.
Donaldson began posting videos to YouTube in early 2012 at the age of 13,under the handle "MrBeast6000"; his early content ranged from Let's Plays to "videos estimating the wealth of other YouTubers".
He went viral in 2017 after his "counting to 100,000" video earned tens of thousands of views in just a few days, and he has become increasingly popular ever since, with most of his videos gaining tens of millions of views.
Over time, his style of content diversified to include challenge and donation videos that reward thousands of dollars, videos either with arduous tasks or survival, and original vlogging videos.
Once his channel took off, Donaldson hired several of his childhood friends to help him run the growing brand. As of 2020, the MrBeast team was made up of 30 people.
As of December 17, 2021, Donaldson's main YouTube channel "MrBeast" has 85.1 million subscribers and 13.9 billion total views.
It is the 6th most-subscribed channel on YouTube, as well as the second most subscribed channel owned by a YouTuber, and the most subscribed owned by a YouTuber from the United States.
Aside from his main channel, Donaldson has ten other YouTube channels, including MrBeast Shorts and MrBeast Gaming, the latter reaching over 10 million subscribers in less than one year.
Across his eleven channels, Donaldson has 165.7 million combined subscribers, and 21.3 billion combined total views across eleven of these channels.
In 2019, Donaldson won the Breakout Creator by Streamy Awards. At the 12th Annual Shorty Awards in 2020, he won YouTuber of the Year. He was also one of the top 10 highest-paid YouTubers of 2020, alongside other personalities such as Markiplier, Ryan's World and Blippi.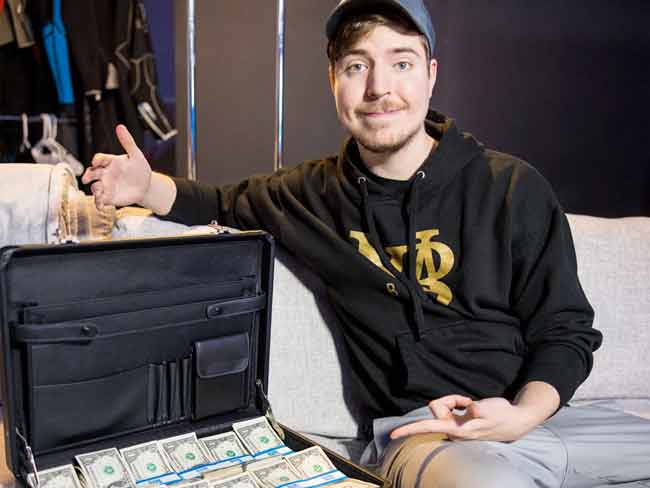 The YouTube star and his brother, CJ, grew up in eastern North Carolina in the city of Greenville. In 2016, he graduated from Greenville Christian Academy, a private high school in the area.
Tragic Details About MrBeast
With a name like "MrBeast," you might assume that YouTuber Jimmy Donaldson is a professional esports combatant. However, the man actually made a name for himself with ludicrously extravagant and philanthropic videos where he does everything from sitting in slime to giving random strangers thousands of dollars. He even once handed an entire house, fully furnished and mortgage-free, to a pizza delivery guy as a tip.
With all the good MrBeast does, it's only natural to presume that reality would pay it forward. Well, you know what they say: no good deed goes unpunished. Turns out MrBeast's life isn't as rosy as he likely deserves, as he's had his share of raw deals. Sometimes, MrBeast has suffered the cruel sting of bad luck, and other times he has been the victim of his own success. MrBeast has even stared death in the face once or twice and lived to tell the tale.
While not all misfortunes to befall MrBeast are equal, it's almost a miracle he can stay in high spirits and post videos with the regularity he does. After reading this article, you might discover some newfound respect for the arguable king of the altruistic YouTube video.
He narrowly avoided a potentially fatal car crash
Statistically speaking, virtually everyone either has been or knows someone who has been in a traffic accident — or narrowly avoided one. Car safety is serious business because all it takes is one distracted driver to crumple 10,000 pounds of rubber and steel around fragile human bodies at over 100 mph. That's why you aren't supposed to drive while drunk or tired, but what happens when someone drives while under the effects of an undiagnosed medical condition? MrBeast knows that horror all too well.
During an episode of Logan Paul's Impaulsive podcast, MrBeast recalled a harrowing drive after he and his crew wrapped up a shoot. They had traveled eight hours to the site and were driving back when the guy behind the wheel (MrBeast didn't name names) suddenly asked to pull over into a gas station because he "didn't feel too good." He didn't even make it that far because the next second, he seemingly fell asleep at the wheel. MrBeast did what he could to keep the car steady, slow it down, and wake up the driver, which is easier said than done on a busy highway.
While MrBeast managed to park the car on the shoulder and save its passengers from a potentially untimely death, he later learned that his friend didn't pass out but instead momentarily died during the event. Turns out they have a rare condition that makes their heart stop and then start up again, which means for those several tense seconds, a corpse was behind the wheel. Of course, MrBeast's friend now has a pacemaker to prevent future problems, but nobody knew he even had the affliction until after it almost killed them.
How much does MrBeast make a day?
Mr.Beast's Net Worth : $20 million
Real Name Jimmy Donaldson
DOB May 07, 1998
Height 6ft 3inches
Source of Wealth Professional Gamer, Content Creator, Online Streamer
Address Greenville, North Carolina
How much money does MrBeast make?
It is estimated that the American YouTuber makes $76.9K – $1.2M per month and around $922.4K – $14.8M annually through his YouTube channels.
Forbes also tagged his channel as one of the most popular and most viewed channels in 2019 and 2020.
MrBeast also earns money by endorsing several products.
He has promoted products like Quidd, CSGO Lotto, Tik Tok etc. Apart from that, he also earns money by selling merchandise through his website.
Team trees
On October 25, 2019 at 19:00 UTC, Donaldson and former NASA engineer and YouTuber Mark Rober organized a collaborative fundraising challenge event on YouTube called #TeamTrees. The goal of this project was to raise $20 million for the Arbor Day Foundation by January 1, 2020 and plant trees "no later than December 2022". In exchange, the organization would plant one tree for each dollar raised. Every donation goes to the Arbor Day Foundation, which pledges to plant one tree for every dollar. Notable YouTubers such as Rhett & Link, Marshmello, iJustine, Marques Brownlee, The Slow Mo Guys, Ninja, Simone Giertz, Jacksepticeye, and Smarter Every Day brought attention to this idea. Trees began to be planted in October 2019 in national parks of the United States. On December 19 of that year, the $20,000,000 goal was surpassed, and as of May 27, 2020, the project reached over 22 million dollars. The project has also received large donations from corporate executives Jack Dorsey, Susan Wojcicki, Elon Musk, and Tobias Lütke. Companies such as Discovery, Verizon, Plants vs. Zombies, and the nation of Ukraine have also pitched in to help.
Earnings as a YouTuber
MrBeast's main channel has over 54 million subscribers which is able to get an average of 11 million views per day from unique sources. It can get an average of $55,000 per day ($20 million a year) from the ads that run on the videos.
In 2020, during the beginning of the pandemic, MrBeast started a gaming channel that grew to over 12 million subscribers and has accumulated over 1.6 billion views. In the channel he does gaming whereby he films himself playing games like Minecraft and Among Us. He has collaborated with big YouTubers like PewDiePie, Valkyrae etc. The channel can get 7 million views per day and should be able to generate an estimated revenue of $35,000 per day ($13 million a year) from the ads that appear on the videos.
MrBeast has Crohn's disease
Stories of celebrities who found success while fighting the challenges of a disability or disease have become common. Many YouTubers have discussed their ADD or depression, but not all problems that plague celebrities are psychological. It's surprisingly common to find celebrities with a physical disease that can leave them in severe pain if left unchecked. MrBeast is one of these people.
MrBeast suffers from Crohn's disease. For those who have never heard of it, Crohn's is an inflammatory bowel disease that can cause a host of digestive issues. While MrBeast can mitigate the stomach pain with a heavily regulated and unfortunately repetitive diet, he can't do much about the fatigue. But, MrBeast also has to deal with the mental aspect of Crohn's as it negatively impacts his socializing — whenever his friends go out to eat, he has to pack his own food if he wants to prevent a severe stomach ache. While his friends get to dine on fine pizzas and chow mein, he has to make do with homemade PB&J.
Moreover, as most people with the disease will tell you, dealing with Crohn's isn't as simple as making sure you don't eat anything that upsets your stomach. Like many people with this condition, MrBeast needs to regularly take Remicade, which requires a four-hour stay at a hospital every five weeks.
MrBeast continues to surpass expectations and constantly uses his internet fame as a way to do good in the world — and for these reasons, he's earned the title of best YouTuber of 2021. We're excited to see what the future has in store for this ceiling-shattering influencer!
also read :