Instagram Live is a unique feature that can help businesses. It facilitates communication with fans on social networks. Due to the fact that this feature is newer, there is not much information about it.
Instagram Live
If you are a business owner and want to use Instagram Live for the first time, you may feel a little worried and confused. Follow the rest of the Virlan article to learn more about this feature of Instagram.

Why Instagram Live is good for engaging your audience?
Instagram has added Live to boost user interaction. Recently it has also added new features and updates. This will increase the number of people watching your live video. The following is a description of these benefits:
Instagram Live will be displayed before stories:
Using Live puts you in the feed of your followers. When they first open the app, your live will be at the top of their feed. This will make them more likely to watch the live video.
Push notifications
As soon as you start a live video on Instagram, Instagram will send a push notification to all your followers. This is an option that is enabled by default, so you don't need to ask people to do this.
Ability to watch it again
This feature has just been added. Now, your live videos can be saved, allowing people to watch it even after it is over. The video continues to be shown as "Live" and allows audience to watch it for 24 hours after the live broadcast.
Plan an Instagram Live Marketing Campaign
As mentioned, using Live is a great option for Instagram marketing campaigns. Now that you are ready to start, you need to know how to get started.
Consider live video as a medium. While your Instagram posts should be regular and formal, and your story should be a place for sudden events, your live video should be somewhere between the two.
Your live videos should not be like a pre-written story, but they should be formal and focus on the main themes of your content.
Also read:
Instagram Growth Method: 10 Ways to increase Instagram followers
Use different ideas for Instagram Live Marketing Campaign
A live event: This feature is great for special occasions, like any event you may be hosting or attending. Pick up your phone, make a live video of your event, so that your followers who are not present at the event can be a part of it.
Product Review and Preview: If you plan to offer a product in the future, show some parts of it before you sell it in the market.
Product Announcement: If you want to make sure people are notified when your new products start selling, use your Instagram Live to inform them and show your product. Demonstrate the characteristics of your product, ask your designers or managers to describe the performance and the quality of the product. Moreover, you can Inform your followers about how to buy the product.
Q&A Session: If you have active followers, you can use ask and answer questions. You can ask them to ask questions in advance or even answer the questions they ask during the live broadcast.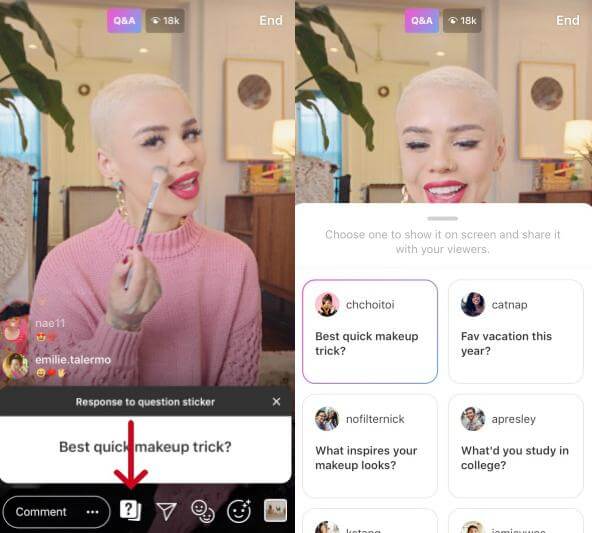 Tutorial: Depending on the product, you can educate followers about your product (or something related). For example, a sports club may offer live video about certain workouts.
Whatever your content is, it's important to make sure it's attractive for your audience.
Inform people about your Instagram Live Marketing Campaign
If people know about your live in advance, it will maximize your attending followers. Make the most of all the online channels to inform people about your campaign. You can try some of the followings:
Email list: Send a newsletter to your email list to inform your audience. This will remind fans about your live broadcasts on Instagram, a few days before or when it runs. Your email list is essentially a list of your most active fans, which means you should definitely invite them to promote your

InstagramLive

.
Instagram: Since your live is broadcasted on Instagram, you should naturally talk about your live video on this platform. Post a photo (or video) on Instagram that announces the date and time of your live. You can Also use stories. It may seem like a bit of an exaggeration, but do not worry, this method works!
Other social networks: Post multiple posts on your other social media accounts (Facebook, Twitter, etc.) to notify your fans. Accompany those posts with an exciting image and a call to action or CTA.
Website: If your website has relatively high traffic, consider adding a notification to your website to let people know about your Live.
also read: