Link Building & SEO Through Sponsored Post
How to Use Sponsored Posts ?
if you're looking to attract users who consume content on websites relevant to yours, then Sponsored post is the right choice for you. Here's why.
When it comes to attracting new visitors, many companies still rely heavily on display advertising rather than sponsored posts.
Why though?
The average display click-through rate is dramatically low. In fact, the average rate across all ad formats is only 0.05 percent.
Plus, ad blocking software continues to grow in popularity. Viewability is affected by ad blocking, with Google reporting that 56.1 percent of all impressions aren't seen by users due to ad-blocking solutions.
Like anything else, display ads come with their own package of pros and cons.
Display advertising has one of the most effective ways of nurturing traffic by bringing users who have already visited a certain website back. Using remarketing for banner ads may be a very powerful strategy if you think through the details.
Based on multiple research studies conducted by Criteo, remarketing can boost sales by 30 to 70 percent. CheapoAir, for example, was able to increase its sales by 37 percent with the help of remarketing.
Nevertheless, even though remarketing can be an incredibly efficient channel, it won't bring you new visitors.
So what channels can and will attract visitors from websites we want them to come from? Who would be willing to pay you for your products and services?
If we look at our options, and if we filter out organic channels, all we have left is native advertising and Sponsored post.
Also read:
Native Advertising vs. Sponsored post
Many publishers don't understand the subtle differences between "native advertising" and "sponsored content." Often, these terms are used interchangeably. But they are two different content products.
Native advertising can be described as an expansive advertising umbrella that allows displaying ad sections with relevant posts among site's content. Here's a good visualization of what native advertising looks like on desktop.
Unlike native advertising, Sponsored post can reach out to a limited audience, but only on those sites you've selected yourself. SEJ has a lot of examples of sponsored content, like this piece sponsored by Careerplay.
You can bend yourself backwards while trying to get creative and original with your sponsored article, but if it pushes a product right from the introduction part, then it's unlikely anyone would visit your site, or, what's more important, to recognize your brand as credible and trustworthy.
The Enigma of Native Advertising
Things start getting a little tricky here.
With native ads, you can't just simply place them on a website you selected. You need to do it via an advertising platform.
If you Google 'native ads platforms', you'll see an overwhelming number of different options.
So you just need to pick one and your ad will shine bright on the website you've chosen, right?
Wrong.
The problem with these advertising networks is that neither of them tells you what site do they partner with. You will have to contact their sales department to get the details.
Luckily, I have a life hacking solution for you so you won't have to go through an infuriating process of manually contacting each and every platform.
In order to display ads, ad platforms place their code on publisher's websites. You can track this code to find out which site is connected to a certain ad platform.
There's a website called trends.builtwith.com that reads other websites' codes in its database and shows you a list of sites that are part of a specific native ads platforms.
Of course, BuiltWith can't crawl each and every website, but what they have is definitely something to work with. For instance, here's a list of sites that use Sharethough (almost 2,000 sites):
In my opinion, native ads are a great match for mass consumption products when reaching out to a broader audience is more important than targeting a small group of users.
When it comes to B2B, native ads may appear to be completely irrelevant because oftentimes websites that are connected with ads platforms aren't highly tailored media resources. So the only option, in this case, are sponsored posts that don't have an extensive outreach but can attract desirable clients.
That said, you need to carefully hand pick websites where you want to feature your sponsored content.
How to Select the Right Sites for Your Sponsored Posts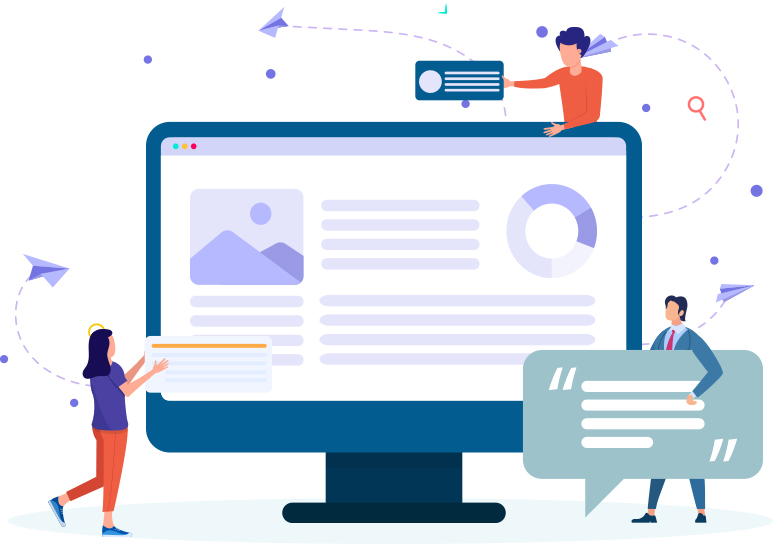 The least thorny way of finding sites that fit your requirements is to check websites that refer to your competitors. There are quite a few tools that will assist you with that, such as Ahrefs and Majestic.
After you find sites you were looking for, check if these sites get any organic traffic from search results, using tools like SEMrush or Spyfu. If they do, that's something to keep in mind when you are researching if your competitor is getting any traffic from that specific domain.
In case this page doesn't have any organic traffic but receives referral traffic instead, then you found what you were looking for — you found your advertising platform.
Take a look at what direction does the traffic coming from Razorssocial.com flow:
The screenshot below shows that Quintly.com gets almost 400 visits a month. Using Ahrefs, I checked from which pages exactly do Razorsocial's users go to the second website:
In this case, these two URLs have some organic traffic, and that's something to take into consideration in your further research:
Measuring Results from Sponsored Posts
Once you've finished choosing which websites to advertise on, it's time to think about ways to measure the results of your hard work.
As with any paid traffic channel, you have to figure out how you're going to measure your conversion results. I would also suggest looking into how much traffic a particular site gets as well as how many views and visitors you can generate with this type of content.
To get a picture of a site's monthly traffic, go to SimilarWeb and use their free report, which will show you how many visitors the website attracts and which countries those users are from.
Let's say you want to place your sponsored posts on Adweek. In the screenshot below, you can see that Adweek had more than 11 million visitors in June, and a majority of those visitors are from the U.S., the U.K., and Canada:
The next thing you should do is find out how many views and visitors you can get with your future post. Sadly, you can't get ahold of this information for free, but it is available in SimilarWeb's paid version. It will show you the number of users who visited a particular publisher's website after reading a specific Sponsored post, which is a valuable piece of information.
Optionally, you can take a look at PRNEWS.io's free tool, which automatically calculates the number of views that you can potentially get from a sponsored post on a particular site.
If you're looking to increase your number of clicks, you need to place your link in another content piece on a relevant subject, so that a reader can find more details.
Moving further, when you get to the point where you're trying to maximize your sponsored post's efficiency, I highly recommend trying user retargeting, because it usually helps you win back those users that haven't converted into leads yet.
Keep in mind that users who were attracted by a sponsored post require a much longer conversion process than those who come to your site from display ads. So it's a good idea to find the right way to get their contact information, reach out to them again, and ask them to give your product or service a try.
Sponsored Posts, Advertorials and Native Ads: What's the Big Difference?
Sponsored Posts
Sponsored posts are "a post to any community-driven, notification-oriented website which is explicitly sponsored as an advertisement by a particular company in order to draw a large amount of popularity through user promotion and moderation to the most active or most viewed page on the website."
In other words, advertisers pay to sponsor a popular post on a webpage to promote their good or service.
This is similar to companies sponsoring cars in NASCAR or athletes on the golf course. Sponsored posts, unlike advertorials, aren't usually written about the good or service that is sponsoring it, but may be a related topic. A sponsored post by sketchers could be about exercising or fashion but will only mention "this post is sponsored by Sketchers."
Think about it this way, you don't cheer on Danica Patrick because she's sponsored by GoDaddy, and the Daytona 500 isn't a competition to register the most domain names. Ergo, you don't read content because it's sponsored by a company or and the article isn't about the company's founders.
Google and the FTC have rules about sponsored posts and anytime money is exchanged for advertising it must be highlighted. This is so consumers aren't misled to believe it's a review or recommendation for a product by the blogger or website.
Advertorial
The concept of advertorials has been around for quite some time, with the first known use of them surfacing in 1946. Simply put, an advertorial is an advertisement that is turned into an editorial. They are different from your traditional advertisements because they are designed to look like articles that appear in publications.
Advertorials vary depending on the platform of publication. In writing (newspapers, blogs, magazines, etc.) they are articles based around the product or service being advertised. On television they come in the form of infomercials and segments on talk shows explaining the product or service. (Remember the thirty minute show about the family eating breakfast with the help of the magic bullet that you watched at 3 a.m. last month? That was an advertorial.)
On the radio it could simply be a discussion about the particular product or service. The hair removal company Ideal Image is a great example of advertorials on the radio. On just about every station in the area of an Ideal Image location, they have the radio hosts talk about how awesome their services are, encouraging listeners to try them out.
Advertorials are always paid and should always be disclaimed as so, especially when posting advertorials on the Internet. They are also more favorable among consumers because they come across as more of an article and less like an advertisement. Here are some tips for executing and effective advertorial:
Make sure where your placing your advertorial is relevant. (For example: an advertorial about Barbie would not go over well in a fitness magazine.)
Have a catchy headline. (This is what will grab the consumers' attention.)
Make sure the content of the advertorial is not too overwhelming. (This will cause the consumer to lose interest.)
Include pictures. (This helps sell the product or service.)
SEO Training : How to get on the first page of Google ? Focusing on Topics
Native Advertising
Native Advertising became popular in 2013 and will continue to grow in 2014. But what is it? According to the Harvard Business Review, there is a little bit of debate about what exactly a native ad is. Most of the information on the Internet about native ads is very vague.
They are, by definition, a "method in which the advertiser attempts to gain attention by providing content in the context of the user's experience." Sound a little familiar? After some research, it was determined that native advertising is a fancy word coined for (drum roll please) an advertorial.
Advertorials were starting to become a thing of the past so they needed a little bit of a face lift. They were given the name native ads, and viola, advertorials were re-born. There are a few subtle differences between advertorials and native ads though.
Native ads are designed to make the reader not realize they are reading an advertisement, where advertorials are more recognized as advertising.
Native ads are also only published on one platform, one time. The same advertorial can be found in many different publications. (For example: native ads on BuzzFeed will only show up on their website and will not be duplicated.)
There are many debates around native ads because no one can figure out what they are, but poorly done native ads make it easy to point out what they aren't. These ads make marketers question their effectiveness.
The most popular native ad people talk about is the one posted by The Atlantic about the Church of Scientology. It's not popular because it was a good native ad. The Atlantic came under fire for the ad because it looked like they were supporting the Church of Scientology – an entity that's not widely supported. This put The Atlantic's reputation and the reputation of its writers on the line. Despite the fact that it was labelled a sponsored post, the ad was quickly pulled.
On the contrary, BuzzFeed is known for successfully executing native ads. It has been able to accomplish this because it works directly with the advertisers to create content that is relevant to their site. They also only run the piece of copy on their website once and it is not published elsewhere.
There are four common ways to measure the success of a native ad:
The number of times the ad has been viewed (impressions).
The number of people who have actually read the ad (Click through rate, time on site.)
Display ad impressions.
Engagement (shares, comments, etc.).
Although native advertising isn't widely accepted by advertisers and publishers, it is supposed to be THE way of advertising by 2016.
After breaking it all down, you can see that these ways of advertising are all very similar. One is just executed a little differently from the last. How do you feel about native advertising? Which advertising option would you chose?
What Is a Sponsored Article?
Perhaps you associated sponsored article mainly with a paid text, in which a company or a product is advertised in a very aggressive way. In fact, such a form is actually possible, however, recently it is becoming less common practice. Above all, the purpose of publications is really important.
Sometimes it is just a form of informing users of a given website that a company was launched or introduced new products to its offer. Often, sponsored article or Sponsored post are a great way for their authors to provide valuable content related to their business activity. For example, a real estate company conducts a market analysis and presents its results in a sponsored article. Of course, it is also possible that such content will be posted for free, as long as publishers of a web portal consider it to be valuable. Then it was more a guest posting rather than a sponsored article.
Currently, the most common solution for such publications is to combine a valuable content with a mention of a given brand. Why? In this case, it is possible that:
reader will get familiar with the whole article, find out who is its author and maybe visit his/her website;
once user reads the content, he/she will share the article in social media or insert a link to it on his/her blog.
In the case of typical advertising content, in which it is known from the very first sentences that the article is intended to promote business and it doesn't provide any valuable knowledge, user will probably quickly become discouraged from reading and will simply leave the page.
Sponsored articles can be a great way of building backlink profile of a website. As you already know, backlinks are one of the most important Google ranking factors.
However, according to law regulations in many countries, paid content on websites should be marked as sponsored article, affiliate material or otherwise. If links from such articles can have a positive effect on website visibility, what rules Google recommends to follow?
According to the recommendations provided by this search engine, backlinks to a website should only be obtained naturally, i.e. by creating valuable content users are more likely to link to your articles on their websites. Backlinks obtained in other ways should be properly marked. In 2005, Google introduced the rel="nofollow" attribute to reduce the amount of spam, which used to appear in comments on websites just to gain links that have impact on ranking in the organic results.
Link with the "nofollow" attribute should look like this:
<a href=https://webaddress.com ref="nofollow">Link title</a>
14 years later, Google introduced new types of links, which were partially intended to replace the above-mentioned type. Here I mean rel="sponsored", which should appear with paid links, i.e. in sponsored articles, and rel="ugc" (user-generated content), which Google suggests to use for links in comments and forum messages. Links with these attributes don't enhance the power of SEO but are used by Google for the search ranking.
Do webmasters use new attributes on their websites? Some of them probably do, but mostly they are not so commonly used. Likewise, where you can leave an active link to your site in comments, they will most often have the "nofollow" attribute, but you can also find many web portals where you can get a "dofollow" link through a comment.
Are Sponsored post a Good Idea?
With no doubt, Sponsored post are a valuable form of online marketing. Here are the greatest advantages of Sponsored post:
You build brand recognition – you can post quality content on well-known portals so that users will be interested in your company and perhaps turn into its customers.
You pay the cost according to your budget – it's not an expensive advertising form. You decide how much money you are willing to spend and choose websites or web portals on which you post content.
You boost your SEO – you can get external links directly from Sponsored post, and if they are valuable, bloggers will link to them from their sites, increasing the power of these links. It is also possible that they will link to the company's site that created interesting content.
SEO Problems: Try SEO training to solve common technical issues
Posting Sponsored Articles – Where to Start?
So, you already know the advantages of publishing sponsored articles, but do you know what and how to do? You have several options. First of all, you can contact the publishers of each portal and ask about the possibility of publishing your content. Most often they will give you a positive answer and you will receive various propositions.
However, this is a way that can only work if you do such activities for one or a maximum of several websites. When there are more of such websites, you may have difficulty in managing all your contacts and articles. Then a good solution is content marketing platforms that help at preparing sponsored articles.
What are the most important advantages of using them? You do not need to contact the publishers directly – once you log in you can make an order at the specified price and wait for its publication. All published sponsored articles can also be found in one panel, so you don't have to worry that you forgot where you bought the sponsored publication and if it was actually published. Another important aspect: you get access to publications in large, well-known portals, to which normally it is not enough to just send an email to the publishers or try to contact the decision-makers and make an order.
Content marketing platforms have, of course, also drawbacks. They charge a commission, which increases publication costs; usually, not all publishers will offer you a more attractive price, however, it will probably be cheaper. What's more, content marketing platforms set a publication deadline; unfortunately, it doesn't mean that publishers comply with them. Sometimes it may even happen that you will have to intervene in this matter by yourself.
So to sum up: if you want to have several sponsored articles published per month, you can do so by contacting your publishers directly instead of using content marketing platforms. However, if you plan a larger-scale marketing campaign, then using such platforms can be very helpful.
Where to Publish Sponsored Articles?
Since publications can provide backlinks that will increase visibility in the search results, this raises the question of how to choose from thousands of websites where obtaining backlinks will really benefit?
Let's start with the parameters to which platform users pay attention, i.e. which specific parameters should determine the choice of an appropriate website. Linkhouse has prepared a very exhaustive report, in which you can find quite a lot of useful information concerning the parameters of sponsored articles. As it turns out, the most popular search criteria are at least:
Trust Flow – 19.
Domain Rating – 28.
Web traffic – 24,000.
Visibility according to Senuto – 4,000.
Reffering Domains – 120.
The study lists parameters that come from different SEO tools. These are:
Trust Flow – indicator from Majestic.com. This metric determines the level of authority of a domain. The higher the Trust Flow, the better the link profile a domain has.
Domain Rating – this metric from Ahrefs is quite similar to the one mentioned above. So theoretically, the higher it is, the more powerful and reliable the domain is. In our opinion, it is worth to rely on it and publish articles preferably on web portals that have a higher Domain Rating than a site you are linking to.
Traffic – i.e. the number of unique users per month. However, it is important whether that amount is just declared by a publisher or web traffic is confirmed by some statistics. In such cases, it is also worthwhile to check what is the web traffic on a given website according to such tools as Ahrefs or SEMrush.
Visibility according to Senuto – i.e. the result obtained in the SEO tool Senuto (SEMrush will also be a great tool for checking visibility). It reveals the number of keywords for which a domain appears in TOP50 of the Google search results. In Senuto and SEMrush, you can also check the number of keywords in TOP10 and TOP3.
Referring Domains – the number of unique linking domains linking according to Majestic (you can also check it in Ahrefs).
When it comes to the length of content provided by advertisers, the data are as follows:
average article length – 3,963 characters including spaces,
the longest published article – 28,033 characters including spaces,
the shortest published article: 601 characters including spaces.
However, when preparing content, keep in mind that most often publishers specify what the minimum length of an article should be.
So should you follow the above metrics and parameters, which are most often set at this level by users? In practice, analyzing the value of a domain and searching for websites where it is worthwhile to publish an article with a link is a time-consuming and difficult task, which is why having experience plays an important role here. By publishing sponsored articles on websites, you can observe what effects it brings. What's more, if getting a link on a given website was a good idea a month ago, it doesn't necessarily mean that it will be the same today.
Users accurately introduce minimum values for several parameters, as this minimizes the risk of making a mistake and focusing on a domain where posting a sponsored article will have no effect. What you need to remember is that the Google algorithm doesn't really care about the parameters used by Majestic SEO or Ahrefs – high score of the parameters doesn't always mean that such a link will improve the visibility in the Google search results. Other important issues are:
The effect of links from sponsored articles should be analyzed from 1 to about 30 days. It is possible that the change resulted from obtaining such backlink will be visible on the next day, or it may be observed only after one month. Remember that analyzing a given domain is not a simple thing to do, as many factors influence the power of the domain. For this reason it is worthwhile to conduct the analysis not only once, e.g. on the day after the publication of your article, but also in a week or even 3 weeks. Only then can the results be measured.
One link can't do wonders – even if you get an expensive sponsored article from a popular web portal, it doesn't necessarily mean that it will result in higher positions. It all depends on your expectations. If your website was in a distant position in the search results, it is likely that obtaining such a link will improve your ranking, but probably you will not reach the first position if right now your website is, for example, in the second position. It's best to focus on a few keywords and create publications mainly for phrases that are already in TOP10.
The number of links in an article – most often publishers limit the number of links in an article to 1, 2 or 3, but you may also find web portals that have different rules. This does not mean, of course, that you should add 20 links in a single article. Well, you can do it, just don't expect that it will improve the visibility in Google organic results.
Links can also cause harm – some time ago, Google reported that poor quality links will not have an impact on ranking, as they are ignored by the algorithm. However, our observations show something completely different. Links from, let's say, "toxic" domains can be harmful, so link building campaign must be carefully planned.
Is google against sponsored content?
Not necessarily! Google may be a black box, but I like to remind myself that they employ some of the smartest humans on the planet—humans who know business. We have to believe that Google gets the affiliate game, gets the idea of partnerships and traffic, as well as gets that another form of content marketing is sponsored content. This isn't a bad thing and there is a lot of money to be made from working with brands in this way. So they aren't against it, per se, but they do have some recommended guidelines to follow.
How can you avoid being penalized for sponsored content?
Three simple rules will prevent you from being penalized by Google for posting branded content to your site:
1. Sponsored content must be disclosed. Content should have a disclosure message that clearly conveys to the reader that they are reading and engaging with content that was produced with or for a partner.
2. Any outbound links from the sponsored post need to be nofollow. Google wants to make sure that the advertiser isn't gaining any natural link authority from content that was paid for. You might be linking to the client via a static link, an image, infographic or logo. Any and all of these links should be nofollow. We happen to know first-hand that Google will penalize your site if you aren't following this major guideline. If you do receive notification of a penalty through Google Search Console, fix the issue and then submit a reconsideration request to Google.
3. Avoid posting thin content. This should be a rule of thumb you already follow when creating any piece of content, but creating thin content for a brand will potentially cost you more than organic search traffic. Thin content is another way of saying insubstantial or low quality content. In short, Google doesn't deem it useful or useable to your readers. Most brands have a very involved hand in sponsored content these days. They may advise on the headline and approve the copy ahead of time.