Insomniac Games have released the details behind Spider-Man 2 pre-order, the different editions of the game, and where you can find them as the game is set to come out for PlayStation 5 on October 20. Although titled as the second installment, it is actually the third game in the PlayStation Spider-Man franchise, continuing the story from 2020's Spider-Man: Miles Morales, which was smaller in scale compared to 2018's Marvel's Spider-Man. The game follows the journeys of both Peter Parker and Miles Morales, allowing players to switch between them as they progress through a campaign set in the boroughs of Manhattan, Queens, and Brooklyn.

You can now pre-order Spider-Man 2, Spidey's latest open-world, web-slinging adventure, and there are multiple editions to choose from, each offering exclusive bonus items. If you want to play the game on day one for PlayStation 5, you have several options. The game will be available in standard and deluxe editions, both in physical and digital formats. Additionally, there is a collector's edition that offers more substantial content.
Various retailers are currently accepting Spider-Man 2 pre-orders, although they do not provide any exclusive pre-order incentives at the moment. We will update this page with any new information as it becomes available.
Spider-Man 2 Standard Edition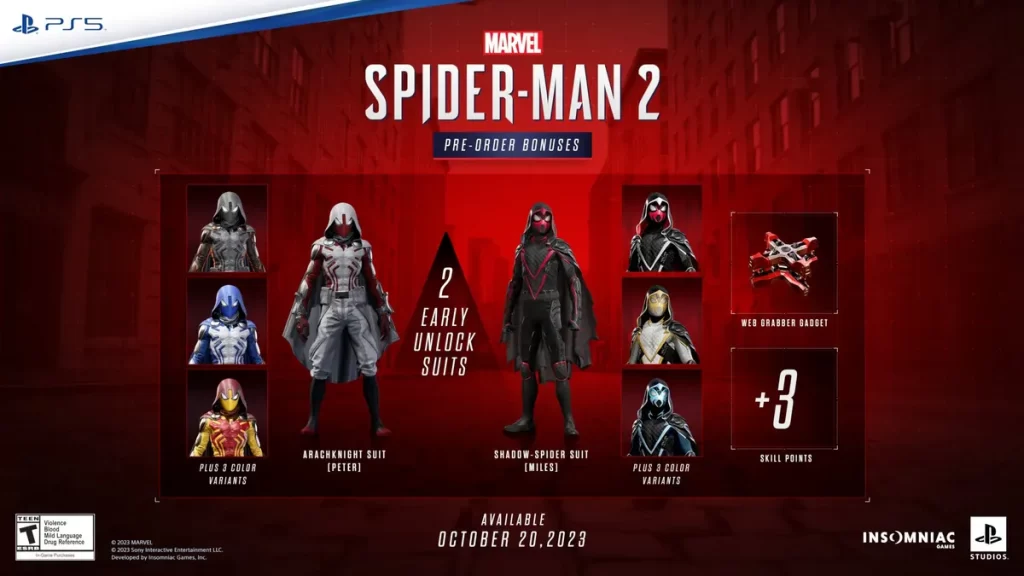 By pre-ordering the standard version of Spider-Man 2, priced at $69.99, in either digital or physical format, you will receive early access to a suit for Peter Parker and another for Miles Morales. Additionally, you will gain access to three alternate color schemes for each character. As a bonus, you will also receive the web grabber gadget and three extra skill points to give you a head start in progressing through the game's skill tree.
You can reserve your at the PlayStation Store, Target, Amazon, Best Buy, Walmart, or GameStop.
Spider-Man 2 Digital Deluxe Edition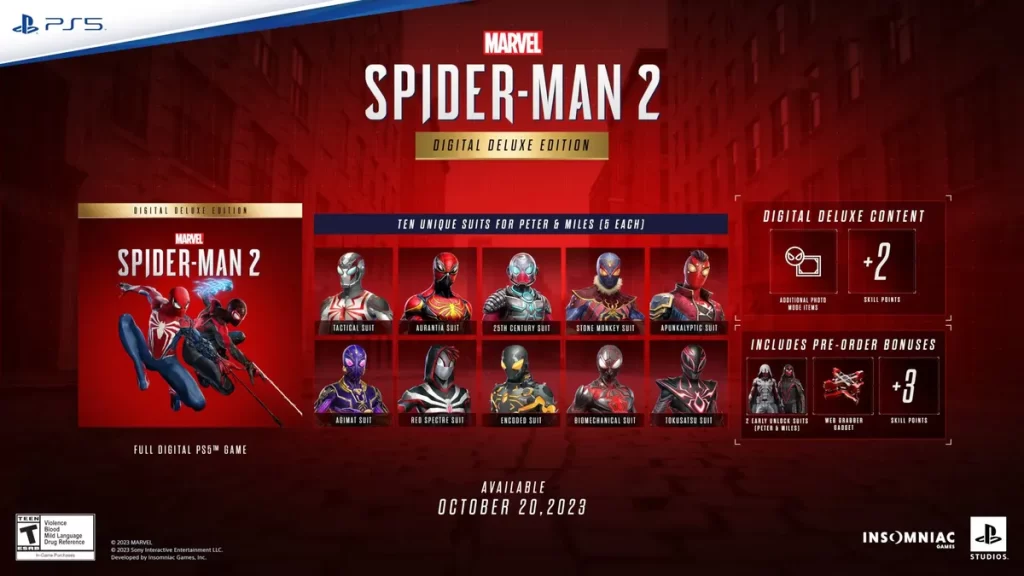 The Deluxe Edition of Spider-Man 2 is exclusively available in digital format and offers the same pre-order bonuses as the standard edition. On top of that, you will gain access to a total of 10 unique suits for both Miles and Peter, with five suits for each character. Additionally, you will receive two extra skill points, bringing the total to five, and some additional photo mode items.
Sony has revealed that the 10 suits included in this edition were specially designed by guest artists such as Kris Anka, Julia Blattman, Sweeney Boo, Anthony Francisco, Raf Grassetti, Jerad Marantz, Joel Mandish, Darren Quach, and Victoria Ying.
Pre-orders for the $79.99 Digital Deluxe Edition are currently available exclusively from the PlayStation Store.
Spider-Man 2 Collector's Edition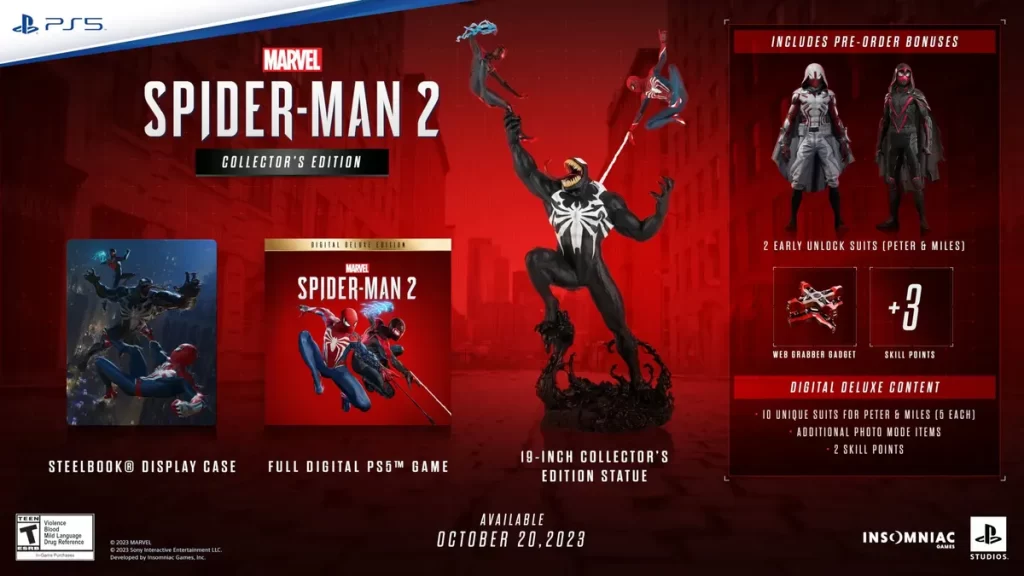 The Collector's Edition of Spider-Man 2, priced at $229.99, includes all the digital bonuses offered in the lower-priced versions of the game. Additionally, it features a 19-inch statue depicting Peter and Miles in a battle against Venom. The Collector's Edition also includes a Steelbook display case. As for the game, it is provided as a digital download code rather than a physical disc.
Also Read:
---
FAQs
When will Spider-Man 2 be released?
Spider-Man 2 is set to release exclusively on the PlayStation 5 on October 20. pre-orders for Spider-Man 2 are currently available. You can pre-order the standard, deluxe, or collector's edition of the game from various retailers.
What are the different editions of Spider-Man 2?
Spider-Man 2 is available in three editions: Standard, Deluxe, and Collector's Edition. The Standard edition is available in both digital and physical formats, while the Deluxe edition is digital-only. The Collector's Edition includes additional physical collectibles.