Poppy Playtime : Play for Free on VIRLAN Unblocked Games
Poppy Playtime is a first-person horror game. so, Prepare yourself for a terrifying atmosphere, unexpected screamers, and a mysterious story.
What is Poppy Playtime
Poppy Playtime is one of the best horror games ever created.
You must stay alive in this horror/puzzle adventure. Try to survive the vengeful toys waiting for you in the abandoned toy factory. Use your GrabPack to hack electrical circuits or nab anything from afar. Explore the mysterious facility and don't get caught.
Playtime Co. was once the king of the toy manufacturing industry, until everybody inside of the factory one day disappeared into thin air. Now, years later, you must explore the abandoned factory and uncover the truth.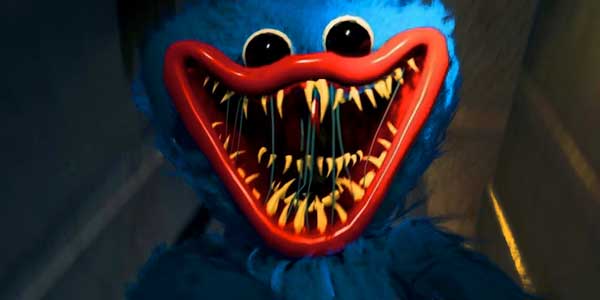 You can play it online for free.
Controls Guide :
WASD to move.
Left-click to use the item
TAB to display controls
SPACE to skip the dialogue
Shift to sprint
POPPY PLAYTIME Gameplay Walkthrough FULL GAME
Poppy Playtime is a first-person survival horror where the player plays as a former employee of Playtime Co. who returns to the abandoned toy factory of said company after receiving a letter from the staff who were thought to have disappeared 10 years ago.
The player discovers that the factory is filled with toys who are alive and malicious towards them, and starts looking for a way to escape the premises.
Various VHS tapes can be found throughout the factory, each one giving a more in-depth explanation of the story.
The game utilizes multiple puzzles throughout, which the player must solve in order to progress further, with some requiring a gadget named the GrabPack, a backpack that can be equipped with two extendable hands which can be used to pull and reach objects from a far distance, conduct electricity, and access certain doors; in Chapter 2, it can also be used to swing across gaps and, with a green hand obtained during gameplay, transfer electricity between sources.
Play Poppy Playtime Chapter 1, 2, 3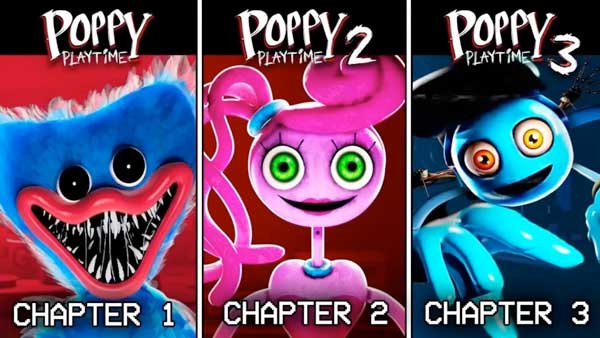 Poppy Playtime Game centers around a unique and genuinely terrifying narrative. They did something similar to the Five Nights at Freddy's franchise: they took something that should be innocent and harmless–children's animatronic toys–and made them demonic, murderous, and hungry for flesh. Poppy Playtime and Playtime Co. turn innocuous games like hide-and-seek or whack-a-mole into adrenaline-filled Squid Games, where you fight for your life and your sanity.
The game's story is divided into multiple chapters and takes its sweet time unraveling any explanation. However, once you've played as many survival horror titles as we have, you learn to predict where a story is going. We're excited to see each chapter's twists and turns play out, but the pacing could be much better.
As for the toys in the facility, imagine Toys 'R' Us, but all the toys within turn on you. One of the first toys you encounter is this blue toy named Huggy Wuggy. Huggy Wuggy is colossal and consists of fur, bulging dilated eyes, and wide red lips formed into a smile. His image acts as a mascot for the company, spread through posters and walls around the establishment. He is automatically intimidating, solely from his size, and is full of surprises throughout the game.
Poppy Playtime: Chapter 3 – Teaser Trailer has Dropped!
Huggy Wuggy Poppy Playtime
Poppy Playtime Huggy Wuggy Game is a horror adventure game in which you have to live in an abandoned toy factory full of scary and dangerous animals. You must navigate the factory while avoiding the creatures lurking in the dark. Try to Survive the evil toys that are waiting for you in the abandoned toy factory. Let's play and enjoy this game!
poppy playtime characters
Mascots : Chapter 1
Boogie Bot
Kissy Missy
Huggy Wuggy
Cat-Bee
Candy Cat
Bron
Poppy Playtime
Mascots : Chapter 2
Mommy Long Legs
Bunzo Bunny
Mini Huggies
PJ Pug-a-Pillar
Daisy
Parents need to know that Poppy Playtime Online is a downloadable episodic horror adventure game available for Windows based PCs.
Players explore a seemingly abandoned toy factory, solving puzzles along the way, as they uncover the fate of the factory's staff and also attempt to survive the experience. The controls are easy to pick up and play, though not always the most precise. While there's no graphic violence or gore, there are splatters of blood throughout the factory. Also, the horror nature of the game will likely be too scary for younger audiences. Finally, parents should be aware that this is the first chapter of an episodic experience, meaning that it's only part of the story and the rest must be purchased piecemeal over time.
poppy playtime doll
You are about to see the most incredible doll ever invented. Her name is Poppy, and she is the first truly intelligent doll in the world. A little girl can talk to her, Poppy gives her answers. She is the first doll actually able to have a conversation with a child.
Poppy is a petite doll with chalk-white skin, freckles and rosy cheeks. She has red, curly hair tied into double pigtails, held up with a pair of powder blue ribbons. The way light reflects off her face suggests she is made from porcelain and glazed. She wears a large, flouncy powder blue gown with long frilly sleeves adorned with numerous bows, frills, and bustles, and a pair of black Mary Janes. She also wears deep red lipstick. She has a pair of thin, black eyebrows, and a pair of uncannily realistic-looking blue eyes framed by long lashes.
The Poppy Playtime Maintenance tape is a tape that is not intended to be seen by the public eye, it is only accessible through the Poppy Playtime steam page and the official MOB Games YouTube channel. For a tape that simply demonstrates to the viewer how to take care of one's Poppy Playtime doll, it contains more secrets than one would expect.
poppy playtime fanart
poppy playtime toys
The toys of Playtime Co. are a lively bunch! From Bot to Huggy, Catbee to Poppy, Playtime does it all! As long as you're at Playtime Co., why not pay the toys a little visit? You might just make a few friends.
candy cat poppy playtime
Candy Cat is a toy created by Playtime Co.. Candy Cat makes her debut in Chapter 1: A Tight Squeeze of Poppy Playtime.
She makes her second major appearances on two Assessment Forms in Chapter 2: Fly in a Web.
Candy Cat is a pale sky blue cat with pale cerulean dot eyes, tiny, pointed ears of matching color, a matching nose and pair of droplet markings resembling whiskers on either side of her cheeks, a short, round torso with a splash of pale cerulean, four stubby legs with white paws, and a long tail with a rounded tip. her snout is white with a matching triangular patch of fur above it. Her most prominent feature is her long, exaggerated pink tongue, often seen lolling out of her mouth. Her cartoon counterpart has black dot eyes and a friendly grin. Her tongue is also more elongated and hangs more out of her mouth.
poppy playtime plush
Poppy Playtime has announced that an officially-licensed plush toy version of Huggy Wuggy is now available for purchase, complete with velcro paws. Fans of Poppy Playtime can now snuggle with the game's horror icon Huggy Wuggy as official merchandise is now available in the form of a plush toy.
poppy playtime free download
You are now ready to download Poppy Playtime Chapter 1 for free.
How to Download and Play Poppy Playtime Chapter 2 on PC
Poppy Playtime Chapter 2 is an adventure game developed by dragon dakco. BlueStacks app player is the best platform to play this Android game on your PC or Mac for an immersive gaming experience!
Play Poppy Playtime Chapter 2 on PC and enjoy this interesting adventure game from the large and gorgeous display on your PC! You found yourself in a haunted toy factory. Can you find a way out of the facility?
In the Poppy Playtime Chapter 2 PC game, your new mission is to escape from the toy factory while dodging Mommy Long Legs! Use the items found on your quest to dodge and escape! Take on the role of a fearless warrior and take out all obstacles in the way of achieving your goals.
Kogama: Poppy Playtime
Kogama : Poppy Playtime is an action game where you can explore the world of Poppy Playtime. Find the way, get your weapon, and start exploring.
Is Poppy Playtime ok for 12 year olds?
Poppy Playtime is suited for players aged eight and up, according to Zach Belanger, CEO of MOB Games. The iOS version of Poppy Playtime is rated 12+ on the App Store. Poppy Playtime Chapter is rated Teen on the Google Play Store.
Is Poppy Playtime inappropriate?
The game isn't gory but uses child friendly toys in frightening ways which could make young children scared of things they have previously felt comfortable with. How can you help? If you become aware of young children playing this game then: Reassure them they are safe.
Is Huggy Wuggy from Poppy Playtime a girl?
Pink Girl, Blue Boy: Huggy Wuggy is a male blue-furred monster; Kissy Missy, his Distaff Counterpart, has pink fur. Red Herring: Initially, many fans believed Huggy Wuggy was Experiment 1006, a toy Playtime Co. made that went on a rampage.
Does Poppy Playtime Chapter 3 exist?
As far as we know, Poppy Playtime Chapter 3 will be released in 2023.
Is Huggy Wuggy evil?
Although he appears as a huggable, friendly mascot, Huggy Wuggy is a dangerous, predatory monster as a result of being experimented on by the scientists at Playtime Co. and desiring to consume the flesh of other humans.