we saw massive losses in most cryptocurrencies due to the FTX crash.
Overall, the crypto market is going through a crisis of confidence. For certain projects, the 2022 World Cup can now be an accelerator for growth.
Due to the increased attention, the prices of certain cryptocurrencies may rise in the coming weeks. This could give these coins a new boost, especially after the FTX crash, which they could carry into 2023.
Could The 2022 FIFA World Cup Rescue Crypto And Boost Algorand, Chiliz, And Big Eyes Coin?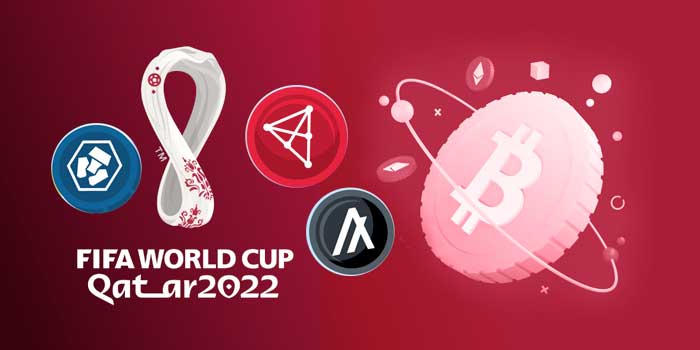 the crypto sphere didn't just experience a financial crisis but a psychological one too. The loss of trust among many investors and the wider public has probably offset mass crypto adoption by years. Much longer than many had anticipated.
As the 2022 FIFA World Cup in Quatar approaches, Crypto.com, another cryptocurrency exchange, was revealed as the official sponsor of the event.
Is it possible this sponsorship would put a good name for crypto amid the bad press?
And also set a positive course for the mass adoption of cryptocurrencies Algorand, Chiliz, and Big Eyes Coin?
Which Fifa Token will benefit from the 2022 World Cup?
Let's talk abotu the top 3 cryptocurrencies that could benefit strongly from the 2022 World Cup. Accordingly, an investment in these projects should definitely be considered, especially given the low prices in today's crypto market.
Chiliz (CHZ)
Chiliz is a cryptocurrency that allows sports fans to have unique experiences with their favorite teams.
Inspired by the socios of Spanish soccer teams, where an annual subscription grants fans access to early ticket and club voting rights, Chiliz leverages blockchain technology to enable a new kind of direct engagement between fans and their favorite sports teams.
Fans are able to purchase the Fan Tokens of their favorite teams using the CHZ token, the native cryptocurrency of the Chiliz experience. Fan Tokens can be bought for CHZ through socios.com, the crowd management platform that powers the Chiliz experience.
Each team that partners with Chiliz can customize the real world experiences their Fan Tokens provide to holders. Fan Tokens can also grant holders influence over decisions presented by the team, such as new uniform designs, celebration songs, stadium names and, in some instances, decisions over the starting lineups.
Prior to Chiliz, fans could only engage with their favorite teams by watching games or purchasing merchandise. Chiliz and its associated Fan Tokens give sport fanatics an active presence within the operations of their favorite teams and a unique influence over its decision making process.
Meanwhile, Chiliz allows sports franchises to monetize their fan base in new ways while providing unique experiences to their most loyal supporters.
Algorand (ALGO)
Algorand (ALGO) is both a digital currency and blockchain platform. The Algorand platform is designed to process many transactions quickly, similar to major payment processors like Mastercard or Visa.
In addition, Algorand can host other cryptocurrencies and blockchain-based projects, making it a direct competitor to Ethereum. ALGO, the platform's native currency, is used to secure the Algorand blockchain and pay processing fees for Algorand-based transactions.1
Algorand is an open-source blockchain, meaning anyone can view and contribute to the platform's code. Algorand uses an operating protocol it calls pure proof-of-stake (PoS), which recruits network validators from the pool of users.1
The Algorand platform and accompanying cryptocurrency were founded in 2017 by Silvio Micali, a professor at the Massachusetts Institute of Technology and noted cryptographer.2 The total supply of ALGO is capped at 10 billion coins, with about 7 billion ALGO already circulating.
Sustainability-focused Algorand is the official blockchain platform of FIFA. Interim CEO of Algorand, W. Sean Ford, stated that FIFA represents "innovative spirit and desire to directly and seamlessly engage with football fans".
Big Eyes Coin (BIG)
Big Eyes (BIG) is a community-driven token geared toward improving Decentralised Finance (DeFi), NFTs and the metaverse.
The project is built on the Ethereum blockchain and will operate as a decentralised app, making it more of a token than a coin, as opposed to what its name might suggest.
The project aims to bring people together into a community and create value for its users through the inherited DeFi avenues available on Ethereum. The project is currently in its presale stage, managing to raise over 9.5 million so far. It has also passed its smart contract audit, and crypto enthusiasts believe it will provide handsome returns after its launch, which is slated towards the end of 2022.
Another highlight of this DeFi meme token is its attention toward charity. The whitepaper claims that it will take purposeful measures to protect marine life from harmful effects caused by pollution and excessive fishing. To do this, the project will donate a significant amount of its token supply to Ocean-related charities. The meme coin is centred around the cartoon image of a cat with big eyes, which explains the project name and its soft spot for fish.
The token boasts several attractive features, including a massive supply and a lack of transaction taxes, all of which make it ideal for day-to-day crypto operations within the industry.
Cronos (CRO)
FIFA has announced that Crypto.com (CRO) will be an official sponsor of the FIFA World Cup Qatar 2022™.
Cronos (CRO) is the newest token by Crypto.com, separate from their original token, MCO, both of which are based on Ethereum's ERC-20 protocol. CRO was introduced in early 2020 and was meant to complement the ecosystem by allowing individuals to opt into a variety of different tiers of benefits within the Crypto.com ecosystem.
Cronos is an Ethereum-compatible blockchain network that has been built using the Cosmos SDK technology. The entire blockchain is open source, and scalable for web3, DeFi and GameFi applications. The chain offers fast transactions and low fees, making it faster than the current Ethereum blockchain.
The main differences are very straight forward. The main purpose of Crypto.com was to make transactions really fast and cheap. The Cronos blockchain, however, uses the Cosmos SDK in combination with Ethereum. These two combined allow users to bridge their NFTs and dApps over to the CRO chain. This way the networks quality will be enhanced through other projects.
Chiliz's Ecosystem Behind The Tokens for Italian, Portuguese, And Argentinan National Teams
Despite operating a blockchain-based sports entertainment platform called Socios, Chiliz (CHZ) hasn't been doing so well recently. This is even more surprising as the FIFA World Cup is approaching.
Socios.com allows many sports teams and companies to sell their fan tokens. Fan tokens offer a way of connecting fans to the club by allowing them to participate in club-related decisions.
Chiliz will be impacted by the 2022 World Cup, as the Italian National Team, Portugal National Team, and Argentia National Team each have their own fan token. Socios.com will find itself at the forefront of fan engagement with its favorite sports teams.
Web3 Is Heading to the World Cup
Virtual lounges for your avatar to watch a livestream of the game?
Web3 doesn't get more meta than the mind-bending plans for the World Cup in Qatar.
For those who need more futbol than they can get in 90-minute games, the 2022 World Cup is heading into Web3. Non-fungible token-powered trading games, branded NFT collections and metaverse worlds – even one where your virtual self can watch streaming games within a metaverse lounge – are just a few of the ways to enjoy the Web3/World Cup mashup.
Web3 is an idea for a new iteration of the World Wide Web which incorporates concepts such as decentralization, blockchain technologies, and token-based economics.
What is Fan tokens?
Fan tokens are cryptocurrencies that represent membership to a community, for example a sports team's fan base. Token holders can express their support to a team, while they receive specific perks, including game tickets or even some level of participation in a sports club's decision-making.