Retro Bowl is an American football video game developed by New Star Games for the iOS and Android operating systems. A browser version is also available on some websites. The game was released in January 2020 and due to its exposure on the website TikTok it massively increased in popularity in late 2021.
In Retro Bowl, you play on offense and not on defense. Not only does this mean that building a quality offense is more important than building a good defense, it also means that no individual defensive position is more important than any other defensive position.
How to Play Retro Bowl
Get reach to the end zone of opposing team and score a touchdown, or you can also kick the ball to make it through the goalposts.
Tips and Tricks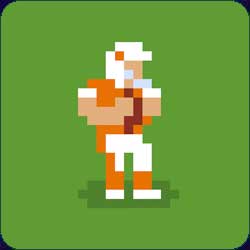 You can spend money thoughtlessly on quarterbacks with good arm and accuracy
Use your coaching credits on season 2
Be especially prepared for play-offs
Retro Bowl is the perfect game for the armchair quarterback to finally prove a point. Presented in a glorious retro style, the game has simple roster management, including press duties and the handling of fragile egos, while on the field you get to call the shots.
Is Retro Bowl the same as Tecmo Bowl?
Retro Bowl was heavily influenced by the Tecmo Bowl series. Retro Bowl was the number-one-downloaded-app on Apple's App Store in late 2021. After the success of Retro Bowl, the developers released the association football game Retro Goal in June 2021.
How much does Retro Bowl cost?
Retro Bowl is free to download from Apple's App Store or Google Play, although without paying 99p to unlock the full version you'll be limited to just five games.
Where can you play Retro Bowl?
Retro Bowl can be played on your PC. And since Retro Bowl's 2021 update it can played on the web using your mobile phone and tablet!
Can you play defense in Retro Bowl?
Retro Bowl absolutely has defensive play, and your opponents will be playing defence against you on every snap. It's just that the player isn't able to take control of any aspect of the defence, with the game skipping through opposition possessions with your D's star rating the only thing that really matters.