Play Nerdle Game : Fun and Daily Math Game Like Wordle
What is Nerdle game
Nerdle is a fun, daily math game based on the immensely popular game Wordle, except it challenges players to determine an equation instead of a five-letter word.
In it, you must guess an equation with eight characters within six guesses by using arithmetic characters from previous guesses as your clues.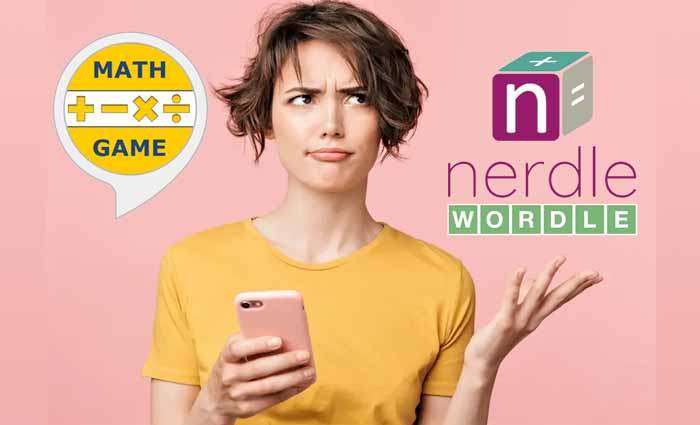 How to Play Nerdle Online
Guess the NERDLE in 6 tries. After each guess, the color of the tiles will change to show how close your guess was to the solution.
How to play Nerdle the Wordle maths spin off game
Similar to Wordle when you make guesses the tiles will change colour to indicate if you're right, wrong or in the wrong place.
Green tiles mean the number is correct and in the right place. Purple means it is in the solution but in the wrong place. If a tile turns black, it means it's not in the word.
Nerdle Game Rules
Each guess is a calculation.
You can use 0 1 2 3 4 5 6 7 8 9 + – * / or =.
It must contain one "=".
It must only have a number to the right of the "=", not another calculation.
Standard order of operations applies, so calculate * and / before + and – eg. 3+2*5=13 not 25!
If the answer we're looking for is 10+20=30, then we will accept 20+10=30 too (unless you turn off 'commutative answers' in settings).
Play Mini Nerdle
mini nerdle rules are the same as the classic nerdle rules below except all calculations are just six tiles instead of eight. Smaller but no less tricky!
Guess the NERDLE in 6 tries. After each guess, the color of the tiles will change to show how close your guess was to the solution.
play speed nerdle
Speed Nerdle makes a hard game even harder: Solve number puzzles against the clock.
NERDLE gets another gameplay variant, as Speed Nerdle joins the likes of Mini Nerdle, Classic Nerdle, Instant Nerdle and Pro Nerdle.
Nerdle creator Richard Mann explains more: "The rules are the same as the classic nerdle, with the added challenge that players need to complete it as quickly as possible – a timer that appears in the middle of the screen to keep track.
Also Play Online Games :
Nerdle & Wordle popular
If the now sizeable number of Wordle clones and spinoffs weren't enough, we're now seeing the phenomenon's daily, social-driven format extend beyond the boundaries of mere words and into the scary realm of maths. Yes, we're talking about the hugely popular Nerdle.
If you're struggling with today's equation and have been left scratching your head wondering what the latest Nerdle answer may be, then you've certainly come to the right place. Down below, we've collected all of the latest Nerdle answers in one handy spot, much like we've done previously over on our Wordle answer and even Lewdle answer lists.
Looking for an explainer of what Nerdle is and how exactly you can play it? Well, we've got all that info and more waiting for you too – just read on and all will be revealed.
Needle Games
In Thread the Needle Games, the players stand in two rows across from each other.
They hold hands in an arch with the person across from them. Players go under the arch and join the end of the line once they're through the arch. Sometimes they're played while singing a song.
Also read :
Can Nerdle have a negative answer?
What about negative numbers? Nerdle answers don't start with negative numbers or have a negative number after the equals sign, even though these may be accepted as valid guesses. So you won't find an answer like this: -5-6=-11.
Is Nerdle easier than Wordle?
How 'Nerdle' Compares to 'Wordle' Provided that you've got decent numeracy comprehension, the new game is actually a little bit easier than Wordle.