The terms "brand" and "logo" are often used interchangeably in Social Media Marketing. But though a logo can be the symbol of a business, it is not the entirety of a brand. In fact, creating a logo is just one small step toward developing a strong brand identity.
Brand Identity
If you're working to develop your first brand identity for a client, or you're doing this for your own business, it's important to first understand what a brand is. Also, you should know what it takes to create one.
What is a Brand?
Unfortunately, it's not as easy as giving the business a name and plastering it on everything.
The term branding refers to the marketing practice of actively shaping a distinctive brand. Brand is the perception of the company in the eyes of the world.
Moreover, your brand is defined as a name or a type of product manufactured by a particular business.
As Jeff Bezos says,
"Branding is what people say about you when you're not in the room."
What is a Brand Identity?
With millions, if not billions, of businesses trying to make a name for themselves, having a strong brand has become crucial for businesses to differentiate themselves from their competitors.
Just like your personal identity makes you uniquely you, the identity of your brand  is the special sauce of your business that sets you apart from every other brands.
Your brand identity shapes your company.
But what exactly is brand identity? And how do you shape a strong one that takes your business to the next level?
Your product leaves an impression on your customers long after you've made the sale. Brand identity is the process of shaping that impression.
Ultimately, it is a way to communicate with the world, differentiate yourself from your competition, and create a brand experience that encourages people to engage with you.
If you want to be a competitive and successful company, crafting a strong identity is mandatory. When you can successfully communicate who you are, you can better communicate with people and form the strong relationships you need for long-term success.
What Does an Identity Include?
A logo and a color palette alone do not make a brand identity. When designing your identity, you need to create a comprehensive visual language that can be applied to everything from your website to your packaging.
Depending on your brand (and the type of content you plan to create), your needs may be more expansive, but a basic brand identity includes:
Logo
Colors
Typography
Design System
Photography
Illustration
Iconography
Data visualization
Interactive elements
Video and motion
Web design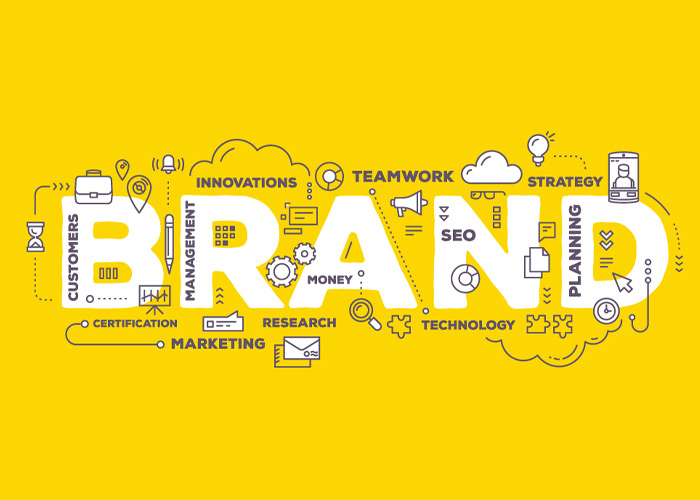 Why is the identity so important?
According to Purely Branded, a brand "lives and evolves in the minds and hearts" of consumers. Therefore, its identity is crucial to the business's future.
Here are six components of a well-developed brand identity, and why it's so important for you to develop them.
The "Face" of Your Business
For all intents and purposes, your brand's logo is the "face" of your business.
Having an identity doesn't just make your product more memorable; it makes your brand more authoritative in the marketplace.
A brand identity is a template for everything you would include on an advertisement for your business.
When you create an identity for your brand, you're giving it something to stand for. That, in turn, gives your company a purpose.
Generating New Customers and Delighting Existing Ones
A brand identity attracts people who agree with what your brand has to offer. But once these people become customers, that same brand identity gives them a sense of belonging. A good product generates customers, but a good brand generates advocates.
Also Read:
The Benefits of Blogging for Social Marketing and Personal Branding
The Keys to a Strong Brand Identity 
A strong brand identity needs to work for everyone, both your internal team (e.g., brand ambassadors, content creators) and the people who will interact with it (e.g., customers).
As you embark on the design process, make sure your brand identity is:
Distinct: It stands out among competitors and catches people's attention.
Memorable: It makes a visual impact.
Scalable and flexible: It can grow and evolve with the brand.
Cohesive: Each piece complements the brand identity.
Easy to apply: It's intuitive and clear for designers to use.
If any of these elements are missing, it will be challenging for your brand team to do their job well.
How to develop a strong brand identity
If your brand is in its early stages or preparing to rebrand and not sure where to start, follow these tips to move through the process seamlessly and build a stronger identity that sets you up for success.
1. Complete Your Brand Strategy to create a brand identity
Your brand strategy is a detailed plan that outlines exactly what you're trying to achieve and how you're going to achieve it. It is comprised of your:
The Brand Heart (purpose, vision, mission, values)
Brand Messaging (brand voice, personality, tagline, value prop, brand messaging pillars)
A Brand Identity (logo, color, typography, etc.)
Your brand identity is really a tool to help you communicate your brand visually, thus supporting your brand strategy. As such, before you dive into your brand identity, it's important to have a fully fleshed out strategy.
To design a strong brand identity, you need to complete the foundational work of your brand strategy, specifically your Brand Heart and Brand Messaging. These help you understand what it is you're trying to communicate so that you can design a brand identity that successfully does so.
2. Research first to make an identity for a brand
Just like any other aspect of starting a business, the first step in creating a brand identity is to complete market research. You should clarify and understand these things.
Learning what your audience wants from a business in your industry is vital to creating a brand people will love.
Value Proposition & Competition
What makes your business unique in your industry? What can you offer your consumers that others can't? Knowing the difference between you and your competition is imperative to developing a successful brand.
You know what your business offers, but be sure to have a clear and direct mission statement that describes your vision and goals. .
Even though you're not necessarily branding an individual, that doesn't mean that you can't be personable when developing a brand image. So, use your type, colors, and imagery to represent who the brand is.
Then enhance that visual representation with your tone of voice: Are you a confident business with a lot of sass, like Nike? Or are you ritzy and professional, like Givenchy? Either way, be sure to develop your brand as a way to represent your business.
3. Develop your brand design to create an Identity
The building blocks you'll want to determine before you create your design assets include:
Typography refers to the font you choose for your branding materials. It's particularly important to choose logo fonts and brand fonts wisely.
Next up is color. People have psychological ties to different colors, and using branding colors and logo colors strategically can have a serious impact on how your brand is perceived by your audience.
This subtle but effective element that can be used to reinforce the desired reaction from your customers.
Your logo design is the cornerstone in your identity. When working with your designer, you want to aim for your logo to tick off the following boxes:
1. Clearly communicates who you are and what you value as a brand;
2. Is visually appealing: simple, clean and uncluttered goes a long way;
3. Is classic, not trendy: the last thing you want is for your logo to go out of style in 6 months;
4. Plays along with your industry's standards—and if you veer off, do so deliberately;
5. Makes a lasting impression on your audience.
Also Read:
Storytelling Training: Best Practices for Luxury Brands
The design of identity
Your website is one of the most representative aspects of your brand identity. Especially if you're running an online business or a digital product, your customers will definitely check your website out before deciding to do business with you. Your website is where your identity should come through in full force.
Photography plays a huge role in your brand identity, from your product images to your advertising. It's important to identify clear guidelines about the types of images (and visual treatments) that are and aren't appropriate.
A well-designed card offers the chance to reinforce a positive opinion of yourself in the eyes of potential clients or customers.
Consistency is what can make or break a brand identity. Use the  templates and follow the design choices you've decided upon for your brand throughout all areas of your business to create a harmonious identity.
Yes, consistency is crucial — but remaining flexible in a society that is always looking for the next best thing is just as important. Flexibility allows for adjustments in ad campaigns, taglines, and even some modernizing to your overall identity so you can continuously keep your audience interested.
Therefore, the key is keeping any changes you make consistent throughout your entire brand (e.g., don't change the design of your business cards and nothing else).
4.  Try social media to craft an identity
Another great way to establish a connection with your consumers is through social media. The plethora of platforms on the internet offers up a ton of digital real estate you can use to establish your brand identity.
Social media is also important when it comes to conversing directly with your customers and creating affinity for your brand. If you're mentioned in a tweet, status, or post (especially if the customer has a question or concern), be sure to give your brand a good reputation by responding efficiently to your customers.
Also Read:
What is IGTV and How Can Brands use it for Marketing?
5. Know the rules when creating a brand identity
If you're guilty of any of the following practices, your brand might falter or fail.
Don't give your customers mixed messages.
Know what you want to say, and use the appropriate language and visuals to say it. Just because it makes sense to you doesn't mean it will make sense to your customers.
Don't copy your competitors.
Your competition may have exemplary branding, and since you're selling the same products or services, you might want to do what you know works. don't!
Take what they do into account, and put your own twist on it to make your business stand out in your industry even more.
Don't lose consistency between online and offline
Yes, your print material might look a little different than your online presence, but your colors, type, theme, and message should all be consistent.
Bottom line of brand identity
To sum up, your brand identity is what sets you apart from the endless sea of competitors and shows your customers who you are. In addition, it tells them what they can expect from working with you.
So, if you want your brand to be perceived in a positive light, it's crucial that you nail your brand identity. Moreover, you should create designs that accurately portray who you are to your customers.
And now that you know how to nail that identity, it's time to start building your own brand identity.
Above all, do you have more branding tips? share with us bellow.