Talking Ben the Dog: Play Free Online Game. Best friends with Talking Tom
Talking Ben unblocked is a free online game
Play online in your browser on PC, Mobile and Tablet devices.
Join millions of players from around the world by playing our addicting games.
Talking Ben is one of our favorite Mobile Girl Games
Simply click the big play button to start having fun. If you want more titles like this, then check out Funny Daycare or Emergency Surgery. To play even more free games, view our all time top games page.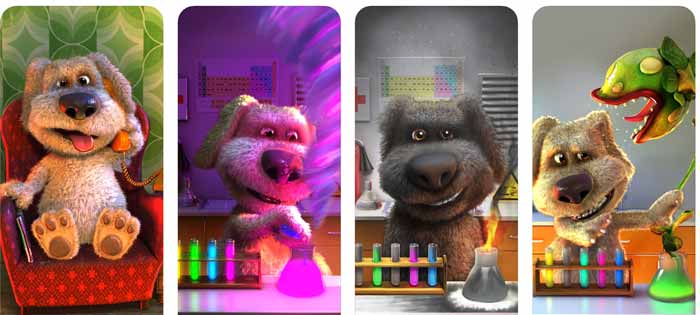 Talking Ben the Dog Free
Have fun with Ben, Talking Tom's best friend
Talking Ben the Dog Free is a fun application from the creators of My Talking Tom, where you have to take care of a dog and have phone conversations with him. He'll also show you fun chemistry experiments.
To talk with him, just get his attention by touching his legs or the newspaper he's always reading.
Talking Ben original song
Talking Ben is currently a bigger deal than we ever thought he would be. So I made a song.
How do you play Talking Ben
Talking Ben the Dog is an interaction-based video game released on April 29, 2011 by Outfit7. It is the second game in the Talking Tom & Friends Franchise and is preceded by Talking Tom Cat and succeeded by Talking Tom 2.
Aside from the basic features like swiping and tapping Ben for a reaction, recording videos, and making him repeat what you say like in most Talking Friends games, you are able to do a variety of things such as.
Talking to Ben on the telephone.
Feeding him a can of beans.
Giving him a drink.
Making him burp.
Making Ben read a newspaper, causing him fall asleep while
reading it.
Going to Ben's lab and mixing chemicals on a table to get different outcomes.
In early 2022, a popular YouTuber and streamer named "IShowSpeed" played this game, becoming a famous meme on the internet due to his overwhelming and funny rivalry with Talking Ben.
The meme mostly shows IShowSpeed asking Ben controversial questions on a telephone such as, if he loves God, if he supports LGBTQ, does he support Black Lives Matter, etc. He somewhat argues and yells at him aggressively whenever he replied a negative response. Ben and his app became the first popular meme to be from Outfit7.
How do you get talking Ben to talk?
Ben is a retired chemistry professor who likes his quiet comfortable life of eating, drinking and reading newspapers. To make him responsive, you will have to bother him long enough that he will fold his newspaper. Then you can talk to him, poke or tickle him or even have a telephone conversation with him.
If you get Ben to his laboratory however, he becomes as happy as a puppy. There you can do chemistry experiments by mixing a combination of two test tubes together and see the hilarious reactions.
HOW TO PLAY Talking Ben the Dog
– Poke Ben's newspaper to make him fold it.
– Then you can talk to Ben and he will repeat.
– Poke or slap Ben's face, belly, feet or hands.
– Tickle Ben's belly.
– Poke or swipe Ben's graduation picture.
– Press the phone button and have a conversation with Ben.
– Record a funny video of your telephone conversation with Ben.
– Press buttons to make Ben eat, drink or belch.
– Press the chemistry button to switch Ben to the laboratory.
– Mix any two test tubes together and see the hilarious chemical reaction.
– Record videos and share them on YouTube or send them to your friends and family by email.
Talking Ben
I'm Ben. I'm a genius. Blunt, yes, but true! I do have hidden depths though. I'm a very funny guy, for example. Although, to be fair, I haven't actually received external confirmation of that yet… So it's just a hypothesis at the moment. But still! Funny AND smart.
My inventions are going to put our app studio on the map! Well, the ones that don't explode that is… But that only happened once… (Or twice.) Inventing is easy as pie for me. It's as easy as breathing. What's hard is getting Tom to clean up after himself. Or say thank you every now and again! I'm working on it though. It's my greatest challenge yet!
Talking Ben: Pet Time
You will have to move with cunning and strategy so that you can succeed in this game to meet Ben' s needs. Help Ben with his food, with his drink, caress him, touch his legs, belly, head and have fun. Test your arrow level skills and try to set a new record. Have fun in this game for the little ones in the house. Let' s have a fun time taking care of Ben. This fun game can be done from any device: Smartphone, Tablet and PC.
Who is talking Tom
Talking Tom & Friends is a media franchise created and owned by Outfit7 Limited, a Slovenian video game developer.
(known as Talking Friends until late 2014, and Talking Tom and Friends until early 2021)
Talking Tom & Friends
The franchise focuses on various mobile apps involving anthropomorphic animal characters repeating things said by the user. The first app, Talking Tom Cat, was launched in July 2010. As of March 2020, the apps have achieved more than 12 billion downloads.[1] The franchise also includes various web series, which are mostly posted on YouTube.
Talking Tom Gold Run
You've been robbed. Explore the endless runner to help Tom and Angela chase the robber and get your gold back. Discover new worlds, different running styles. Running will pay off. You'll be able to build your home from the ground up.
Talking Tom Hero Dash
The best endless runner game. Join Talking Tom's superhero team to rescue your superpowered friends and stop the rioting raccoons. Run, jump, and save the world in the BRAND NEW Talking Tom Hero Dash. BE A HERO AND JOIN THE TEAM.
Talking Tom Jetski 2
Get ready to race jetskis with Talking Tom and Friends. Explore the tropical islands as you race your rivals. Dodge obstacles and collect all the coins. Go super fast on your very own custom jetski and build the perfect beach house.
What is Outfit7
Outfit7 is a Slovenian video game developer, best known as the creator of the Talking Tom & Friends app and media franchise.
The company was founded by Samo and Iza Login. The company operates in 7 studios worldwide and almost exclusively focuses on mobile games related to the Talking Tom and Friends franchise. In January 2017, the company was acquired by United Luck Consortium and then sold to Zhejiang Jinke for over USD 1 billion.
How can I play Talking Tom 2 on my laptop?
How to Download and Install My Talking Tom 2 on PC
My Talking Tom 2 is a Casual app developed by Outfit7 Limited. You can play My Talking Tom 2 on PC after downloading an Android emulator from this page.
Android emulators are software that run a virtual Android device on your computer. LDPlayer is one of these Android emulators for Windows PC. LDPlayer also provides additional features such as multi-instance, macros, operations recording, and others.
Using the Android 7.1 system, LDPlayer can help you play mobile games on PC with faster performance and higher FPS. LDPlayer is meant for hard-core mobile gamers.
Is it possible to play My Talking Tom 2 on PC without Android emulator?
If the developer of My Talking Tom 2 release a PC client, you can definitely play it on PC without using an Android emulator. However, you can have a better gaming experience if you play My Talking Tom 2 on PC with LDPlayer.
With LDPlayer, you can both play My Talking Tom 2 on your big screen monitor with better graphics, and enhance your gaming experience.
If you need to operate some accurate clicks or combos in My Talking Tom 2, you can write macros to trigger combos with one key using the macro feature in keyboard mapping panel. Very creative and time-saving!
Introduction of My Talking Tom 2
Do you wish to have a virtual pet? The adorable grey tabby cat is here! Have fun with My Talking Tom and his friends in this Outfit7 game loved by millions of fans who also love to play unblocked games 66 at school.
The great interactivity of this game is the main attraction of My Talking Tom, particular loved by children. Players can tickle, poke, and play with Tom and his cute facial expressions are amazing. Like a kid, Tom repeats what you say so be careful of what you say in front of him.
Is My Talking Tom on PC?
Then My Talking Tom is offering you the opportunity to have a pet of your own that can talk, play and spend precious time with you. And with GameLoop, you can enjoy My Talking Tom on PC. So, you can now play with Tom on the large screen.
Can you get talking Tom on PC?
Talking Tom for PC gives you the chance to take care of a pet virtually. Feed him and attend to all he needs. The game is just like how true pet should be taken care of.
Also read :