Writers that create lots of content need a reliable laptop. Not only is it essential for the laptop to provide reliable performance, but it must also use high-quality parts. Laptops with durable keyboards are perfect for professional writers or students who spend hours typing away at their computers. Low-quality laptops come with subpar keyboards that produce thunderous noises while typing and can slow down your writing speed.
The most comfortable laptops for writing also come with high-quality displays. Spending hours staring at your laptop can hurt your eyes if you have a low-quality machine. Laptops that use modern display technology reduce blue light emissions and make it easier to survive long writing sessions. Laptops with high-quality displays and high resolutions will make reviewing content significantly easier for writers.
Let's look at the seven most comfortable laptops for writing:
1. ASUS Zenbook 14X OLED
The convertible ASUS Zenbook 14X OLED is an excellent laptop that offers a variety of options for writers. This laptop comes with the 180° ErgoLift hinge, allowing you to convert the device in different modes. Writers can use the 180-degree hinge to alternate between tablet, stand, tent and laptop mode, depending on what's more convenient for their work environment. Whether reading or writing, this laptop empowers you to maximize your productivity.
The ASUS Zenbook 14X OLED comes with a digital display below the keyboard called the ASUS ScreenPad. While this technology can function as a numeric keypad, it also contains convenient shortcuts to various programs. You can navigate easily on the ASUS ScreenPad, allowing writers to multitask between word processors, web browsers, and email communications.
2. ASUS Zenbook Pro 14 Duo OLED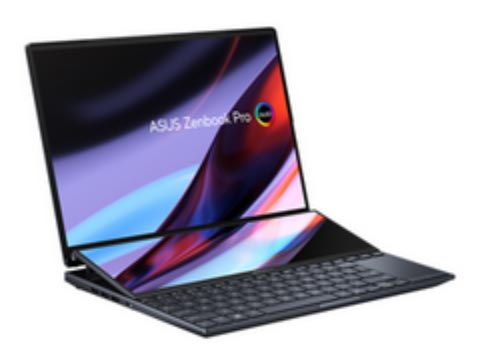 The ASUS Zenbook Pro 14 Duo OLED is perfect for writers that put in long work sessions. They will enjoy using the dual-screen design on this innovative device. This laptop allows writers to move their notes and research information to the secondary ScreenPad Plus while their work remains uninterrupted on the main display. Both the ScreenPad Plus and the main display show content vividly, with the main display featuring OLED technology.
Writers who work with multiple programs open simultaneously will benefit from the laptop's immense computing power. It uses the 12th Gen Intel Core i7 processor and the Intel Iris Xe graphics. This laptop also comes with a large 1TB SSD, giving writers plenty of space to store their work and portfolio.
3. Apple MacBook Air
The MacBook Air is a high-quality, portable laptop that excels at word processing. Writers working away from the office will appreciate a laptop weighing only 2.9 pounds without sacrificing computing power. The new MacBook Air comes with the Apple M1 chip that uses an 8-core CPU to deliver fast loading speeds. The Apple M1 chip also includes a 7-core GPU that helps enhance graphic performance.
Writers who work long sessions will enjoy the 13.3-inch Retina display that produces vibrant colours that are easy on the eyes. The MacBook Air comes with a high-quality backlit keyboard with a design that encourages fast typing.
4. Lenovo IdeaPad S340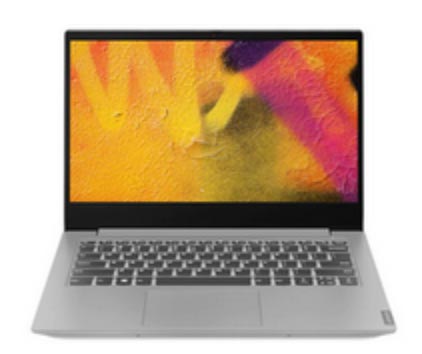 The Lenovo IdeaPad S340 is an excellent choice for people who mainly use their laptops for word processing. The IdeaPad S340 comes with a comfortable, high-quality keyboard with backlights. This laptop can handle a variety of programs thanks to the 12GB of RAM, the AMD Ryzen 7 CPU with 4-cores, and the AMD Radeon GPU.
The IdeaPad S340 comes with an impressive 14-inch full HD display that uses IPS technology. The display has an anti-glare coating, making this laptop usable outdoors in sunlight. The Lenovo IdeaPad S340 is one of the most comfortable laptops for writing on a budget.
5. Acer Aspire 5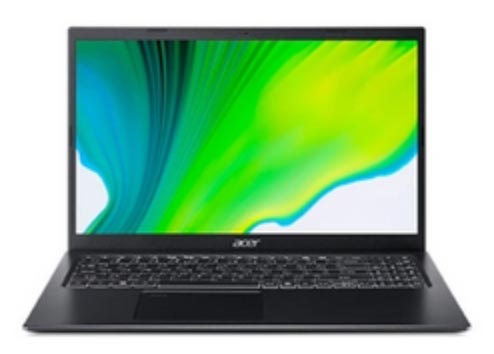 The Acer Aspire 5 is a laptop designed for quality all-around performance. The Aspire 5 is equipped with the 11th generation Intel i5 CPU, the Intel Iris Xe GPU, and 8GB of RAM, which helps writers multitask with ease. This laptop comes with an impressive 15.6-inch full HD display, which is large for a device that weighs just 3.6 pounds.
The Acer Aspire 5 comes with a high-quality keyboard, a dedicated number pad, and full-size keys across the laptop. Pressing the keys gives a springy, satisfactory response that helps writers increase their typing speed.
6. MSI Modern 14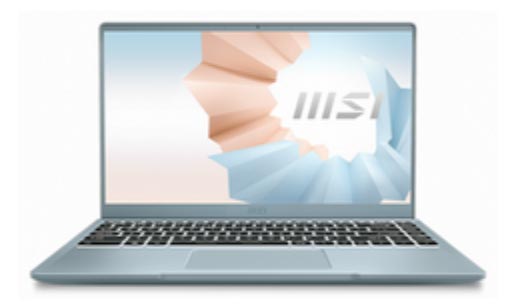 The MSI Modern 14 is a powerful and portable laptop ideal for writers. This laptop is ideal for working on the go since it weighs only 2.8 pounds and comes with an ultra-slim chassis. The MSI Modern 14 offers an impressive 8 hours battery life and a 512 GB SSD for storing files.
This laptop is powered by the AMD Ryzen 5 CPU and up to 64 GB of RAM. The great specs help you feel confident running multiple resource-intensive applications simultaneously.
7. HP Pavilion 15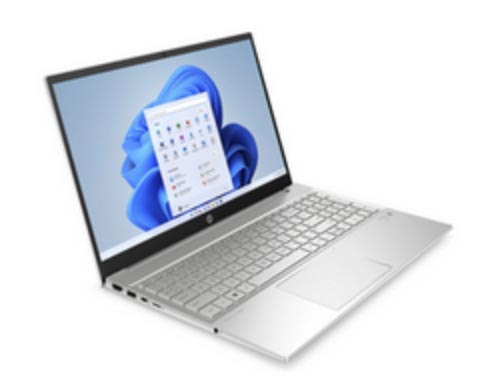 The HP Pavilion 15 comes with a variety of attractive features for writers. This laptop comes with a comfortable keyboard that provides a firm, springy response on each press. The HP Pavilion 15 includes a smaller number pad to give this laptop the same functionality as a full-sized keyboard.
The HP Pavilion 15 is ideal for multitasking writers thanks to the Intel i7 CPU, 16GB of RAM, and the Intel IRIS XE GPU. This laptop comes with a large 1TB SSD and provides an average of 6.5 hours of power on a full battery.