Since 2015, Google has put more and more pressure on website owners to make their sites mobile friendly. Mobile is changing the world. Today, everyone has smartphones with them, constantly communicating and looking for information. In many countries, the number of smartphones has surpassed the number of personal computers; having a mobile-friendly website has become a critical part of having an online presence. It also improve your social media marketing.
Mobile friendly
Generally, the meaning of mobile friendly is that your site performs well on a mobile device like a phone or tablet. However, you may also hear different terminology floating around like mobile friendly, mobile first, responsive design, adaptive design, separate mobile website (or m dot site) and mobile apps.
Rapid growth in mobile penetration
Smartphones quickly went from expensive, exciting new technology, to a regular part of everyday life. Today we find it strange for anyone to leave the house without their phone. From hospital waiting rooms to theater lobbies (back when they were open anyways), people staring at their phones is a normal sight.
Statista's data shows how worldwide website traffic from mobile devices escalated from 35 per cent in 2015 to 52.2 per cent in 2018. Considering this jump took place within just three years, businesses have the opportunity to reach and retain new customers everyday via mobile-friendly websites. 
This is especially true during the current global pandemic which has forced both business owners and customers alike to opt for online marketplaces. 
What is the meaning of Mobile Friendly ?
What is a mobile friendly website? A mobile friendly website is essentially when your regular website shrinks down to be small enough to display on a mobile device. It looks like a tiny version of your website. There's a lot of zooming, pinching and scrolling going on, but the site displays and functions. It can be a less-than-ideal user experience, but at least your site is viewable.
If you haven't made your website mobile-friendly, you should. The majority of users coming to your site are likely to be using a mobile device.
Is My Website Already Mobile Friendly ?
If your website was built or updated within the last few years, the designer or website builder you used may have had the mobile experience top of mind. Before you put a lot of resources into worrying about how to make your website mobile friendly, check to see how your website fares now.
Google provides a mobile-friendly testing tool. Drop your URL into the search box. You'll not only get a quick answer on whether or not your website is mobile friendly, but also a screenshot of how the page looks on a smartphone screen and a list of recommendations to make the mobile experience better.
If the tool shows that your website needs a lot of work, then making your website mobile friendly should be treated as a top priority. Doing so will improve your website's visibility in the search engines, ensure more of your visitors stick around, and help you increase conversions rates on your website.
If Google's tool gives you the thumbs up, updating your website for mobile doesn't need to be given the same level of priority. But you may still benefit from considering ways to make the mobile experience better for your users. Every little bit helps.
Focus on great user experiences
User experience is a primary point to consider when a business owner builds their mobile compatible website. If an internet user visits a website via their mobile phone but does not have a good experience in terms of load times, navigation, and the readability, they are less likely to revisit that website.  
The three main factors that differentiate mobile-friendly websites from desktops websites are the considerably smaller viewing spaces, text concentration is minimized, and in almost all cases, information is straightforward and specific.    
A Google study shows 53 per cent of mobile users abandon websites that take over three seconds to load. Other things to consider in offering visitors a good user experience while viewing a mobile website are making sure the content is appropriate for the size of the screen, font sizes, menus and click-through buttons all need to be optimized for small screens. Responsive design, which creates dynamic changes to the appearance of a website depending on screen size and the orientation of the screen is a popular method for ensuring that a great experience is provided for users on all devices.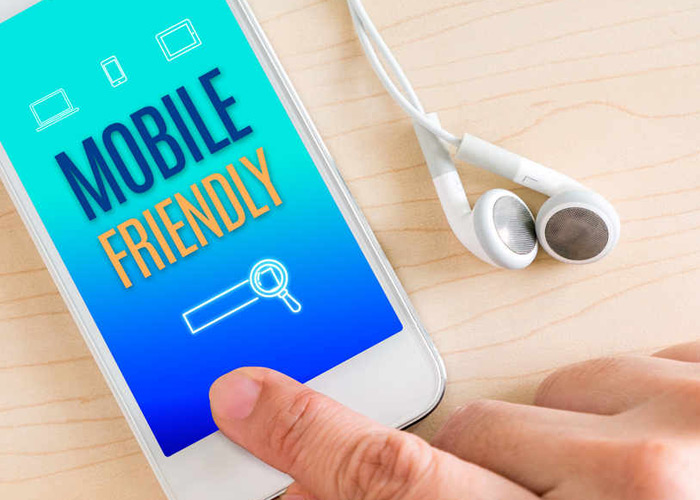 Why make a website mobile-friendly ?
If not mobile-friendly, a site can be difficult to view and use on a mobile device. A non-mobile-friendly site requires users to pinch or zoom in order to read the content. Users find this a frustrating experience and are likely to abandon the site. Alternatively, the mobile-friendly version is readable and immediately usable.
Mobile is critical to your business – whether you're blogging about your favorite sports team, working on the website for your community theater, or selling products to potential clients. Make sure that visitors can have a good experience on your site when they're visiting from their mobile devices.
Other Related issues about mobile
Mobile first web design is when you start with start with the most basic functions and features for the smallest, least-powerful devices — like mobile phones.
This type of mobile web design allows designers to focus on what functions and features are most important to end users, who are accessing websites on the go more and more frequently. You can add new design elements as screen size (and processing power) grows, but the smallest, least-powerful device will still function well with mobile first.
While mobile first design and development are strategies, responsive design is how you implement those strategies. Responsive design uses flexibly sized elements, controlled by style sheets, javascript and HTML, to fit the width of the screen viewing your site. No matter what size screen the user is viewing with, the text, images, navigation and graphics will size fluidly. It's not device-specific or browser-specific. It's designed to look good and function well at any size.
Adaptive design is responsive design, but with a twist — it uses specific layouts for different devices. Where a responsive website would simply deliver the same content for both mobile and desktop, adaptive websites may offer up specific content when it detects a mobile device.
Large retailers like Amazon have both a mobile site and a mobile app to meet the needs of all of their mobile customers.
A mobile app requires a user to download it from the app store and install it on their mobile device. Depending on the type of business and website, consumers may prefer an app over a mobile website experience, but that generally only applies to large brands consumers visit regularly and not to a retail or business site that they may only visit occasionally.
Tips to make a mobile friendly website
1. Make Your Website Responsive.
2. Make Website Speed a Priority.
3. Be 100% sure your site works on mobile devices.
4. Make Information People Look for Easier to Find.
5. Use a website design (or WordPress theme) that offers tabbed content.
6. Ditch Text-Blocking Ads and Pop-ups.
7. Keep Your Web Design Simple.
8. Vary your content formats.
9. Make Your Button Sizes Large Enough to Work on Mobile.
10. Regularly Perform Mobile Testing.
Also Read:
SEO Training; Become an SEO expert in 10 steps
Conclusion 
It might be tempting to dismiss some of these tactics as "too hard", but consider this: There's more traffic from mobile devices now than from desktops. And if you're a local business, the traffic is even more skewed to mobile users because more mobile searches are location based. Click here to learn more about Location-based marketing.
In other words – yes – optimizing content for mobile devices is more work. But it's how most people use the internet now, and even more people will use it this way soon. Ignoring that mobile traffic and those users is going to hurt your business.
Optimizing your content got you even 10% more engagement with your content – and the associated lift in sales – would that mobile-first content optimization pay for itself? Maybe even be profitable?
It might be worth figuring that out.